For the first time in its over 90-year history, Ace Hardware left the task of choosing a Color of the Year up to its customers!
For 2019, the home improvement retailer has revealed the mellow yellow paint shade Pineapple Cream Granita as its official Clark+Kensington COTY winner.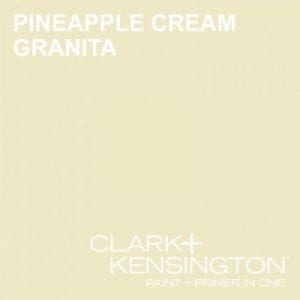 Most brands' Color of the Year selections involve extensive research by color experts, interior designers, international panels, and more. Like its name, Pineapple Cream Granita was way more lighthearted and fun for the public.
The pale yellow shade is the first-ever paint color mixed, created, and named entirely by an Ace customer. Francine C. of New Jersey dreamt up Pineapple Cream Granita in her local Lincoln Park, NJ store, and stood out among the 25 finalists that fans voted for across Ace's social media accounts earlier this year.
"When I created this color, I was daydreaming about enjoying a delicious dessert while on a relaxing vacation in Sicily with my daughter," Francine said of her winning creation. "The color is soothing and yet bright; sweet with just a bit of tartness. It was so much fun to participate in this process and I hope everyone loves Pineapple Cream Granita as much as we do!"
This color has just the right amount of vibrancy to warm up your living room or kitchen spaces without being too overwhelming to paint your entire home with!
The Ace Hardware team is thrilled with Francine's color creation, and how the whole voting process engaged over 35,000 fans.
"We couldn't be more excited to announce Pineapple Cream Granita as our 2019 Color of the Year," said Shannon Olear, Paint Brand Manager for Ace Hardware Corporation. "At Ace, we're always working to give our consumers the best possible service – and The Color of the Year contest was a great way for us to engage directly, both locally and nationally, to inspire fans to create colors they want to see in their homes. It's important for us at Ace to continue being a helpful resource for consumers during their paint journey, and we enjoyed working so closely with our loyal consumer base to create some fantastic paint shades."
You can catch the fun reveal of Ace's Color of the Year 2019, Pineapple Cream Granita, in the brand's video below.