Rodolfo Dordoni of Antrax IT designed a new collection, promoting the evolution of the cast iron radiator. Integrated from appliance to design, the Ghisa reinterprets traditional aesthetics through the strength of symbolism, precision in detail, and proportionate measurements. Composed of slender elements with a polygonal section, and tapered at both ends, the Ghisa is jointed by two edges with an equal number of metal parts in the die-cast. The product was designed to be either linear or curved, which is how the perimeter is defined.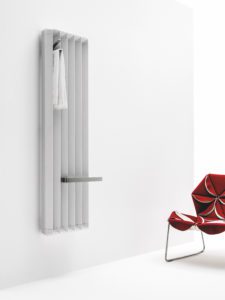 Its light junction lines implements the representation of rhythm through its structure and perfectly blends three types of components. In regards to its sizing, the Ghisa is molded by complex interlocking shapes. The combination of both thickness and depth creates an identical, repeated sequence, which is what identifies the project as a whole. Available in different configurations, sizes, and horizontal or vertical options, the harmony of Ghisa is enhanced by these qualities.
Despite the name, Ghisa evokes a historic imagery and promotes social conscientious properties. It is made of 100 percent recyclable aluminum with low water containment and high thermal performance. By merging both design and technology, Antrax IT was able to produce a sustainable radiator that solely operates through a hydraulic model. The Ghisa is designed in an array of special colors, this includes embossed versions that were specifically indicated by the designer, Rodolfo Dordoni. It supports the ideal liaison between inspiration and innovation. By assessing the different lengths and accessorizing hooks and towel rails with polished stainless steel, the Ghisa is the ideal addition to your bathroom space.
Rodolfo Dordoni is an architect and designer from Milan. He began his career back in 1997, presenting his first collection of seats, tables and coffee tables. This collection included an iconic cubic armchair freely inspired by the world of fashion and luggage-making called Suitcase. The first collection became the blueprints to his career, a successful design that was both rigorous and non-conventional, which marked his beginning to a consolidation that has spanned over twenty years.
Established in the late Nineties, Antrax IT specialized in the production of radiators for residential and contract heating. Originally based in Treviso, the company has headquarters in Resana. Ever since its inception, the manufacturers have continued to offer new ways of conceiving heat. The strong sensitivity to aesthetic styling has led the company to direct production towards heating solutions that go far beyond their specific function, and are transformed into 'furnishing elements that generate domestic well-being'.