Barbara Ostrom's home design sensibility is all about mixing traditional interiors with one-of-a-kind and eclectic details. But the designer is also a dedicated problem-solver, who flips the less-than-ideal elements of a space into its most standout features. That is the case for her luxurious living room in this year's Kips Bay Decorator Show House, a dazzling New York City showcase that benefits the Kips Bay Boys & Girls Club.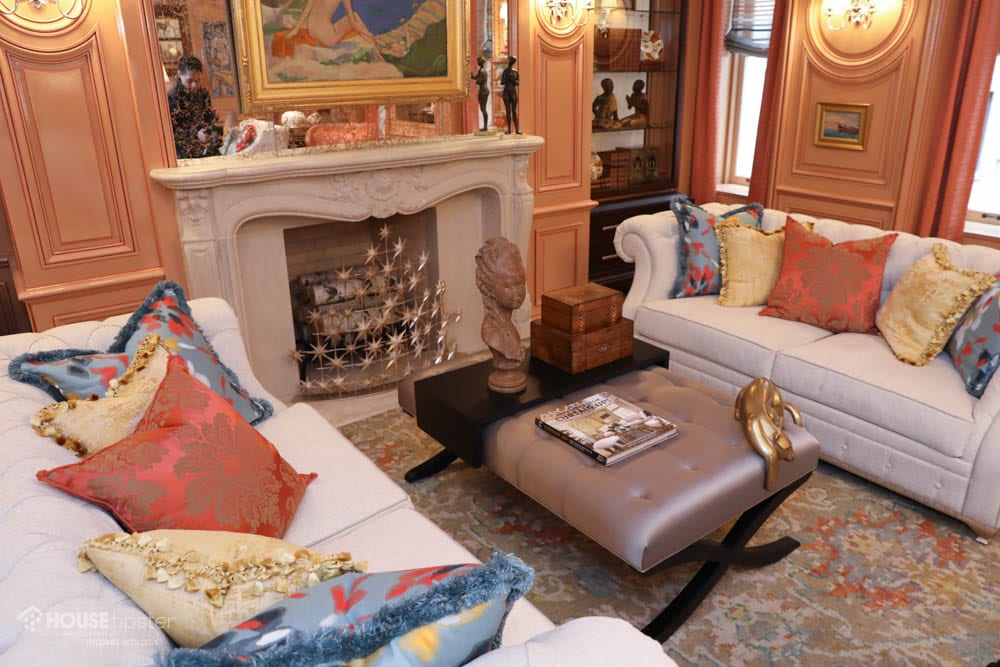 When the House Tipster team entered the Barbara Ostrom Associates space at the 2018 VIP unveiling event, the seemingly natural golden glow of the space was radiating everywhere. The designer tells us that this was certainly not always the case. Using details like Christopher Guy furniture, Hyde Park Antiques, and custom-made artwork dreamed up specifically for the space, the interior designer flipped a dark and unremarkable space into a lively all-purpose room for guests to gather, relax, dine, and entertain.
"I'm calling this room 'Art and A La Carte,' because you're dining and living in this room. It could almost be a one-room apartment," the designer tells us exclusively. "I think the mix between very contemporary and very traditional works. This room is the darkest room in the house. When it's 12:00, it's like it's 9:00 at night. So that influenced what I did in this room. First of all, we had to put in all of the sconces, the chandelier, all of the light fixtures. The warmth of the room had to be done, because if I had painted this in a cool color, the room would feel like an igloo. I went into the archives of Farrow & Ball, which is all of their paint colors, and we found this color and painted everything this color, which warmed the room up enormously. The thing I didn't expect is when I did the color in high-gloss, it casts a glow. So you look your most beautiful when you're in my room, because it's reflecting all of this beautiful peach colorway."
The designer is used to working with clients on tackling the specific challenges of their spaces.
"Form does follow function," she says.
"I wanted to make this room a space in a New York apartment that could be anywhere in the world. I did it for an invented client, someone in their late 40s who has had time to develop their taste, to collect things through travel, and keep them in places that they could look at and admire – not just stuff in a closet," Ostrom adds. "Which is why I used all these bookcases both in the front and the back of the room. Since they're art lovers, and this was just a dull room with a dull ceiling … I had [muralist] Andrew Tedesco paint this in his studio on canvas, and then we just glued it up as wallpaper. Because the ceiling is, after all, the fifth wall It casts a beautiful glow in the room and sort of cements everything. I wanted to make it sort of eclectic, so I combined contemporary furniture with antiques. Now that we have a gold leaf White House, everyone is going to appreciate making America great again in interior design."
Barbara Ostrom's warm and welcoming Kips Bay room is not only influenced by her vision of well-traveled art collectors' needs, but her space reflects her own art appreciation experiences.
"I had been last year to the Frank Stella exhibit down in the Whitney, and I really fell in love with the work," the designer tells us. "The paintings around the room are all sorts of periods," and feature pieces from throughout the decades, including some of John Mellencamp's latest.
Ostrom also used this artwork to disguise challenging elements of the space, like outdated paneling and gold-flecked mirrors. Using steel hanging wire, the designer floated paintings over the built-in mirrors, using the reflective quality as matting for the art. The results are pretty brilliant – but the designer isn't taking all the credit for the genius idea.
"I try to solve problems, and I try to do it to the best of my ability," Ostrom tells us. "I would say 95% of my clients are happy. The others are getting a divorce."
Tipster TV has released the full video coverage from our special interview, be sure to check it out below.