Alena Capra, Industry Ambassador for Coverings, showcased some of the latest tile trends at Coverings 2021, the largest global tile and stone exhibition in North America. 
Capra started the presentation by describing some of the best reasons for using tile in your home decor. 
One of the tiles' highlights is its inherently green nature. As ceramic tiles are created through a mixture of naturally occurring materials, it is sustainable and eco-friendly. According to Capra, it has the lowest carbon footprint of any flooring material. 
"Tile is also healthy and safe," described Capra. "Now more than ever, the focus on health and wellness has definitely been paramount and on everyone's mind." 
Ceramic tile is hypoallergenic, resistant to the growth of mold, bacteria, and fungi, and is free of harmful toxins. Tile is also recommended for safety reasons as many options of tile are slip-resistant. 
Other qualities of Capra highlighted include its stylish nature, its durability, its cost effectiveness, as well as its rich history as a cultural heritage piece. 
"The design possibilities are truly endless with tile. As a designer, that's what I truly love about it," she said. 
After describing some of the best features of tile, Capra went through the top ten tile trends being showcased at the showcase. 
The first trend showcased, called "Flecked Effect," is a unique take on Terrazzo, with a playful but still mature look. 
According to Capra, the trend can be chunky or fragmented, with a kaleidoscope of color. Floating pieces create a whimsical look that can "lend a burst of energy to floors and walls."
The next trend is a beautiful green, in varying shades and hues. Colors such as sage, mint, emeralds, and everything in between are represented on the show floor. Different patterns and shapes are also represented in this arboreal shade. 
"When you think about the last year, this sort of connection to nature," she explained. "We are yearning to be outdoors. Green is a great color that aligns with that." 
The next trend, which Capra calls "Soft Textures," continues the idea of using our emotional needs to help the flow of trends. These subtle textures allow homeowners and designers to have interest added to a room without being too pronounced. 
The right lighting on a soft textured tile wall can create an even further enhanced look. Geometric patterns as well as terracotta and rust colors were also featured in this trend. 
"Design is kind of taking on more of a toned down, more a muted, calming feel," she described. "…Soft textures really offer a nice take on bringing in texture but not being so bold."
While the "Soft Texture" trend was for the more subtle of designers, the "High Gloss" trend is for those looking to make a statement. The "High Gloss" texture is commonly used in porcelains mimicking the look of marble, in just about every size from large slabs to small mosaics. 
"There's something for everything in all of these trends, which I think is the best part," she said. 
Another trend highlighted was "In Vein," or the appearance of large scale natural stone veining in porcelain. Popular veining styles include chunky veining as well as smaller but still bold veining. According to Capra, she expects the trend to stay timeless as it has the appearance of natural stone but with the benefits of tile.
In terms of color, grey is still popular, but with a slight alternative.
"Grey with a warmer rust kind of tone," she explained. "It's not all of that grey and white marble look, you're getting warmer tones."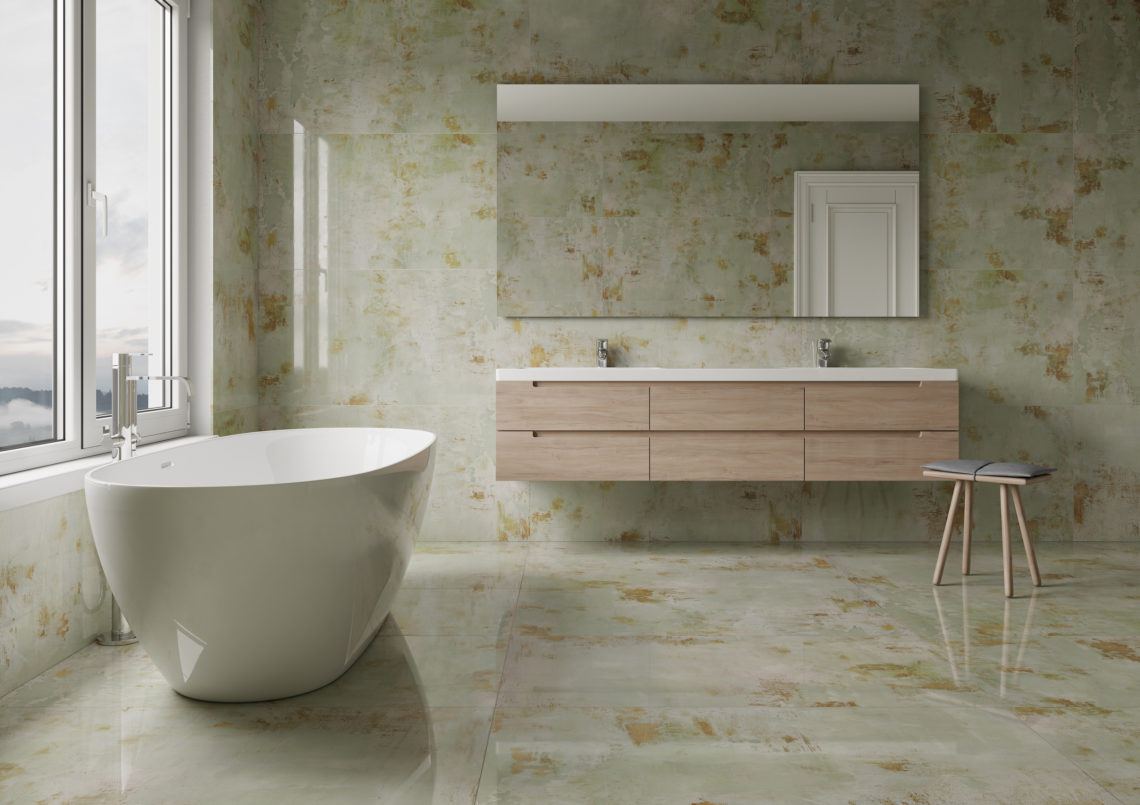 "Muted tones" also stole the show at this year's conference. This trend again combines calmness and nature, similar to the usage of the color green as well as the usage of soft textures.
Muted tones are expected to be combined with other trends, such as flecked effect or in vein patterns.
Another trend, biophilia, has become "a way of life as well, in the way we design for the future." The trend puts emphasis on general wellbeing and a connection to nature. 
"Biophilia is more than just a philosophy, it supports cognitive function, it supports so many good things," she said. "It's nice to see it in a variety of different types of tile."
Biophilia tile often takes on the appearance of wood or natural stone. Botanical prints have also become popular, carrying on the previous plant-like trend from textiles and wall coverings all the way to printed tiles. 
"I think it's an exciting way to see how design is going to evolve," said Capra. "Biophilia is such an underlying theme, it's really going to continue to expand for more than just a trend."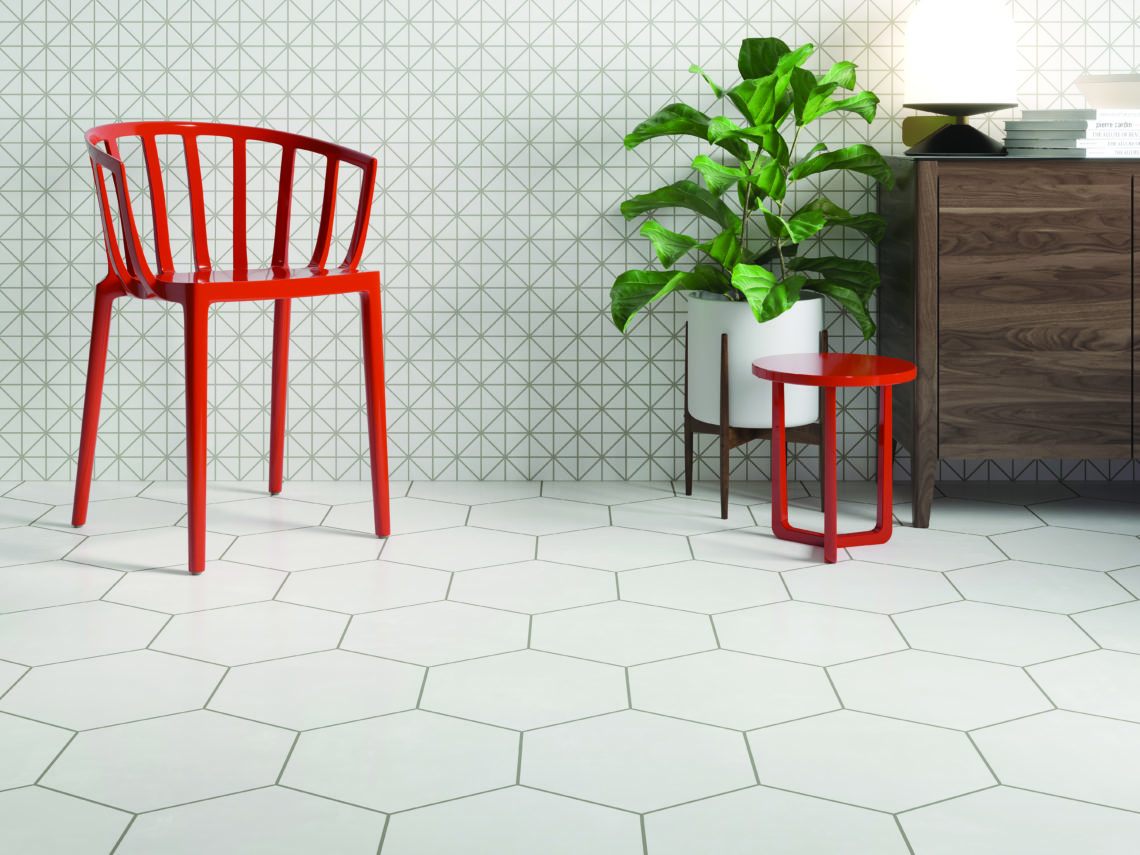 The trend of "Large Hexes" takes a previously popular trend of hexagonal tiles and bumps it up to a larger size. While hexagons have been widely used in home design, the new trend takes hexagonal tiles in large scales and displays them as statement pieces.
"You can make any design your own, you can see different types of things just by mixing different shapes, colors and textures," she explained. "You can really mix up and have fun with this shape."
"Patterned tile concrete look alikes" is a trend that allows homeowners to bring a nostalgic and playful look to their home. The tile has the appearance of concrete, but in unique patterns. 
"This is a great way to add a touch of wow to any space," she said. "Just a fun overall look."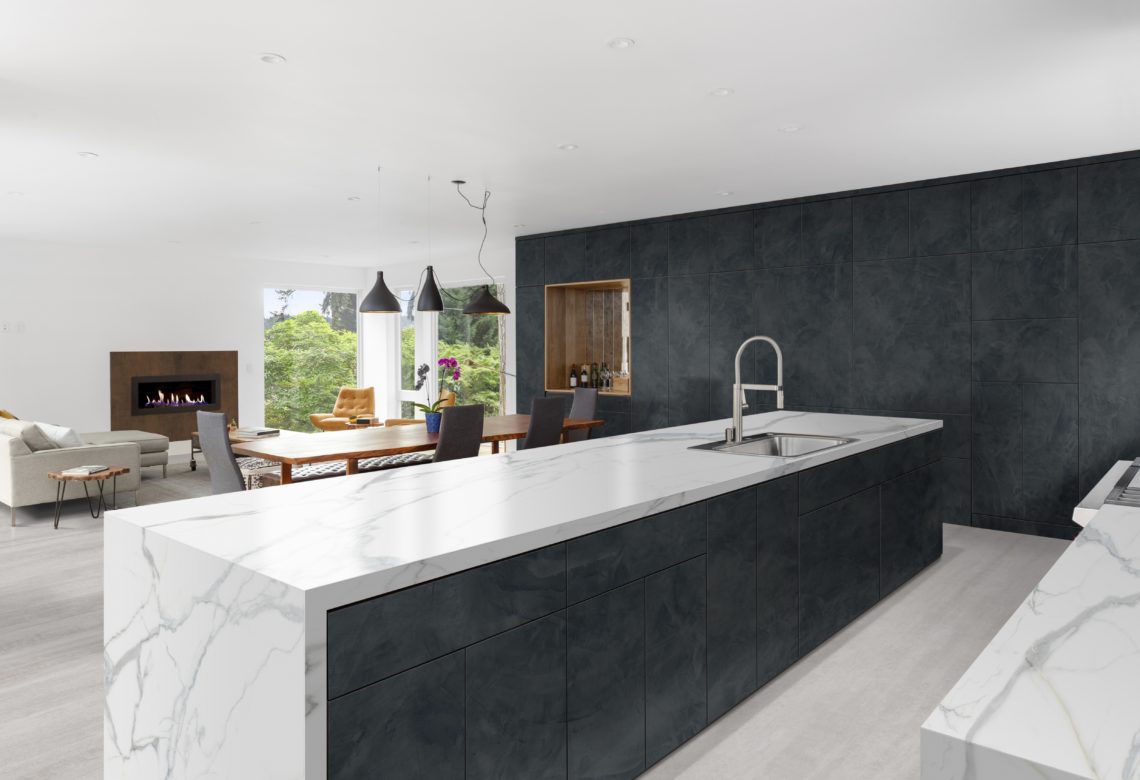 The last trend, called "XXL" is the biggest trend, both literally and figuratively. Large scale slabs have been one of the hottest home stone features in the last year. Large scale porcelain, often in sizes of 9 ½ to 10 ½ feet or more, of different thicknesses are common statement pieces as walling, flooring, or even countertops. 
Alena Capra is an interior designer with more than 16 years of experience. Her studio, Alena Capra Designs is located in Fort Lauderdale, Fla. Capra is an accredited Master Kitchen & Bath Designer. Capra has completed design projects throughout the country, with her work being featured in multiple publications including Better Homes & Gardens Kitchen + Bath Ideas, Tile Magazine, Contemporary Tile & Stone, and much more. Previously, she won multiple industry awards including the 2015 Cosentino "Bath of the Year," a finalist for the National Kitchen & Bath Association's "Professional of the Year" award in 2016, as well as many other awards including being named one of the "Top 50 Innovators" in 2019 for Kitchen & Bath Design News. 
Stay tuned for more Coverings 2021 articles from House Tipster Industry, featuring the hottest trends, exclusive interviews, and new releases.