Best known for her mosaic glass art, Allison Eden has created a wonderland of eye-catching designs that are whimsical, fun, and colorful.

Allison Eden Studios has brought in a whole new world of contemporary design with her triptych diamond collection. The Stained Glass & Mirror Mosaic Diamond piece was the centerpiece of her exhibit at ICFF this year, but what nobody else saw coming was her inclusion of the baguettes.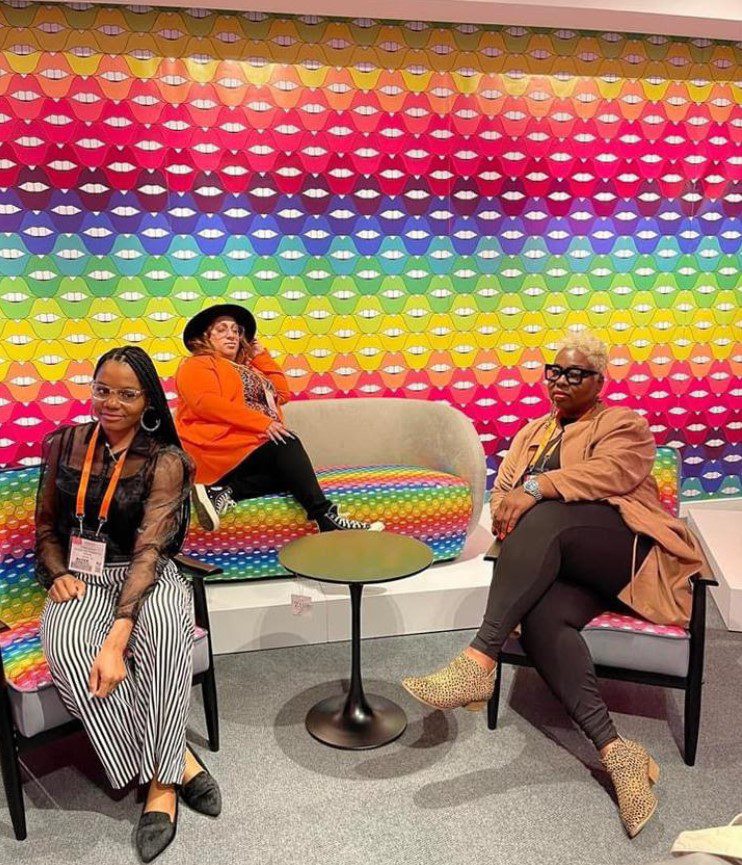 Featuring a showcase of her incredible collections, Allison also included her signature Candy Mural collection, shining a light of fun to the grim and morbid state of the world, stating, "My next thing is to do the wallpaper and the fabric in the candy collection. So right now, we're exhibiting the four candies. They are all about the things I love to eat, I love ice cream cones, I love peppermints, and lollipops, and I just really wanted to create pieces that are bursting with fruit flavors. Something that involves coming back to life."
She emphatically stated, "I brought two big diamonds, which I think are always the centerpiece of everything we do. They just sparkle, they're happy, they're sexy, and they're incredible. And now I'm doing triptych diamonds, where it's the big center with the two baguettes, and that has been very, very popular for us."
One piece that really captivated the show was her emerald diamond piece. Designed to sparkle at every angle and perspective, Allison's emerald diamond is meant to be observed with three-dimensional standpoints. After inquiring about which spaces she would use for her collections, Allison replied, "I would incorporate them in an entryway. Any place where you actually have a large wall, definitely entryways, feature walls, you need a large wall for these things, these can also be turned to go above a couch."
With her enthusiasm displayed, Allison stated, "If you're a diamond-lover, this is perfect, this should probably be going to Jacob the Jeweler, or at Tiffany's, or at Harry Winstons." 
The most recent collaboration that she is most excited about and very proud of, is her partnership with Zuo Modern. She said, "First of all, I love Zuo's furniture. It's very young and fun, the pieces themselves are fabulous. And I was so excited when they asked me to create some fabrics to do a collaboration with them, and we did really fun prints. I feel like they're great for small apartments, the pieces are whimsical as well! They're a lot of fun and I really enjoy working with Zuo, and they're very smart with what they're doing and they're a very lovely company to work with."
Manufactured from Mexico and the Dominican Republic, their collaborative collection was the key product introduction to High Point this year. Praised for the collection's quality, ZUO  maintained the focus on prioritizing their consumers. 
Allison discussed the styles and trends that are going on in Florida, and how her pieces are becoming more and more salable throughout the sunshine state, stating, "So I'm doing a lot of tropical murals right now, aquatic scenes, we're doing very colorful pieces, it seems the whole world is moving to sunny Florida! And they're wanting color, they want big palm trees, big tropical, aquatic scenes! And we really specialize in these types of murals. Our palm trees are lime green, and really pops of color."
Allison Eden Studios is a full concept to completion glass mosaic art house. Designing stained glass tile for interiors crafted by skilled artists in their Brooklyn studios. With her reflective prominence and exuberant personality, Allison moves mountains and creates new innovations with her mosaics.