Bestile presented three different collections at the conference: Decorative Arts, Stone Spirit, and Marble Charm. 
The Decorative Arts collection featured complex and luxurious patterns for interior design purposes. 
Borgo, under the Decorative Arts collection, is a gorgeous tile which the brand says, "opens doors for the opportunity to transform the look of your room into a piece of art." The tile is available in three surfaces, matte, shiny, and crackle. The style is also available in nine different colors. The design has a unique handmade appearance with the illusion of slight hand marks on each tile.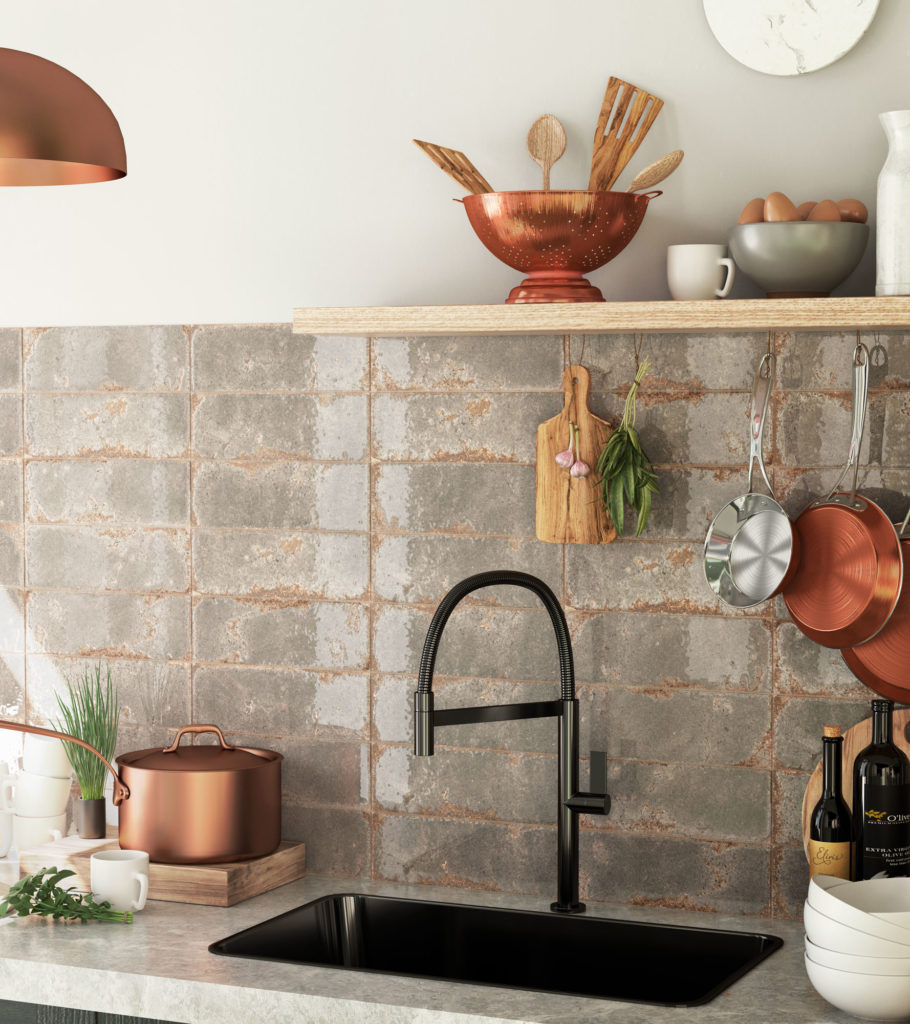 Alma, also under the collection, "features the traditional, romantic and new technologies merging into a fancy interior." This collection, which also features a handmade appearance, is available in 3.9" x 11.8" porcelain tiles, and combines traditional appearances as well as unique glitters and textures to create a charming artistic appearance. The style is available under five colors: Blanco, Gris, Azul, Verde and Negro.
A third style, Carmen, also under the Decorative Arts collection, is a shiny handcrafted style of tile, created to be small but impactful. The wall and floor tile comes in six colors: white, beige, grey, green, blue, and black. The design has a glazed, irregular surface, and comes in four different sizes: 3" x 5.9", 3" x 11.8", 5.1" x 5.9", as well as 5.9" x 5.9".
The Taranto style, under the same collection, features tiles in a matte finish with a slight smoky appearance. Available in the size of 3.5" x 14.5", this tile stands out as a mature but delicate piece. Seven colors are available in this style: Blu, Bordeaux, Grigio, Nero, Terraccota, Bianco, and Perla. 
The last style in the Decorative Arts collection is Iqono, a irregular glossy surfaced tile with a handmade appearance. Iqonois available as 7'8" x 15'7" wall tiles in four different colors: Green, Bordeaux, Citron, and Grey.
The Stone Spirit series celebrates 3D collections of porcelain tiles that mimic the appearance of natural stone designed for use as an accent wall.
Ordesa mimics the appearance of stone with a textured brick-like appearance. The collection comes in eight colors: Beige, Cream, White, Grey, Taupe, Mixed, and elegant neutral. The tile comes in a 5" x 10" format, and is perfect for both indoor and outdoor spaces. The brand suggests tiling half-bonded to get a better aesthetic result in application.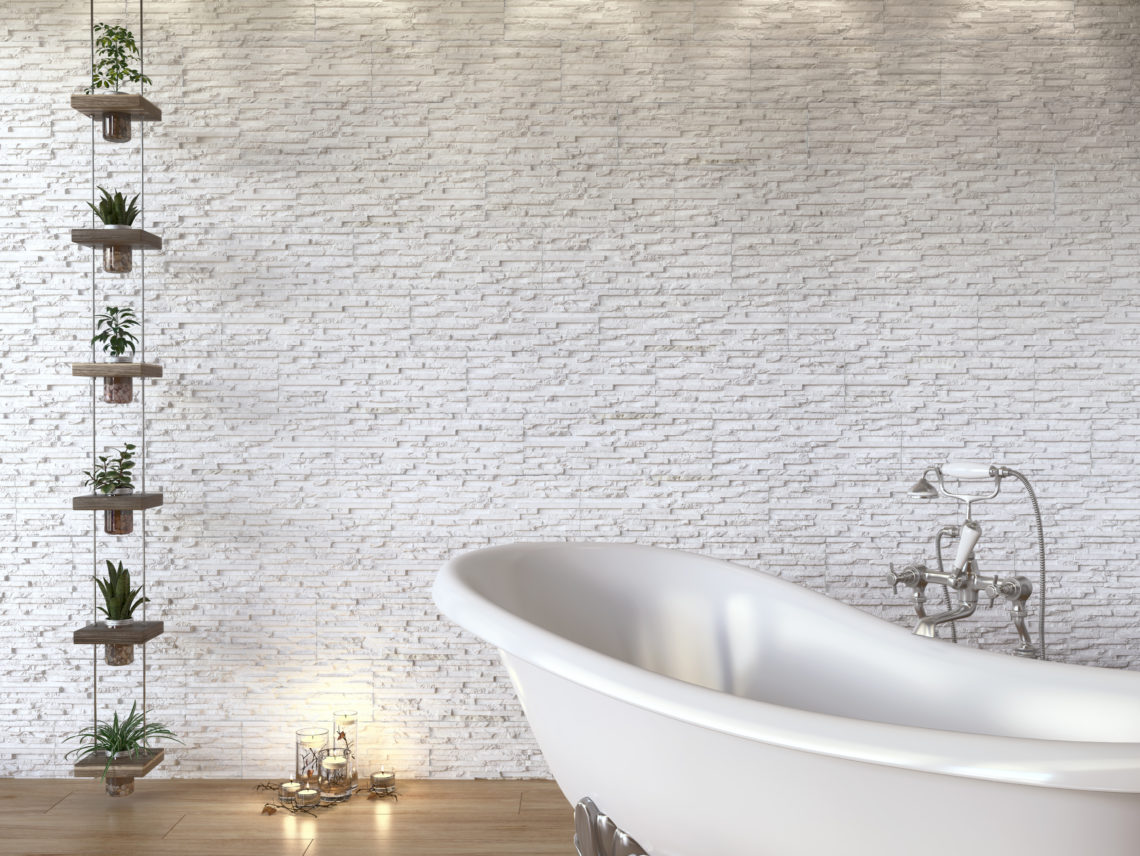 The second collection in the Stone Spirit series is Centenar, a smaller, delicate but still eye-catching tile design. The tile is first exposed to extreme heat in order to create a unique outer texture, appealing to the eyes. The illusion of stone strips creates a Mediterranean feel. This style is 6.7" x 10.5," and is available in six colors: white, sand, natural, gray, magma, and black.
The last series showcased at Coverings 2021 is Marble Charm, Bestile's take on the everlasting marble trend.
The Watercolor style, under the Marble Charm series, features marble-like porcelain tiles mimicking the appearance of beautiful watercolors. The tile comes in three colors: White, Grey and Marine, as well as two different sizes, 47.2" x 47.2" and 23.6" x 47.2."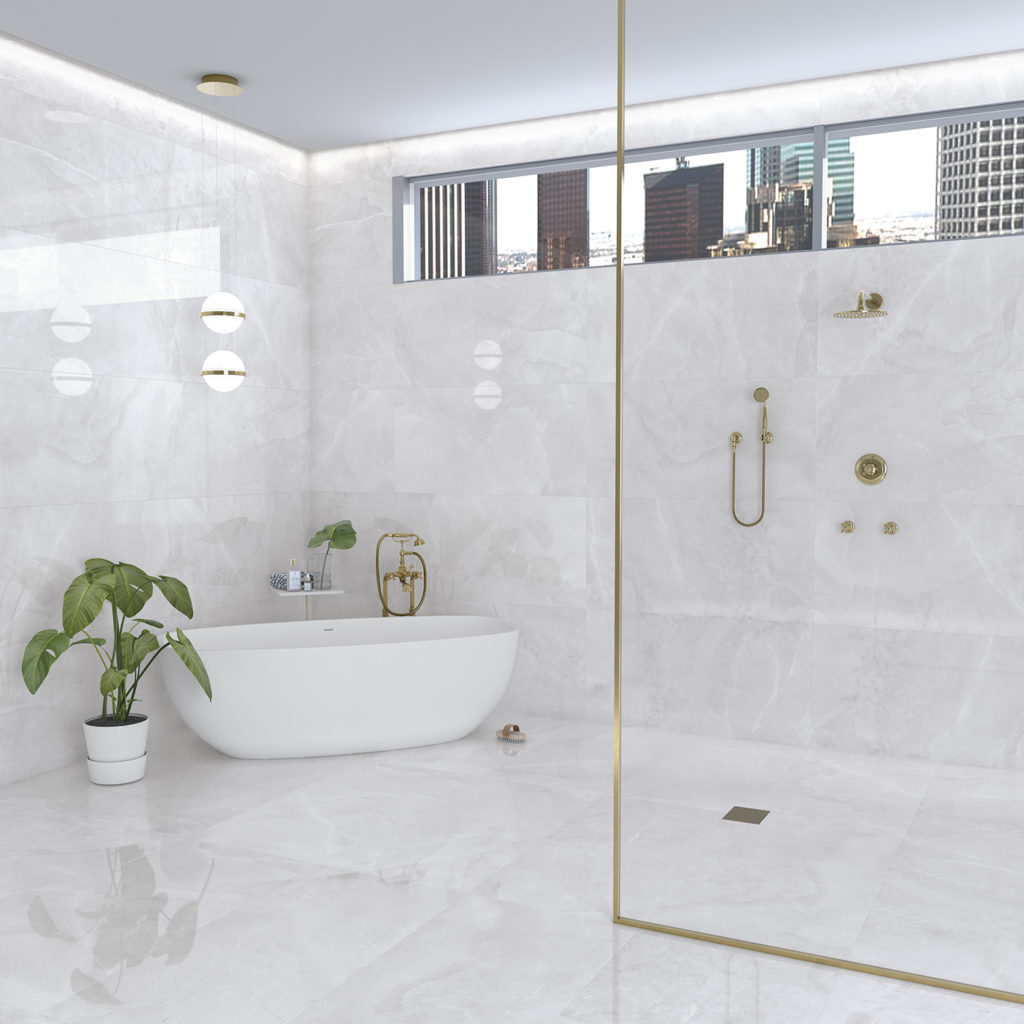 The next style, Akron, is a timeless and soft style of marble effect porcelain tiles. This collection is available in both 47.2" x 47.2" as well as 23.6" x 47.2". The soft tones are available in five different colors: White, Marfil, Pearl, Taupe, and Grey.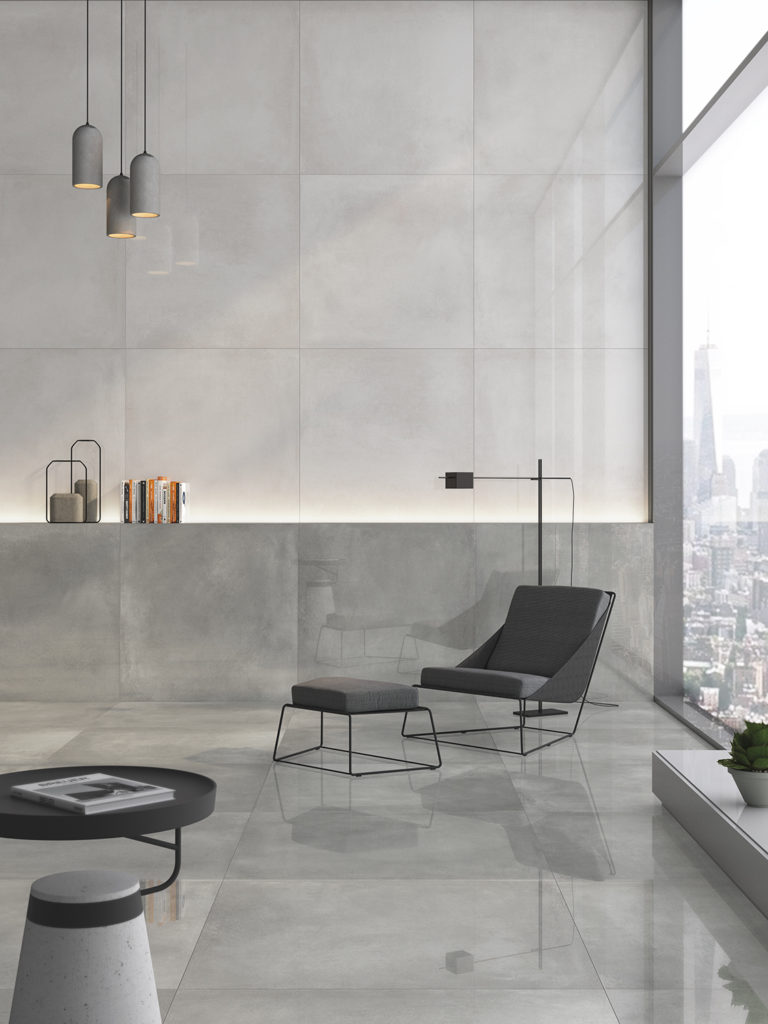 The final style displayed by Bestille is Portland, a neutral polished concrete-style tile design that can "create a charming feeling due to its smooth, mineral texture that reminds [the brand] of the treasures of nature." The collection comes in the colors White, Marfil, Pearl, Taupe and Grey, as well as the sizes 47.2" x 47.2" and 23.6" x 47.2".
Bestille was founded in 1992 in Spain. According to the brand's site, the brand "provides a sophisticated design in its ceramics, with a concept of total quality.." 
Bestille was featured at Coverings as part of the Tile of Spain conference. 
Tile of Spain  is one of five sponsors of Coverings 2021. The other sponsors include Ceramics of Italy, Tile Council of North America (TCNA), National Tile Contractors Association (NCTA), and Ceramic Tile Distributors Association (CTDA). 
Coverings is the largest ceramic tile and natural stone trade fair and conference in North America. This year's event was held from July 7 to July 9 in Orlando, Florida.