Annie Hurlbut Zander, founder of Peruvian Connection, launched her brand in 1976 as a purveyor of artisan-made apparel crafted from luxury textiles from around the world. The company's focus on preserving Peru's finest natural fibers, like alpaca cotton, has stayed top-of-mind throughout its many collections.
Today, Peru Connection is celebrating the debut of a 15-piece bedding collection, the label's first official foray into lifestyle and home decor offerings. Each of the pieces in the line follow the brand's same ethos, and passion for great textiles and exquisite patterns.
To learn more about the new collection launch, House Tipster Industry spoke with Hurlbut about her inspirations, product development journey, and exciting next steps. Catch our exclusive Q&A below.
House Tipster Industry: Can you tell us more about the inspiration behind this collection, and how you ultimately decided on this specific variety of prints?
Annie Hurlbut: The general inspiration for the new Peruvian Connection bedding collection (as well as PC's apparel collection) came from my own personal aesthetic of layering and mingling things from the past and my travels that evoke an emotional response. For the most part those nostalgic things are worn or discarded, things handed down from my grandparents or things that others passed over in an antique shop or Andean market stall. The more weathered, oddball or idiosyncratic, the better.
I found out more recently that my inclination of layering and mingling of textures, patterns, oddities and things from the past makes me a maximalist. It probably also explains why I was so taken with Ralph Lauren's mixed print bedding ensembles back in the '80s and '90s. I've searched the internet and haunted eBay for those old print sheets. Now it's impossible to find even one. For some time now I'm daydreamed about creating a PC version of the concept.
I really had to look no further than the rich archive of original prints that our design studio has developed over the years for its apparel line. From there, it was a matter of applying design principles of scale, color, texture and complementarity of patterns to come up with rich combinations. Every print or knit design in our collection draws on an authentic historical or ethnographic reference and it's almost always a handmade textile. That is where the print inspiration begins but it evolves from there, with intriguing layering and aging effects that add depth and character.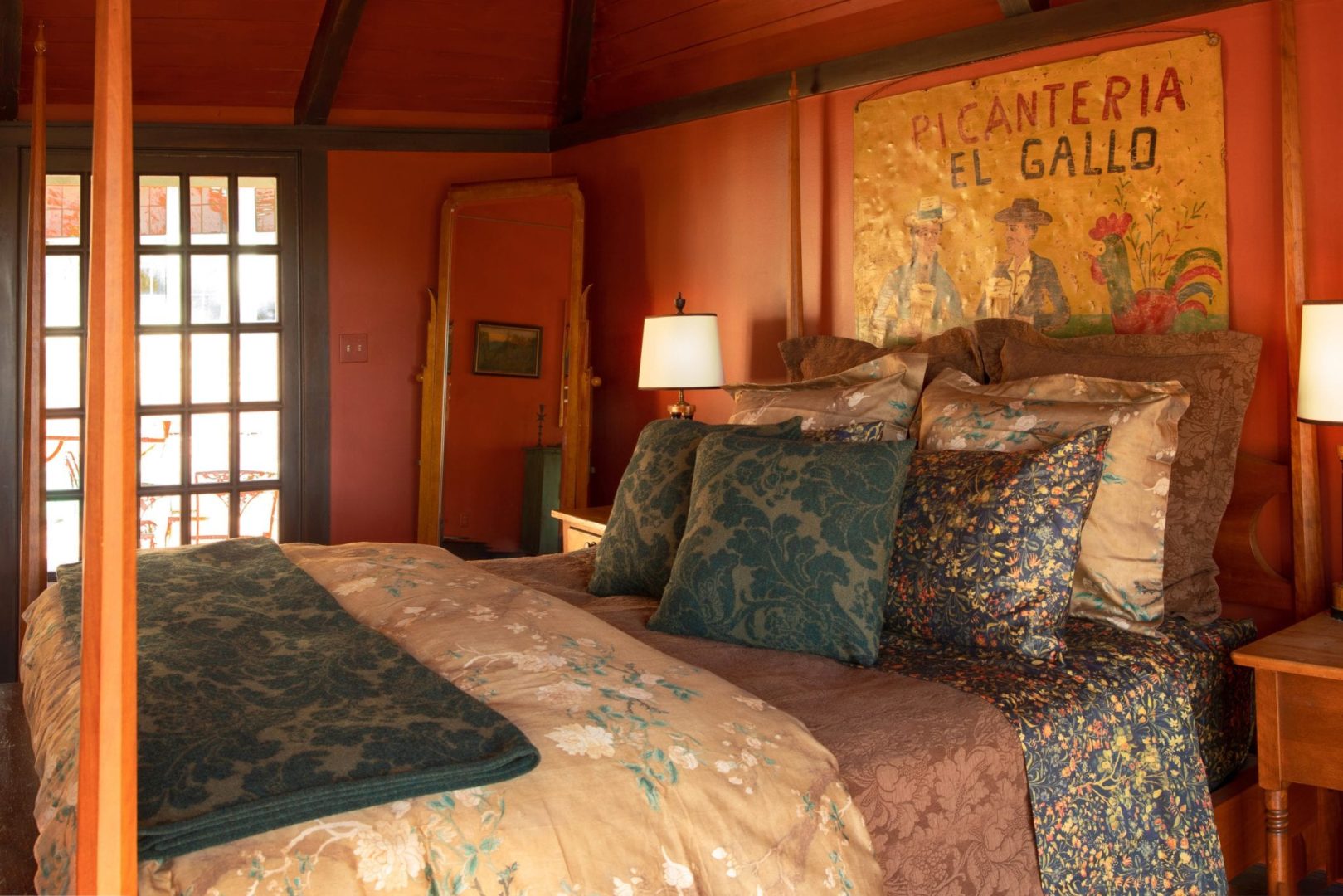 House Tipster Industry: How did your decision to officially transition into lifestyle and home collections come about?
Annie Hurlbut: I had dreamed about it for years, but it wasn't until a few key pieces came together that the idea began to take shape. It started with our extraordinary print archive and the support of a design studio who were fascinated with the challenge. But it wasn't to become a reality until I came upon the expertise and resources we needed… namely a couple of individuals who in their prior lives had worked on Ralph Lauren's home collection.
House Tipster Industry: Who did you work with to make these products a reality?
Annie Hurlbut: Through a friend of a friend I came across two individuals who had worked for years with Ralph Lauren Home back in the '90s, one on the product merchandising side and the other on the product design and execution side. When I showed them several prints from the archive, they too were convinced that the idea had real potential, and agreed to consult with us on launching PC's home collection.
House Tipster Industry: How do you think this line continues the conversation you have created through your apparel and accessories?
Annie Hurlbut: First of all, it's an evolution of the same conversation we've had with many of our apparel customers. They will be thrilled that we are offering them products in new and fresh categories. But we believe it will broaden that audience to include people who are most interested in expressing themselves with the things they surround themselves with—nesters. That audience actually includes me. Our new bedding collection has appeal for anyone who, some years back, fell in love with 'the cabinet of curiosities'. The prints themselves are richly layered, and have a nostalgia, almost a patina, of an undefined memory from the past. The ability to mix and mingle those prints adds to the appeal.
House Tipster Industry: Where do you credit as your biggest inspirations in sourcing textiles. What are some of your favorite materials in the line?
Annie Hurlbut: I grew up being drawn to things from the past. My great great grandfather in the late 1800s gave my great grandmother a split log summer cottage on Lake Huron. My happiest childhood memories are of spending summers up there visiting my grandmother. Everything in the cottage was antique, aged, well worn, not fancy but something from the past that someone treasured. Many years later when the original printed linen curtains were in tatters my mom decided to replace them. I squirreled them away, had them lined and backed and brought them back to life.
Specifically which fabrics appeal to me? I love how rich our beautifully layered prints look on the cotton sateen sheets, a fabric that just happens to be wrinkle resistant and easy to care for. We added accent pieces in other fabrics for texture, a twill weave sateen on the duvet covers and shams, an old-fashioned cotton matelassé coverlet and matching shams, velvet pillows printed in contrast prints and knit alpaca throws and pillows.
House Tipster Industry: What kind of home design schemes do you see this collection working best with?
Annie Hurlbut: The collection can fit in many different settings… definitely in an eclectic home with old wood floors, oriental rugs and a cabinet of curiosities bent. But the prints will also be a stunning accent in a clean, contemporary décor with organic elements of wood and stone and plaster. Of course, the patterns will bring to life any room with bland walls and a safe neutral rug. And it works with color: the "Magnolia" bed looks brilliant in our barn red painted bedroom.
House Tipster Industry: Who do you think is the perfect customer to try out these prints in their bedding?
Annie Hurlbut: Definitely the same person who is almost a cult follower of our apparel collections. She's an individualist with a love for unique things, quality natural fibers and small batch production. Someone who has a reverence for the past but is not constrained by it. She has the curiosity and imagination to bring it into her own 'nest' whether it's bohemian or traditional or contemporary in feel.
House Tipster Industry: What are you most looking forward to in the official launch?
Annie Hurlbut: We have a couple of ideas for the launch, but haven't settled on one yet. The only thing I'm sure of is that it will be as fun and unique as the collection itself. We hope you'll be there!