In an effort to remove pain points from the paint-buying process, entrepreneurs and real-life couple Caleb and Natalie Ebel are revolutionizing the paint industry through their company, Backdrop.
The concept started when the couple started looking for white paint for their child's nursery, only to realize there were far too many options. They immediately saw the need for a quick, efficient, and most of all, easy way to purchase paint without worrying about choosing the right shade or spending an arm and a leg for a sample can.
Over the coming years, the Ebels fine-tuned their business concept: an "Amazon Prime-level paint company" with limited yet universally-applicable shades.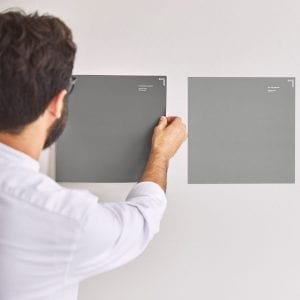 Each gallon container of Backdrop standard or semi-gloss paint retails for $45, and sample swatch stickers cost $2. The American-made paints are low-VOC, low-odor, and Green Wise certified. They also apply and wash easily, meaning clean up is a cinch.
Although Backdrop offers only 50 shades, each paint color is carefully curated and creatively named. "Off the Record" is a cool, clean, versatile grey, while goldenrod-hued "Tanlines" is more energetic. Other fan favorites include soft "Modern Love" pink and vibrant "Negroni." Regardless of taste, there's something for everyone in the collection.
Above all, Backdrop aims to be an approachable, relatable brand that puts consumers back in control of the paint-buying experience. "We're not interior designers, and our customers don't have to be interior designers to know what they like. It's about empowering people to own their space," stated Ebel.