Jumping for the first time since 2018, the market for ceramic tile consumption has increased by 9.9 percent from the previous year. Supported by the construction and housing markets, the total U.S. ceramic tile consumption in 2021 was 3.11 billion square feet. 
U.S. imports in 2021 set records that hadn't been seen in fifteen years. As the country continues to recover from the aftermath of COVID-19, the industry continues to see a growth in imports as well. An estimated 2.23 billion square feet of tile was imported last year resulting in a 13.6 percent increase from 2020.
According to reports from the Tile Council of North America, U.S. manufacturers have managed to ship 880.3 million square feet of ceramic tile domestically last year. This is a 1.5% increase from 2020. And though imports' share of U.S. consumption grew from 69.4% in 2020 to 71.7% last year, domestically-produced tiles' share of consumption (28.3%) remained far ahead of all other individual countries exporting tile to the U.S., with the nearest being Spain (15.9% of U.S. tile consumption), Italy (12.5%), and Mexico (11.5%).
In dollars, 2021 U.S. FOB factory sales of domestic shipments were $1.36 billion, a 5.0% increase from 2020. U.S. shipments comprised 35.2% of 2021 total U.S. tile consumption by value, down from 39.3% the previous year. 
Eric Astrachan, Executive Director of the Tile Council of North America, said, "The decline in consumption we saw in 2019 was due primarily to the anti-dumping/anti-subsidy measures initiated by the U.S. tile industry against subsidized and dumped tile from China. Without that action, consumption in 2019 would have been up 2.7% versus 2018." 
In 2018, the total U.S. ceramic tile consumption was also 3.11 billion square feet. In regards to the correlation between the two years, Astrachan said, "The decline in 2020 was due to the pandemic, and the increase we have seen in 2021 reflects a big increase in commercial projects and residential construction (versus 2020) as well as an increase in imports from other countries making up for the nearly 700,000,000 square feet/yr. that used to come from China."
On a global scale, in regards to exports, Spain has been the leading exporter to the U.S. in tile consumption. Replacing China in 2020, Spain became the leading exporter of ceramic tile to the U.S. by volume, maintaining its position. The country currently holds a 22.2 percent share of total U.S. imports, up from 20.7% the previous year.
Italy acts as the second largest exporter to the U.S. by volume, with its current highest position since 2008. Italian-produced tiles made up an estimated 17.4 percent share of the U.S. import market last year, which increased from up to 16.6 percent the previous year. 
Mexico, which is the third largest exporter to the U.S., has seen its share of total imports fall steadily over the last decade from an all-time high of 31.5% in 2012 to 16.1% last year. Rounding out the top five were Turkey (13.5% share) and Brazil with a 10.7% share of U.S. imports by volume.
Speculation suggests that there are a number of factors as to why Spain is in the lead for tile exports in America. Since tiles from China were hit with tariffs based on previous accounts of being dumped and subsidized, Astrachan surmised that it may be due to the available capacity in Spain.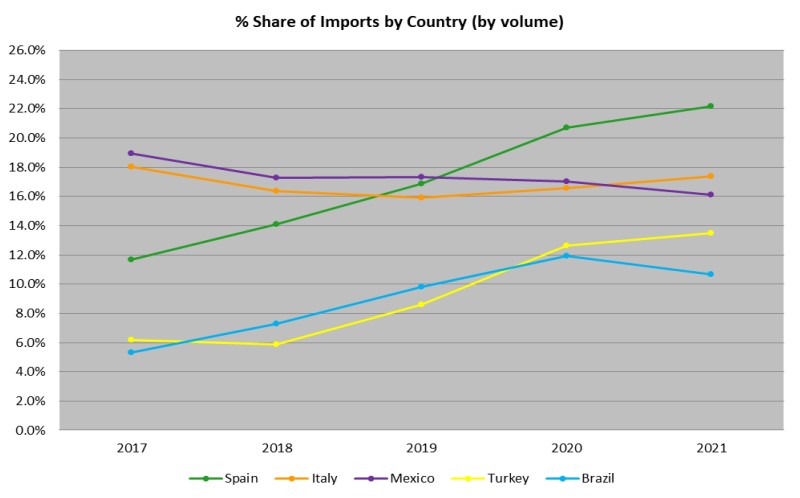 The executive director also suggests that the "very aggressive pricing" from several large Spanish tile factories may be another impact. He went on to say, "This was before the current container and shipping issues so that situation is changing. By way of comparison, as of this time last year, the price per sq. ft. (including freight and duty) for tile from Spain was $1.18 compared to $1.97 from Italy." 
Spain also has well established relationships, favorable exchange rates, and connected distribution in the US to boldly compete against the other exporters.
With record-high average new home prices and a low supply of available properties, new single family home sales fell for the first time in a decade. The 770,000 units sold in 2021 represented a 6.3% decline from the previous year.
TCNA is a trade association representing manufacturers of ceramic tile, tile installation materials, tile equipment, raw materials and other tile-related products. Established in 1945 as the Tile Council of America (TCA), it became the Tile Council of North America (TCNA) in 2003, reflecting its membership expansion to all of North America. The Tile Council is recognized for its leadership role in facilitating the development of North American and international industry quality standards to benefit tile consumers. Additionally, TCNA regularly conducts independent research and product testing, works with regulatory, trade, and other government agencies, and publishes installation guidelines, tile standards, economic reports, and promotional literature.