Born in Hereford and raised in the countryside of England, Sharon Marston cultivated an appreciation for nature. Through this upbringing, the British designer was already set on the path of establishing her name in the world of contemporary design. 

After studying jewelry at Middlesex University, Sharon Marston founded her own studio back in 1997, employing a talented team of fellow designers. Over the years, Sharon Marston studios went on to create innovative designs for various industries, focusing in fashion, theater, and dance. Working alongside figureheads like Bella Freud, Michiko Koshino, Paul Smith, and the English National Opera, Sharon Marston bolstered her discipline onto a global scale. 
"My work was meticulous, small, attention-to-detail. And when I worked in fashion theater, I was obviously exposed to lots of different types of materials, so when I first started making lighting, I was making lots of different textile materials and wove metal meshes, and then it grew and developed into more luxurious materials, like the hand blown glass, and the bone China, and so on," said Marston.
A laborious process, it takes about three to four months to design and to finalize her creations, although, depending on the complexity of the design, the time frame could take up to eight months. The longest project to produce was the Marina Bay Sands piece which consisted of 27 copper panels, each perforated with 400 glass side-emitting optical fibers and over 34,000 floral shapes. This project took about two months to design and eight months to produce.
The piece was a collaboration between Sharon and the Rockwell Group in New York back in 2011. One of the tallest pieces that Sharon had worked on previously was 40-meters and was installed in the Royal Caribbean cruise ship, Ovation of the Seas. 
Although the work requires a fastidious individual to create each respective segment, Sharon utilizes her team and skill set to customize the project according to the client's exact specifications. "My inspiration, I like to draw with materials, that's how I create the shapes in my designs. My work is very organic and tactile, inspired by nature and architecture," said the British designer.
"So I got into fiber optics, probably about twenty years ago, and I just love the fact that they were fibers that I could manipulate, and so I used to sew with the fibers into the materials. I love the fact that it's very subtle and light. And it's dispersed over the whole piece, so it's not just coming from one focal point, the light is dispersed, interwoven into these really lovely shapes," expressing her passion, Sharon continued, by saying, "I just really like the fact that there's so many possibilities, and you can really manipulate the materials, there's different kinds of fibers, you can use glass, side-emitting, which is more of an architectural kind of look. You can weave into the woven meshes, and so on, and just create these kinds of ethereal forms."
Although intrinsic with her work, Sharon was always an admirer of the performing arts, creating pieces for theater and film. Marston worked alongside Yolande Snaith, a choreographer with over 30 years of experience, creating pieces for the dance production of Jardin Blanc, (translated to White Garden in English), sponsored by the Arts Council of England.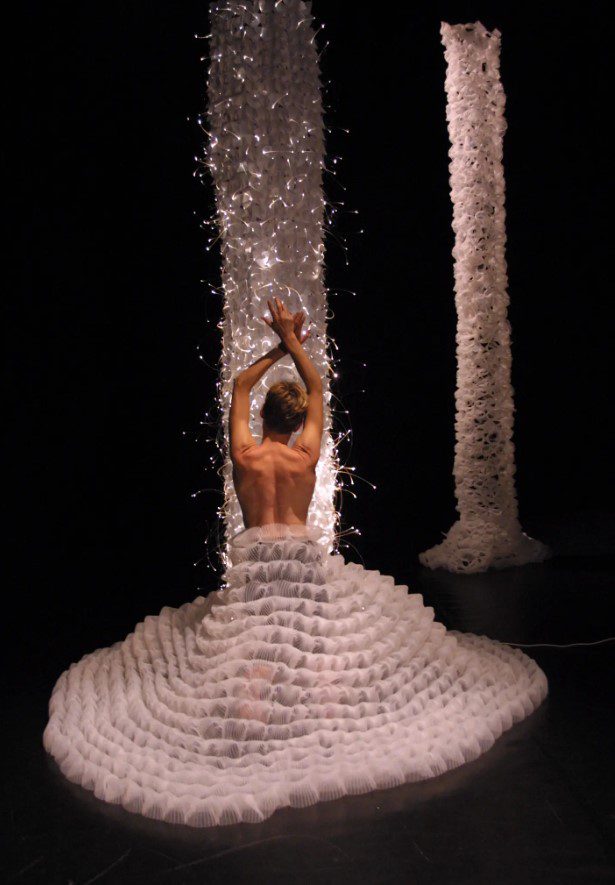 Sharon Marston Studio specializes in design and bespoke sculptural light installations, and is celebrating its 25th year. Based in London, the studio is known for using fiber optics, and various unique materials to create captivating works of contemporary design. Recently awarded for Best Lighting Designer from the International Furnishings And Design Associations at ICFF 2022, Sharon Marston is well-regarded for receiving international acclaim. Being awarded with several accolades, the company thrives in fusing materials sampled from a range of industries and craft disciplines crossing boundaries between art, fashion, product design and combining traditional processes and techniques with contemporary design.