Mid-century Palm Beach glamour was at the forefront of interior designer Danielle Rollins' latest creation: a bedroom at the Kips Bay Decorator Show House Palm Beach 2019.
For this year's show, the Atlanta-based designer brought her Southern elegance to a bedroom and bathroom space named "Sunset Tower Suite" at The Fountain House, a Mediterranean-style home along Florida's Intracoastal Waterway.
Danielle Rollins. Photo by House Tipster
"I wanted to do a room that was the ultimate guest suite: enclosed, self-contained, more of a salon," Rollins told the House Tipster Industry team of her design inspiration. "A space that had a place for sleeping, or a day bed, a little patio enclosure, an en-suite bathroom, closet, dressing area, and mixed use seating – because I'm one of those people who likes to hang out in my bedroom."
The space's colorful opulence is all a result of the designer's earliest memories of Floridian design.
"I think my ideas of glamour are still based on what I thought was glamorous as a child, and I love that old school Palm Beach aesthetic from the 60s and 70s, so in designing this space, that's where I went back to," Rollins shared. "Given the location of the room at the top of the stairs, I named it Sunset Tower Suite after one of my favorite hotels in LA. I love that you can see the ocean out the windows, see the sunset, and feel the breeze. I wanted it to feel like it was inside of a seashell."
The natural seashell theme and the room's mix of vibrant coral and pink shades were actually the initial jumping-off point for this room's overall design.
"It was channeled after one of my favorite Hermés scarves, a vintage one," Rollins explained. "I wanted something that felt really cozy and enveloping, and the minute you'd walk in, all of your senses were filled with the sounds of the air, music, and sumptuousness of a fabric-filled room."
This special designer scarf is prominently on display in the space, framed among the wall hangings to add in an especially whimsical touch.
To bring this lively and eclectic space to life, Rollins worked with a range of brand sponsors. For the space, Benjamin Moore provided paint, while The Rug Company outfitted the floors, California Closets created a beautiful closet space, Theodore Alexander contributed a case piece, and Kohler helped provide hardware for the bathroom.
"We had phenomenal support for the Kips Bay show house, which is always appreciated from a design standpoint," the designer said. "Stroheim, which is a fabric company, provided all of my wallpapers and fabrics. The Shade Store did all the blinds and the fabrication work for the curtains which was a laborious and arduous process because it's not what they normally do. But it was fun to work with them and come up with something kooky."
"Mary Meade Evans, who is a decorative artist in Atlanta, flew up to paint the floors underneath," Rollins added. "The bed, the sofa, and chairs are custom upholstery pieces that I designed, and we made the mirror too. The bedding is Walker Valentine mixed with my own fabrics. Soane Britain provided the large Hurlingham vases. Allan Knight did a custom chandelier coral piece for me."
In addition to the fine array of luxurious furnishings and home accessories, this Kips Bay space also prominently features Rollins' own art pieces.
"The art is my first licensed collection with Wendover Art," the designer said. "It was a two-year process working with them, and these are old French paint charts from the early 1900s."
These particular framed pieces take Rollins' love for color to the next level – and adds in a charming dose of design history.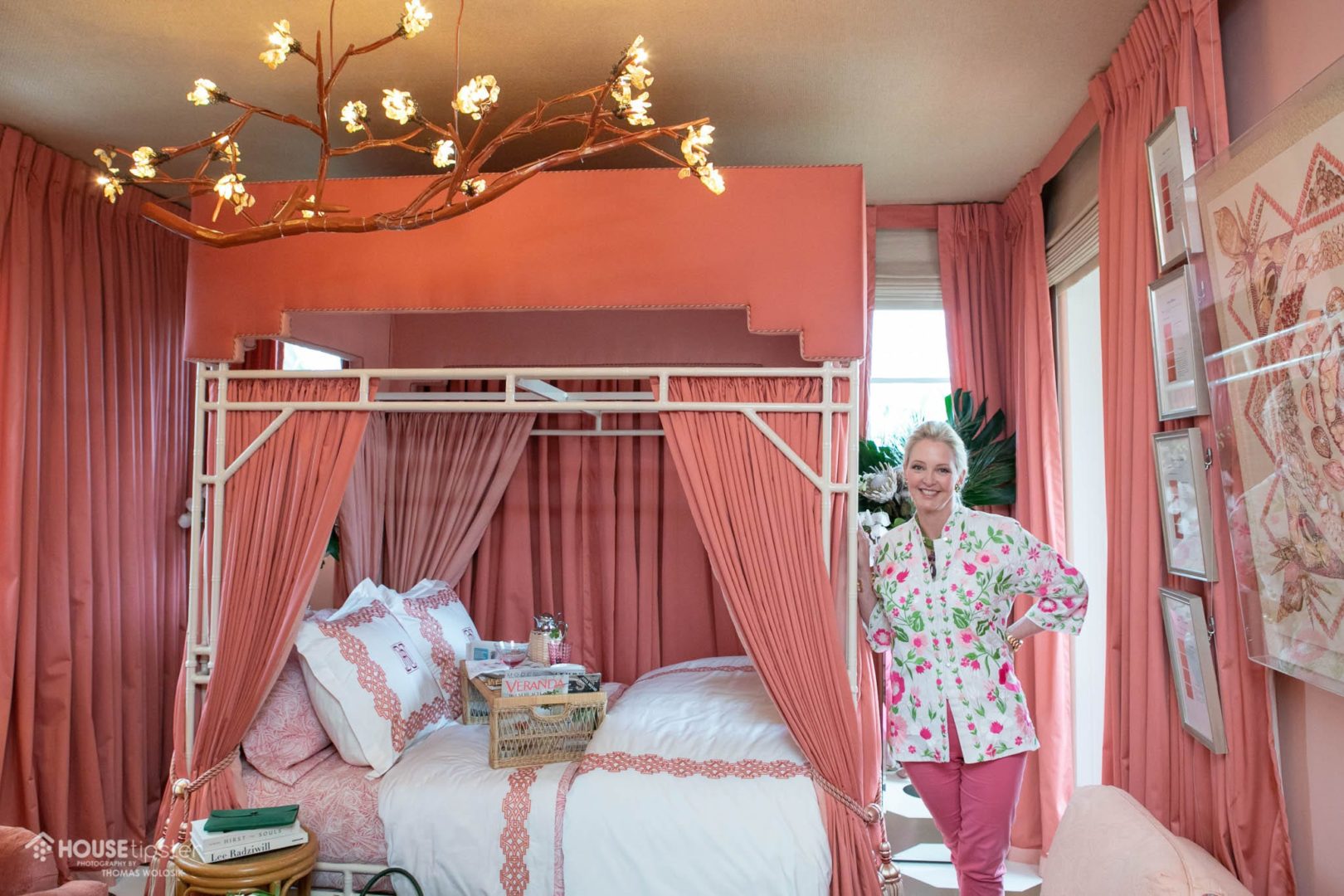 Danielle Rollins. Photo by House Tipster
"I'm obsessed with color, and so I love these because these are what people would have looked at to decide what they were going to paint, or for artists mixing mediums," Rollins added. "They're really beautiful, and shows the slight variations of colors. I wanted to do a collection that was buildable over time for people, so they could buy one or three, and add to it to make one large piece, and it could be personalized to fill a space."