Jamie Drake and Caleb Anderson, the award-winning designers behind the Drake/Anderson interior design firm, have worked with some of the hottest "It" buildings in Manhattan. Now, they are showing off their impeccable style for a wonderful cause. The team presented a jaw-dropping salon and bar space at this year's 46th Annual Kips Bay Design Show House, a glamorous and high-end design exhibition New York City showcase that benefits the Kips Bay Boys & Girls Club.
The House Tipster team had the chance to visit this exciting event for ourselves, and we were able to find out where the inspiration for this brilliant design came from.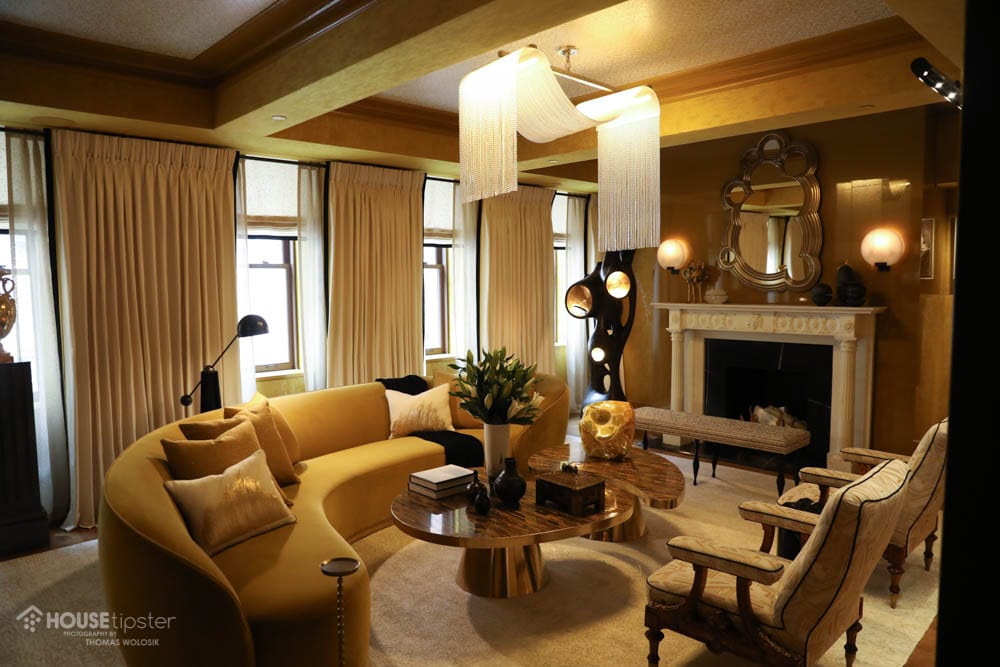 "We're so excited to participate in Kips Bay this year. We designed a salon and bar," Caleb Anderson tells House Tipster exclusively. "We really wanted to create something that felt grand and formal, but also cozy and intimate. Our initial point of departure was the color palette: we wanted to do an interesting yellow, something in the vein of saffron, ochre."
The yellow inspiration is evident as you tour around the gorgeous multi-purpose room, which seems to glisten and glow from within and radiate out.
"There's this idea of reflectivity in the space," Anderson shares.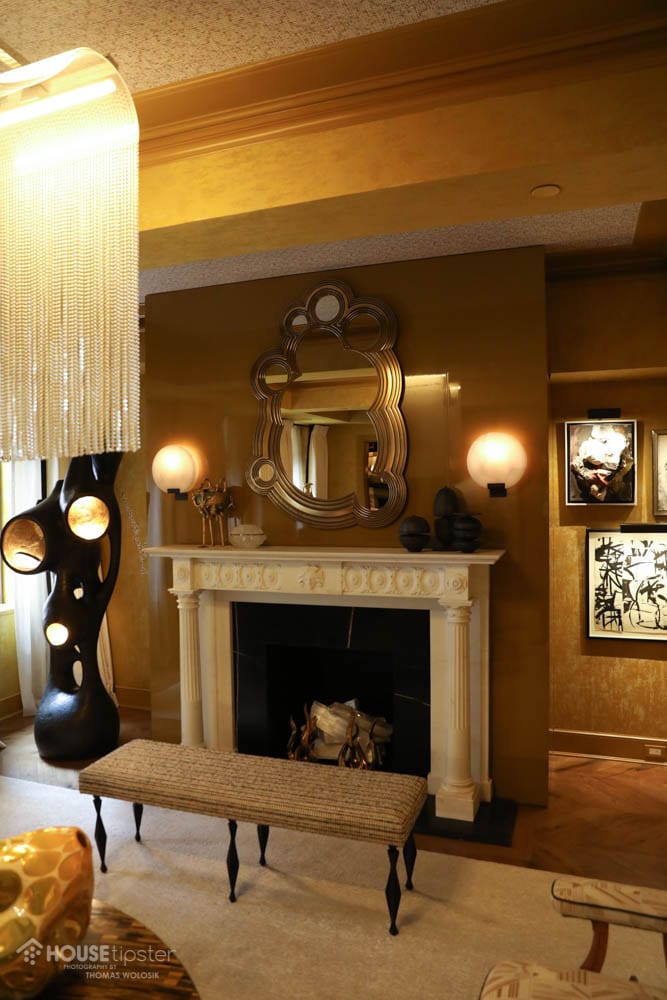 To make it all happen, the Drake/Anderson team mixed modern elements with cutting-edge custom designs and historical antiques.
"The room is really a mix of the custom pieces we designed, and antiques and contemporary pieces," the designer adds. "One of my favorite pieces is the custom sofa that we designed, [which is] very long and very curvy – there's a lot of interesting movement in the room – also upholstered with the beautiful fabric that we had embroidered with beads and sequins. It's sort of this veining gesture that's carried throughout the space, and that's mimicked in some other organic patterns."
"We have a gorgeous chandelier that's a prototype from [Mathieu] Lustrerie, it's made of glass beads, and it's very organic and beautiful in its gesture," Anderson said. "We have several antiques [including] a pair of aesthetic period chairs from the 1850s. [There is] also have a Regency period fireplace mantle, and some other gorgeous objects like a bronze urn from Carlton Hobbs that's Russian from the 19th Century."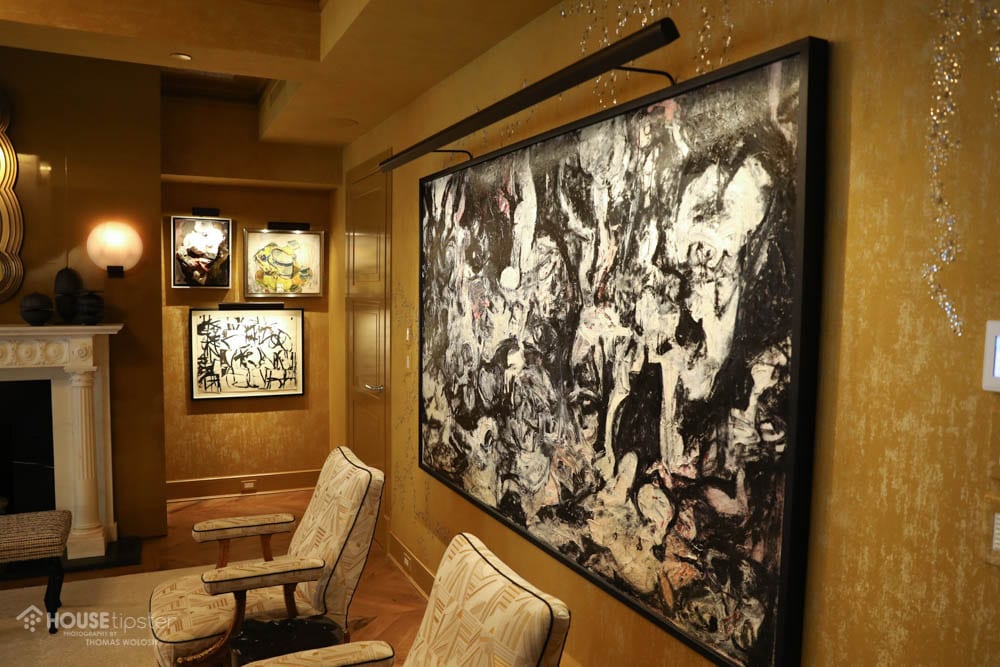 In addition to the gorgeous sitting area, the design team created a bar area with the most luxurious and in-demand elements around.
"Behind our salon, we have a beautiful jewel box bar, where we took the more traditional idea of a mirrored wall with rosettes, but mixed it up and used gold glass, smoke glass, and clear glass," Anderson explains.
"The bar itself is custom-designed, the top of it is made with Saint Laurent marble and the base is lacquer. The bar stools we also custom designed. There's a very dramatic Murano chandelier, and some very beautiful minimal sconces from Apparatus Studio on the wall."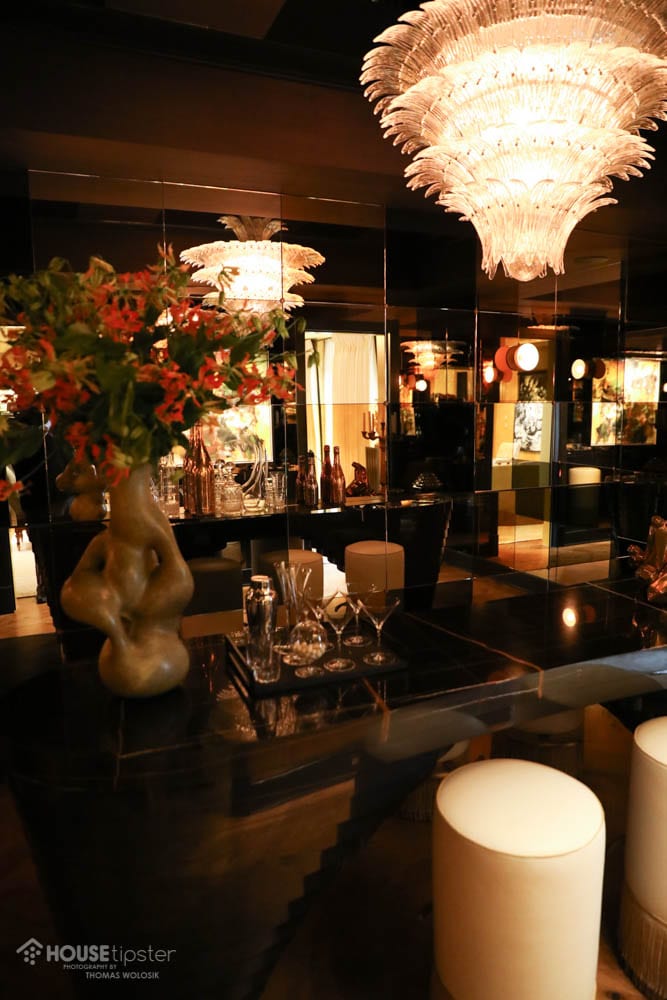 Not only is Drake/Anderson proud of the way their space turned out, but they are thrilled to be using their design expertise to support a good cause. This annual event raises funds for the Kips Bay Boys & Girls Club, which provides after-school activities and resources to over 10,000 kids across the Bronx area.
"The great thing about show houses like Kips Bay is not only you get to project a room in your design, and what you're feeling is of the moment or at any particular time, but it benefits a charity," Anderson tells us. "Kips Bay Boys & Girls Club is a wonderful charity that we're happy to be a part of."
We are certainly proud of the great work Drake/Anderson is accomplishing with this showcase!
Tipster TV has released the full video coverage from our special interview, be sure to check it out below.