Renowned designer Lee W. Robinson is no stranger to show houses, but his latest foray in Palm Beach for the Kips Bay Decorator Show House may be one of his most exciting designs to date.
Robinson, the owner of the Kentucky-based outfit Lee W. Robinson Company, partnered with interior designer Kyle Johnson to create a staircase unlike anything you've ever seen. Both designers admit that this show house design isn't something they'd necessarily do in a "regular house," but because it's a showroom, they felt comfortable and even encouraged to push the boundaries.
Once our team got a close look at the intricate work and elaborate styles of the chinoiserie garden-inspired space, it was clear that this dynamic duo used design to stimulate the senses.
Johnson reinforced this idea.  "One of the special elements of this space is that it touches on all five senses." Upon walking into the space, the subtle sounds of water trickling from a fountain and chirping birds greet you. The live succulent walls beg to be touched, while the champagne sits on the table waiting for the next visitor. Thanks to the large, ascending windows, "The space changes depending on the time of say," Johnson noted.
Johnson and Robinson praise Schumaker, their main donor, for the space's remarkable wallpaper and fabrics, along with Circa Lighting for the jaw-dropping lanterns and hallway pendants, The Rug Company for the custom carpeting, and The Shade Store. To bring incorporate a touch of history, Robinson lent numerous antiques from his personal collection, with many dating back as far as 200 B.C.
While it's hard to pinpoint one focal point in the space (there were simply too many!), the staircase living succulent arrangement courtesy of Green Wallscapes was definitely a showstopper. The arrangement of bedazzled insects valued at over 1.1 million also caught House Tipster's eye.
The space's centerpiece, an 11' birdcage suspended from the ceiling, was designed by Lee Robinson himself, and housed five birds from Brenda's Birds in Delray Beach. Each bird was named after the great designers that inspired Robinson and Johnson, including Dorothy Draper and Sister Parish.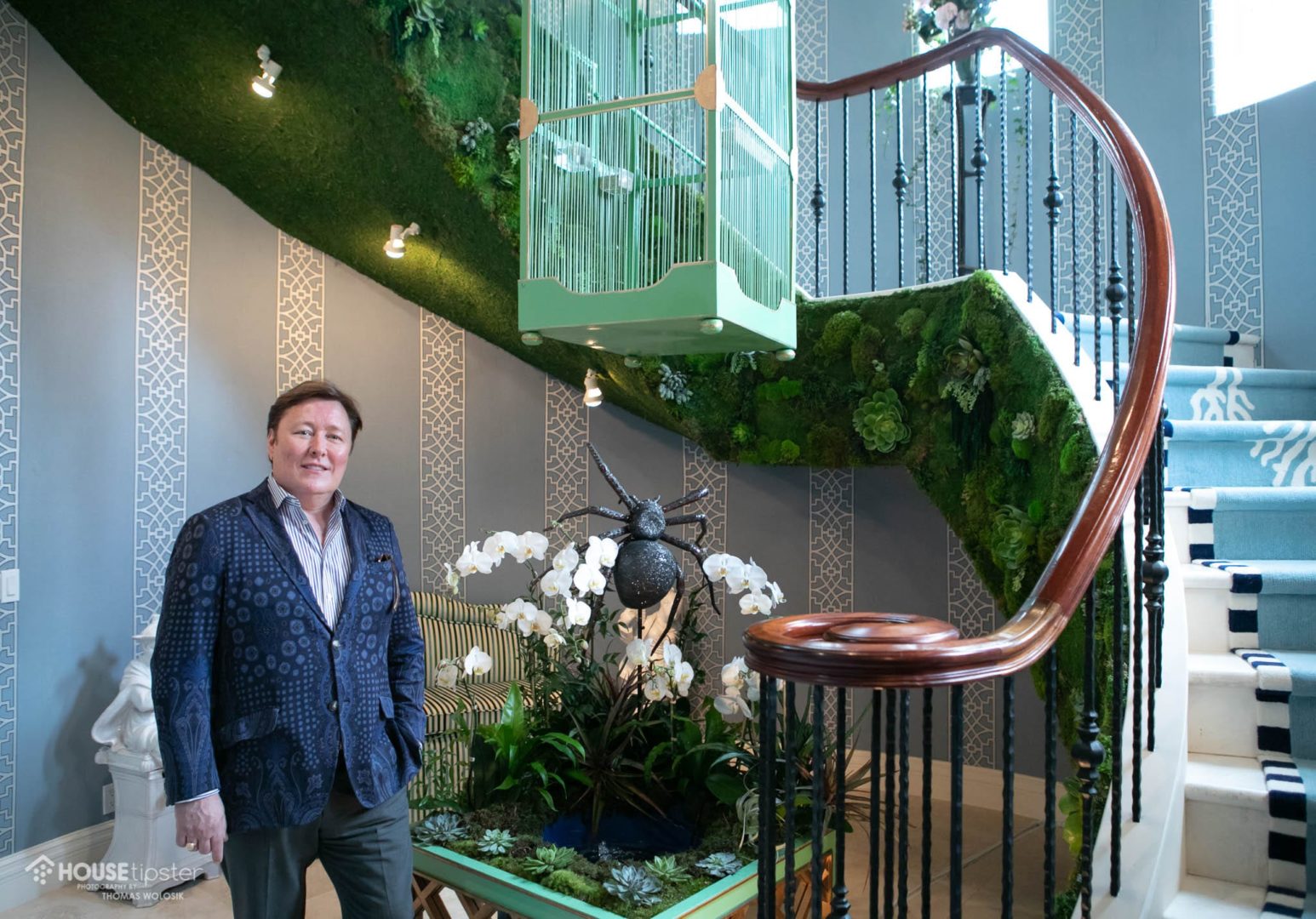 Natural, sensual, and highly invigorating; Lee Robinson and Kyle Johnson's space at the Kips Bay Decorator Show House in Palm Beach lived up to its hype, and then some.