Where would Sleeping Beauty rest? We imagine the princess wouldn't mind if she took her years-long slumber in the latest room created by esteemed interior designer Mark D. Sikes. The designer returned to this year's Kips Bay Decorator Show House in Manhattan for a second round at showcasing his creations. In support of the event's fundraising efforts for the Kips Bay Boys & Girls Club, the artist and his team created a comfortable, inviting, and timeless bedroom space for the annual design exhibition.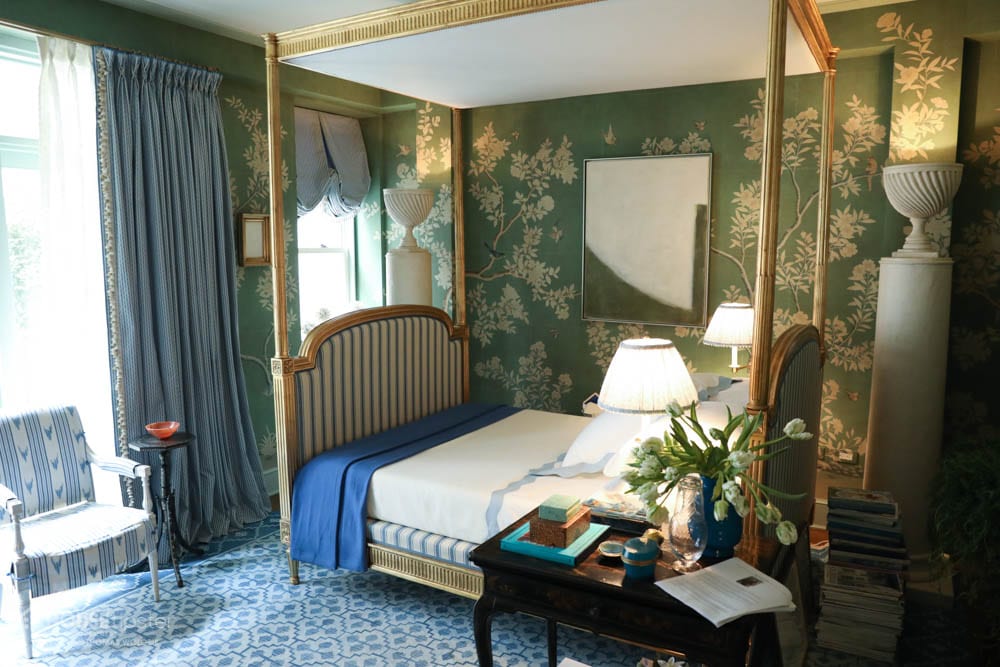 "The room is called 'Sleeping Beauty,' and I wanted to create a boudoir that was fit for a modern-day princess – hence the name," the designer tells House Tipster during our exclusive discussion at the VIP launch event for the 2018 Show House. "The bed is definitely one of the centerpieces of the room," he says. "I think the gilding of the bed and the gold throughout the room gives it that more glamorous feeling. Which is balanced out with the more casual fabrics like the ikats, stripes, and dhurries. I wanted to position the bed in a way that opened up the room a little bit, and then that makes sense if you were actually sleeping here and waking up, looking outside out the window."
Mark D. Sikes just launched his own fabric collection with Schumacher this Spring (with lighting, tabletops, and bedding launches on their way later in 2018), so of course he made sure to incorporate touches of his own collaboration into this room.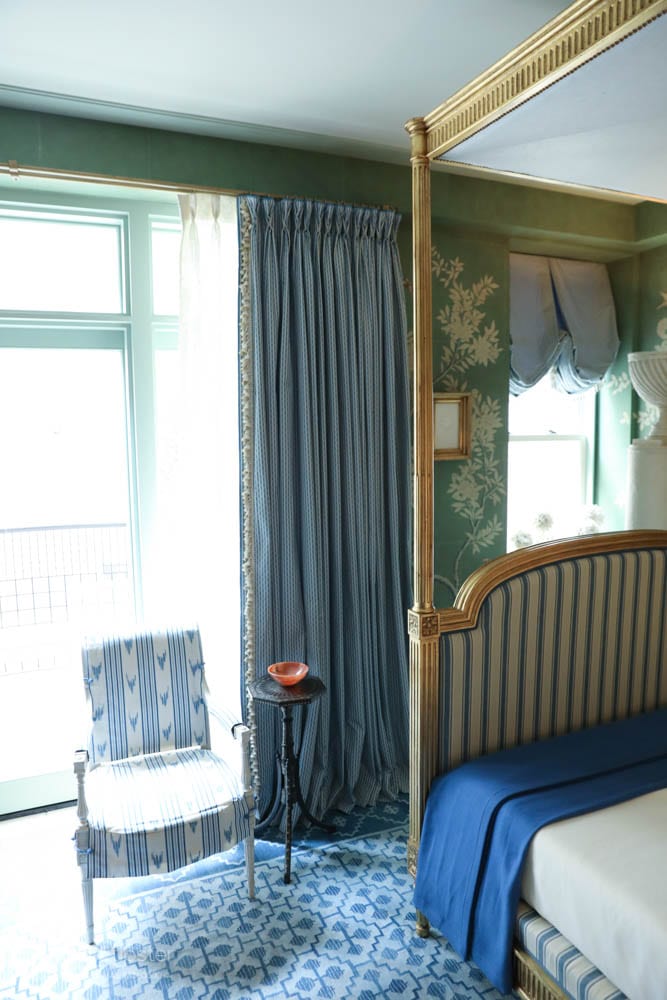 "We worked with Gracie on customizing this amazing wallpaper, it's a pattern that they already have, but we did some custom coloring and additional details," he explains. "We actually had an artist that came in as well as us and did some of the artistry out to the woodwork and the moulding. All of the fabrics in my room are from my Schumacher collection. And like everyone in the Show House, we're so grateful to all the vendors and antique dealers that make this possible."
Thanks to so many wonderful pieces coming together in harmony to furnish this space, the designer is beyond proud of the finished product.
"I was able to curate a beautiful collection of furniture and art in the room. Some of the vendors in the room include Carlton Hobbs, James Sansum, they're phenomenal," Sikes says. "Another amazing thing about the room is these custom porcelain flowers that we did with Vladimir Kanevsky, he's a Russian porcelain flower-maker, there are multiple flowers from him throughout the room. Throughout the space, there are so many beautiful details, with trims and different things."
We were blown away by the way these enchanting standout pieces flawlessly intermingled.
Tipster TV has released the full video coverage from our special interview, be sure to check it out below.