Each year the interior design world anxiously awaits for industry-leading paint company Benjamin Moore to come out with their choice for color of the year. This decision is not one that is taken lightly by the creatives at Benjamin Moore; putting countless hours of thought and analysis into the decision.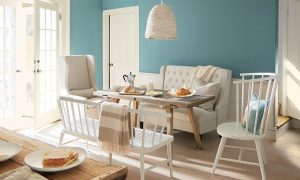 Those on the design and color team go through a painstaking process to ensure that the color they select has both beauty and meaning. This process is a year-long exploration into the design, art, fashion, cultural and environmental influences both within the United States and internationally.
With all the uncertainty and changes that have taken place in 2020, Benjamin Moore wanted to choose a color of the year that would radiate calm, balance, and harmony for the upcoming 2021. Home has always held a special place in the heart and soul of every individual but in the past year the concept of home took on a greater meaning. 
Home has become a space for work, school, play, love, frustration, fear, imagination, and so much more. The world watched in awe as people were able to adjust their lives to extremes they had once thought were unimaginable. Home has become the one place we were able to consider a safe space when the world around us seemed to had been crumbling. It is clear that a home is an essential place we need to feel comfortable and at peace in more than ever. Benjamin Moore set intentions to have this year's color "…express a welcoming, lived-in quality that celebrates the connections and real moments."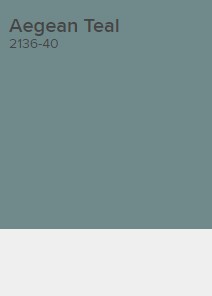 In a press release from Benjamin Moore Andrea Magno, director of color marketing and development stated "Amid the uncertainty, people yearn for stability. The colors we surround ourselves with can have a powerful impact on our emotions and wellbeing." Mango and her team conducted a color trend research process that included months of observing the ways that color is used across all industries.
Since the home has become a one-stop destination for our lives Benjamin Moore's design team aimed to celebrate the upcoming 2021 with a remembrance of the simple pleasures in life. Accentuating pure joys of everyday commodities like the faded rumple of linen sheets on a Sunday morning and perfectly ripened fruits from the local farmers market on the windowsill. Benjamin Moore gives the small things in life that give us peace, hope, and happiness the spotlight to be the inspiration for the year to come.  For these reasons, the Benjamin Moore Color Trends 2021 palette, featuring Aegean Teal 2136-40 came to be the color of the year.