When it comes to mixing modern luxuries with timeless interior design elements, acclaimed Michigan-based interior designer Corey Damen Jenkins of Corey Damen Jenkins & Associates is a pro worth looking to for inspiration.
The designer was chosen as Robert Allen Duralee Group's partner for the 22nd biennial Junior League of Detroit Designers' Show House, hosted in the Fisher Mansion. There, he designed a charming and memorable living room space that must be experienced.
"I wanted to create a space that felt approachable," Jenkins explained about his design in a statement. "The key was juxtaposing vibrant color and powerful geometric patterns against the formal paneled walls."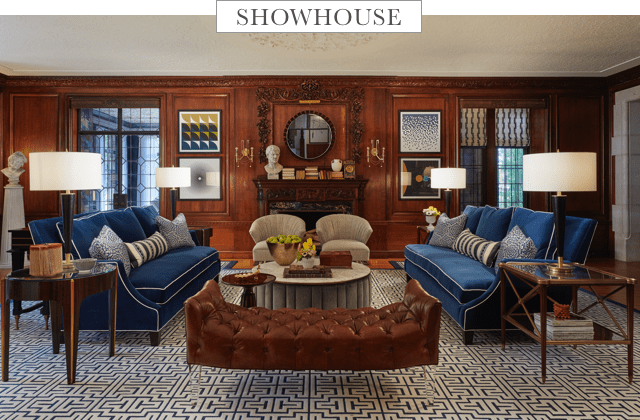 Jenkins drew inspiration from two worlds when creating his luxurious space: history and fashion.
"First, my personal collection of antique blue-and-white China urns influenced the color palette I chose," he said. "And second, [I was inspired by] Parisian fashion runways: specifically the works of Jean Paul Gaultier, Elie Saab, and Balmain."
From the color palette to the heirloom detailing shown in this design, you can definitely see these inspirations at work.
Though Jenkins' space is the picture of modern luxury, he achieves this effect through the use of timeless furniture pieces, and a universally-appealing color scheme.
"I strived to create a space that would never have an expiration date," he explained. "The navy, white, black and cerulean color palette was chosen to be timeless, fashion-forward and hip."
And of course, his wallcoverings and fabric choices elevate his room design to the next level. Jenkins is known for mixing vibrant colors and layering patterns to create his designs. Here, the effect is chic and timeless.
"Robert Allen Duralee Group fabrics brought a fresh, continental mix to the design," Jenkins added. "The Beacon Hill fabrics in particular really infused the space with a cultured, traveled aesthetic which tied in nicely with the antique pieces I used to furnish the room."