Over the past decade, actress Jane Seymour has partnered with luxury designer Michael Amini on Michael Amini – Jane Seymour LIVING, a Hollywood-glam-inspired lifestyle furniture line that combines high-end design with functional features. The successful collaboration has spawned over a dozen collections and a ravenous following from customers eager for what's next.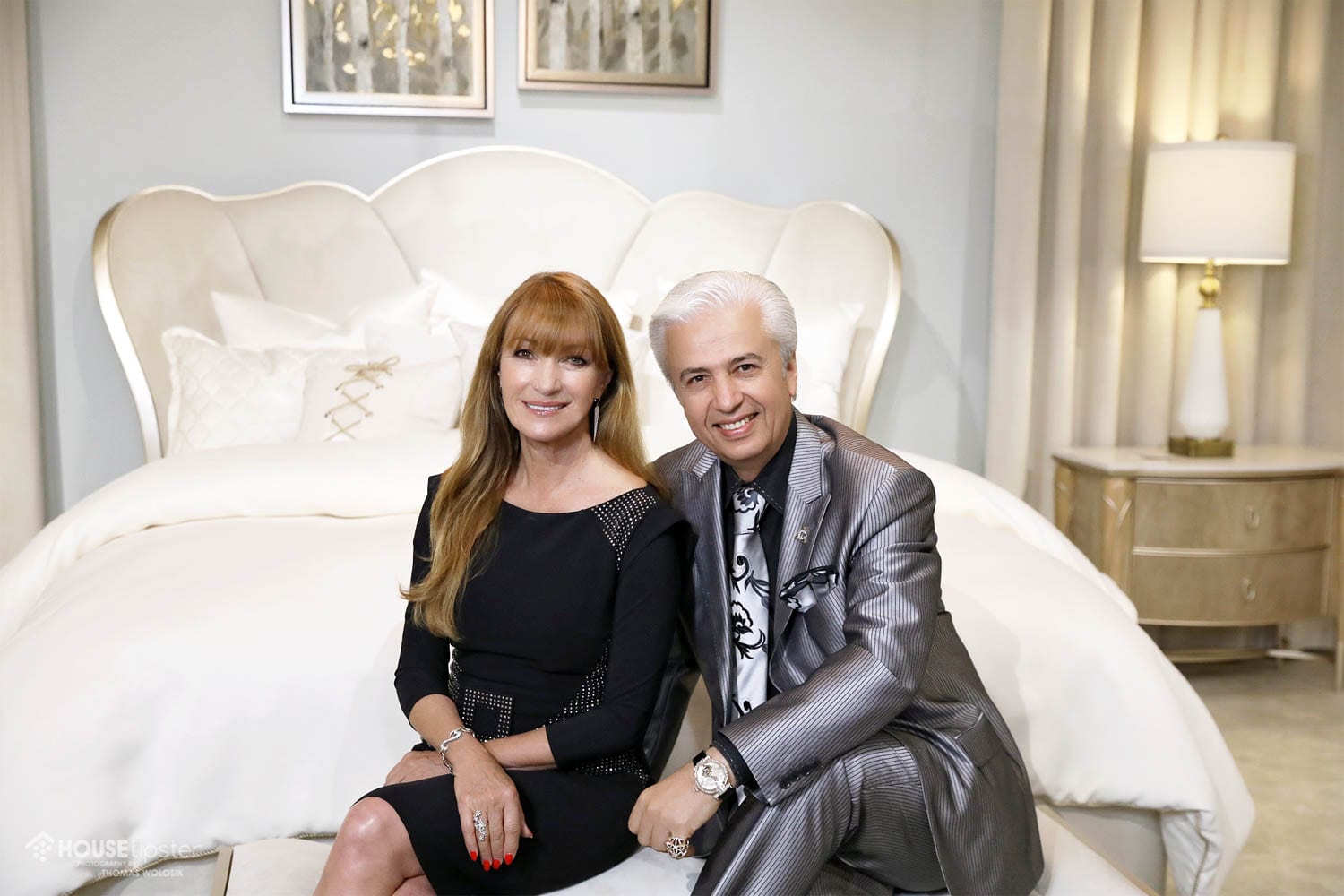 At the Spring 2019 High Point Market, Jane and Michael debuted their latest collection: Villa Cherie. "It's classic, timeless, and elegant," Jane explained.
Villa Cherie aligns closely with other Michael Amini – Jane Seymour LIVING lines in that it relies heavily on neutral palettes and beautiful designs that cater to modern living. But at the same time, this particular collection definitely has a classic appeal.
The focus on classic design was intentional, particularly because Jane wanted to create pieces that would eventually become home heirlooms. Not only is Villa Cherie Michael's favorite collection to come out of the partnership, but Jane also has a fondness for it. "It's in my home. I have three rooms of it!"
Epitomizing the beauty and elegance of the line is the dressing table, which features little touches such as tassels and a pre-dyed mahogany swirl veneer. The movement of the wood grain is extraordinary, and the color verges between beige, brown, and grey depending on the angle and sunlight. Another key piece in the collection is the curved, corset-inspired bed made with platinum velvet fabric. It's a sexy and timeless piece perfect for a master bedroom suite.
One of Michael Amini and Jane Seymour's most popular pieces is the lingerie chest, and they've added a new model for the Villa Cherie collection with a full-length mirror on the back. "We have this item in most of our collections. Everyone wants it," Amini told House Tipster.
Some of the duo's other notable collections on display this season at High Point include Hollywood Swank, Camden Court, and London Place. Although some of the designs in these collections are nearing ten years old, they've never gone out of style. Plus, most are versatile enough that they're perfect for both informal as well as formal environments.
To take a tour around Michael Amini's showroom space for yourself, and hear more from their conversation, be sure to check out House Tipster Industry's exclusive live video below.