Designer Lori Miller of New York-based LGC Interior Design presented a whimsical Jack & Jill bathroom at the 2019 Hampton Designer Showhouse. The standout feature is a summery hammock theme, which is reflected in print, color, and fabric details throughout the space.
The House Tipster Industry team talked exclusively with the designer at a special show house press preview unveiling, a charity event raising funds for Stony Brook Southampton Hospital, where she told us all about the special details that make this bathroom so special.
"My inspiration for this Hamptons bath was the hammocks," Miller told us. "Working with the gray, I love the blue and the feel of the coastal elegance. The hammocks represented the waves a little bit."
"I came across this wallpaper [from Wallquest] that has lovely hammocks, and although gray, they also had this Hamptons blue. I thought this was whimsical, yet elegant – befitting of the Hamptons. The glass-blown blue pendants from Circa Lighting enhance the blue of the room and also lend it that gracious elegance, and more whimsy is [found in] the butterflies, graciously given to us by Phillips Collection."
The playful pattern certainly adds some nostalgic childlike charm to this otherwise oasis of a bathroom, and a custom-made rock garden display from artist Konsepta Designs brings even more of the great outdoors in.
"I always love to have that touch of whimsy, so when you're walking into a space, you feel inspired, you feel relaxed," the designer added. "It should be a place of wellness and happiness, and this [room] definitely had that restful, relaxing feeling."
To bring out the best of this space, LGC Design worked with a variety of high-end vendors, including Circa Lighting, Ciuffo Cabinetry, Kohler Co., The Tile Shop, Deutsch Painting & Wallpaper, Konsepta, Forbes & Lomax, Lynellen, Nielsen Art, Top Knobs, Wallquest, United Asset Strategies, Sferra Linens, Puccio Electric, and Phillips Collection.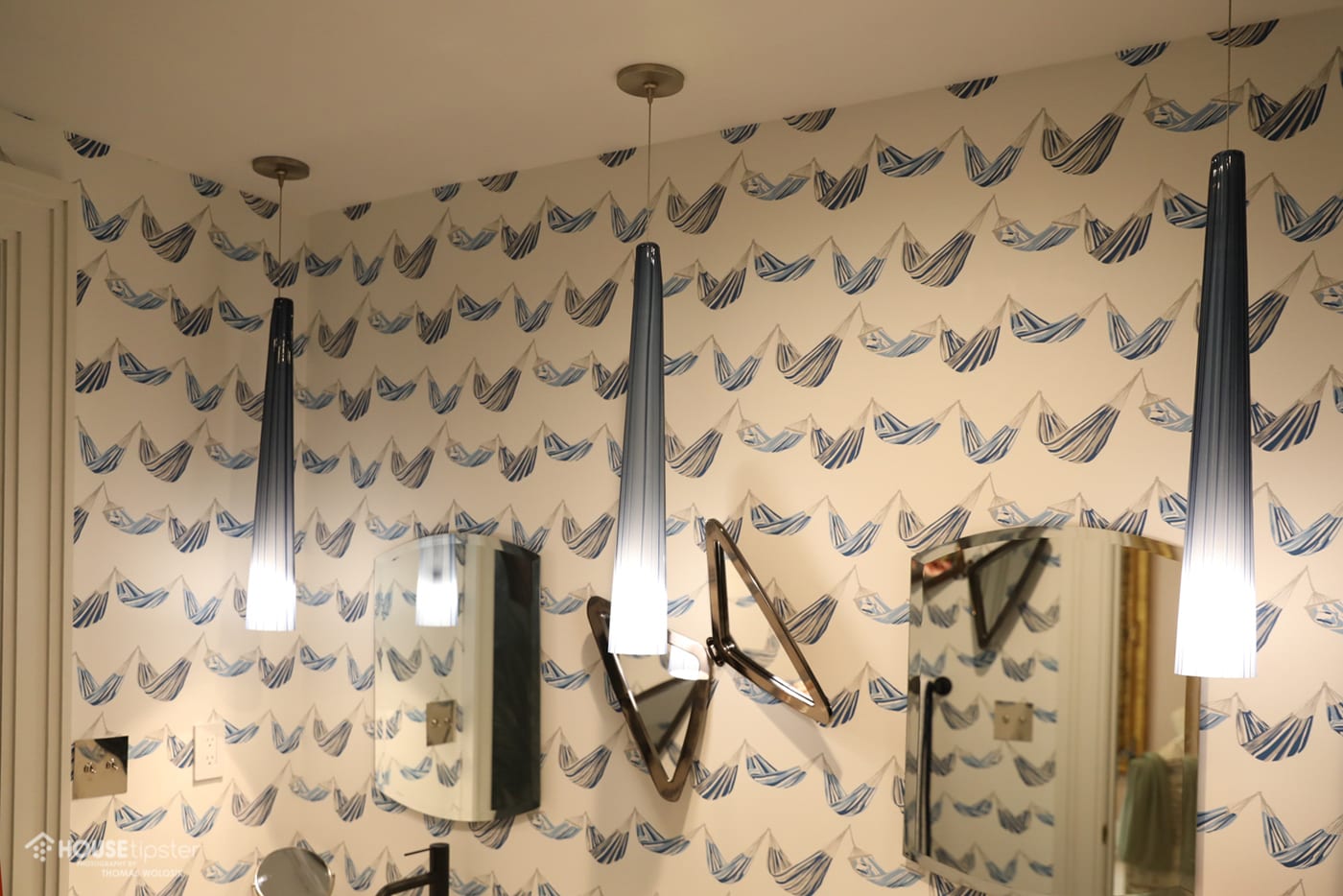 To hear more about Lori Miller brought together this Hampton Showhouse bathroom space, be sure to check out our exclusive video interview guided by the designer below.
Stay tuned for more designer spotlights and exclusive interviews from the 2019 Hampton Designer Showhouse, coming soon to House Tipster Industry. To take a sneak peek into the whole home, be sure to catch up with our introductory video here.