This year symbolized the momentous and triumphant return for the participants that attended the 2021 High Point Market. Although there were several companies and leaders that attended the event, Four Hands was but one of many examples, signifying such a thriving industry.
Showcasing over about 900 different pieces, Four Hands filled the showroom with customers, returning and new. Some of the bestsellers included ten product categories, while also debuting a collaboration with Thomas Bina. However, the central theme of the collections this year, focused specifically on art.
According to Adam Dunn, Vice President of Design, "The art experience at this year's market was very different from what customers have seen before. Driven by the need for self-expression, we curated pieces to display a breadth of technique, content type, and subject matter."
There were about 100 high-quality pieces that were featured in their showroom, all of which were conceived by newly emerging, talented artists. Dunn was especially excited that art and the impression that it brings "will be making a statement next year, whether that's from the bold colors of an abstract or the overall size – think 72" or more."
There were three very popular pieces to mention: Morning Waves by Shaina Page, the Gareth Swivel Chair-Torrance Silver from the Thomas Bina collection, and the Bibianna Dining Table-Smoked Honey.
Morning Waves was a piece that drew upon Shaina's deep-rooted faith for inspiration. Shaina Page is a Texan currently based in Southern California. By employing a progressive printing technique, she layered ink to immerse tangible textures onto a matte canvas. Framed with a natural American maple, Four Hands wished to emulate museum-quality work.
An 80's inspired piece, the Gareth Swivel Chair was influenced by Brazilian culture and manufactured with recycled high-performance fabric. The black-finished iron framing creates a head-turning contrast. On the matter of nostalgia, Adam emphasized that, "Nostalgia is a driving force in our current culture. Our recent launches have been inspired by nostalgia to deliver comfort and familiarity, but reimagined in ways that feel new. For 2022, expect revivals of heritage patterns and fresh updates to everyday basics."
With the capability of seating six people around it, the Bibianna was an Italian-inspired piece. A cone-tapered parawood base, the dining table essentially supports a roomy, yet rounded top, all separated by the blush-finished marble detailing.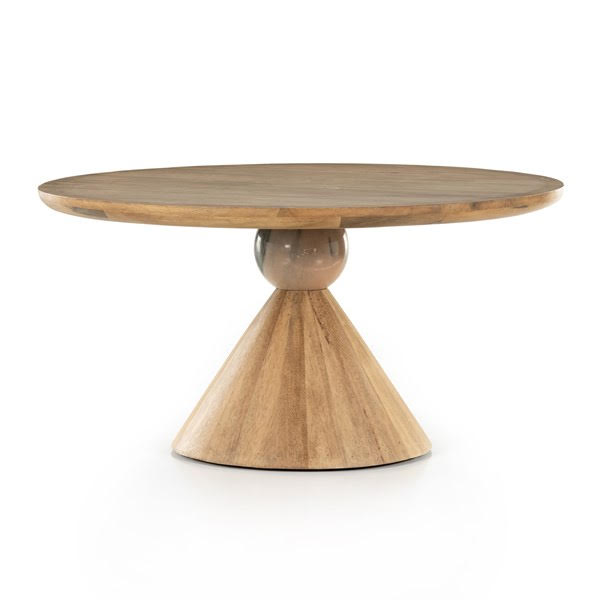 The Vice President said, "With a renewed focus on art, we acquired a local art studio in 2018 to deliver high-quality, made-to-order artwork. Our studio partners with emerging artists, both local and international." Four Hands collaborates with brands like Getty Images Gallery, developing, manufacturing, and framing works in their state-of-the-art, 35,000 square foot warehouse, based in Austin, Texas. "There are currently more than 250+ pieces of art available to our customers, all ready to ship within one week," said Dunn.