Behr premiered one of its latest collections, the Designer Collection, at NeoCon. For the first time, Behr is evincing a line of tried and true colors, realizing the goal of helping designers and industry professionals recreate their paint projects with mesmerizing palettes.
The Designer Collection
The Designer Collection is a palette of Behr's top 30 white, neutral, and accent colors, referred to as 'The Best of Behr', the collection is an arrangement curated by designers. Creating an amiable bridge for both clients and designers, the palette employs the best in classic hues.
"We are thrilled to be launching this new collection as part of our mission to bring the best color specification tools in the industry to design professionals," said Jodi Allen, Behr Global Chief Marketing Officer. "The Behr Designer Collection palette features go-to colors for residential and commercial projects to ensure color specification is seamless and satisfies every client's need."
Included with the Designer Collection is the timeless Winter White, which is the prime choice in creating a clean and crisp surrounding.
The Gratifying Gray is a gray-blue that exhumes elegance to both corporate and residential settings. The collection also highlights Even Better Beige for its versatility in neutral styles, emanating a warm, distinctive sensation for tasteful projects.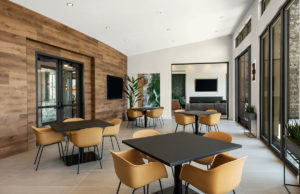 "We want to make color selection as smooth as possible to help ensure the decision-making process is a breeze–always resulting in a finished product that clients will love," said Erika Woelfel, Vice President of Color & Creative Services, of the paint company.
Alongside the new collection, the paint company also introduced the Color System. 
New Color System
The Color System, which was designed as a one-stop color resource for designers and architects, can specifically process new color concepts and a combination of different interior schemes.
The system will consist of the Whites, Grays & Neturals Fan Deck, which is a collection of whites, grays, and neutrals, a color guide to rapidly view all the colors at one glance, and a QR Code Scanning system for two-day delivery, powered by Swatchbox.
Woelfel stated, "With the Behr Designer Collection, a designer is able to review a hyper-curated palette, based on our first-of-its-kind BEHR Color System tool, to streamline specification work."
The vice president said, "We're putting the creative power in the hands of the designer to source and select color options during the specification process in a more simplified way to meet their project needs," Woelfel continued on to say, "After all, color selection should be a fun part of the design process!"
The company also created the Copper Force, a paint that is regarded a great design asset to combat COVID-19 and future pandemics.
Founded in 1947, Behr Paint Company is one of the largest manufacturers of paints, primers, decorative finishes, stains, surface preparation and application products for do-it-yourselfers and professionals in the United States, Canada and Mexico.
The Santa Ana, Calif.-based company and maker of the BEHR, KILZ, WHIZZ and E&J brands is dedicated to meeting the project needs of DIYers, professionals, architects and designers with an unwavering commitment to quality, innovation and value. 
Professional contractors can learn more about the products and services through their main site. Behr Paint Company is a subsidiary of Masco Corporation.