JD Staron first came into the scene once Jakub and his team began their operations in a waterfront property in Williamsburg, Brooklyn. 

Through this thriving and enriched environment, JD Staron became a force to be reckoned with. With a history, energy, and sense of style under his belt, Jakub fused his crafts together to assemble pieces that were never thought of. 
Remembering the cultivation of his career, Jakub said, "I started the company 20 years ago, right after grad school, and we have been making carpets, since then, we have been open only to interior designers and architects, strictly to the trade [industry]. We have locations now in Laguna, Los Angeles, San Francisco, Boston, New York, Stanford, Connecticut, Atlanta, and Paris."
A team with many artistic talents, JD Staron is proud of their collections, showcasing a little bit of everything in the design community, he said, "from original contemporary artwork to historically accurate reproductions of antiques. We pretty much have everything."
Elaborating the process, he ecstatically explained, "Since I am a weaver, I know how to make those from broadlooms, we actually have a broadloom division. We make broadlooms, we make hospitality projects, pretty much everything."
"We do mostly residential, but also hospitality projects. Because I'm a weaver, I can change and tweak textures and machines," said Staron. Since Jakub is essentially a technician, he has the prowess to change and modify machines, matching any demands that a client or project may pose. He had one example of this approach, expounding, "Let's say, an architect comes and they say they love this antique carpet, but I would love to put it in a shopping mall, or line a whole hotel with antique Agra or something, we can figure out how to do it. We're probably the only ones who can do it, because we're weavers."
Jakub detailed how his craft helps him and his team with creating his work, saying, "I spend about six months a year at the factories working on these things, I actually sit with the weavers, tell them what to do, how to do it, and they make it for us."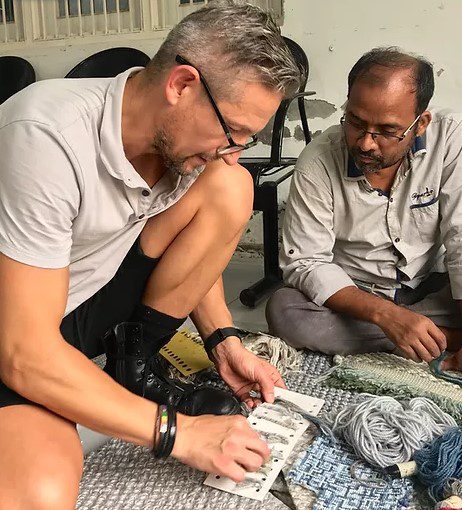 JD Staron recently won the IFDA Selects' award for Best Flooring at ICFF this year. The custom rug atelier exhibited its most recent designs at ICFF. Among the debuts were JD Staron's newest Brushstrokes collection, as well as two new licensed projects collaborating with Very Gay Paint and Interior Collab. The collaboration that involved Very Gay Paint featured clean and playful geometric motifs procured by LA comedians Nicholas Scheppard and Jenson Titus.
JD Staron also debuted the Interior Collab Capsule 1: Shadow Play collection which was a creation conceived through Interior Collab, which is a not-for-profit collaborative effort comprised of qualified interior designers, architects and decorators. The inaugural assortment features designs submitted by members that recites a certain story between light and shadows, and displays the transition from dark to light. The line boasts five avant garde designs—each by a different noteworthy designer—in multiple colorways, such as the solar eclipse–inspired Halo by Ahmad AbouZanat, the color-blocked Traverse by Sophie Girard and the ethereal Dappled Light by Gianna Marzella.