The International Surface Event (TISE), a three-day trade show and industry gathering dedicated to floor coverings, stone, and tile, isn't just a place for companies to show off their latest product lines. In fact, TISE is the perfect backdrop to present new and emerging design technologies. And that's exactly what the team at House Tipster did!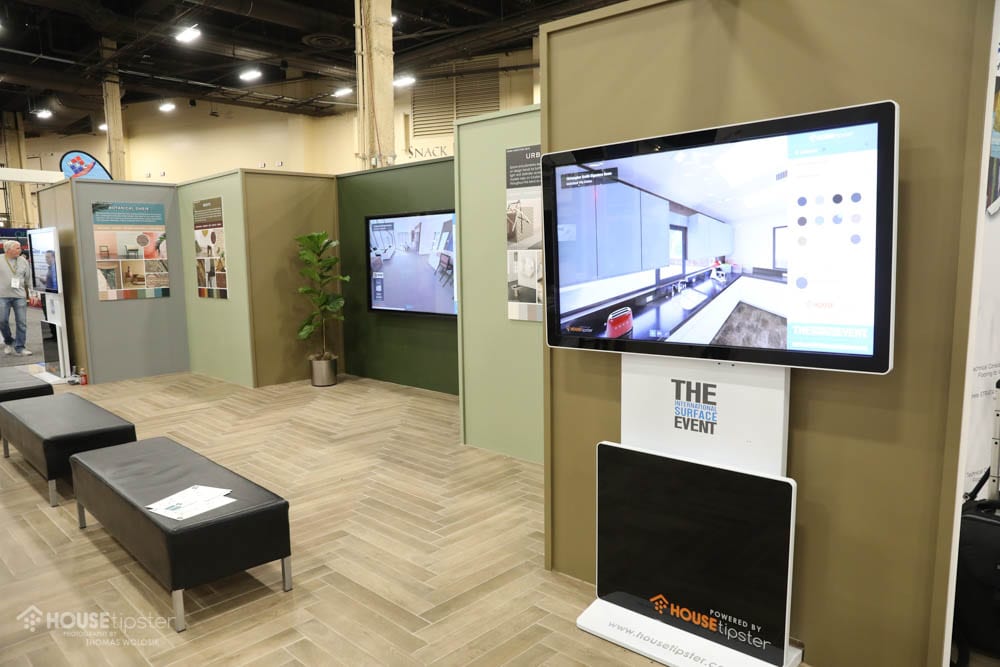 During the last weekend of January, House Tipster created a virtual design world in the center of the Mandalay Bay Conference Center at the Design & Installation Showcase Hub (also known as The DISH) at TISE. It was here that we introduced our Virtual Room design tool technology to attendees.
Thankfully, our close friend Christopher Grubb, a renowned interior designer, the president of Arch-Interiors Design Group, and the inspiration behind the CG Collection of bathroom furniture, was on-site to demonstrate using House Tipster's Virtual Rooms alongside his design industry colleagues.
Here's a rundown of what he discussed at the House Tipster hub at TISE.
About House Tipster's Display in The DISH
House Tipster's Virtual Rooms are a game-changer for the world of interior design.
This tool allows the designer (homeowners, professional designers, builders, architects, etc.) to customize an entire space, from the wall color to the countertop material, furniture, and more. There are literally thousands of products and materials to mix and match when working through each room.
At The DISH at TISE, House Tipster installed six individual Virtual Room stations. Five stations featured House Tipster's signature Virtual Rooms with touchscreen navigation. For the final Virtual Room experience, attendees had the unique opportunity to don a pair of Oculus Rift virtual reality goggles and completely immerse themselves with 360-degree views as they made the space their own.
Each component used in the four available Virtual Rooms included a vendor logo, product description, 3D product rendering, and booth information — all presented in an interactive 3D format.
Creating the Rooms
Since booth visitors were eager to learn about how it all worked, Christopher Grubb lent some perspective. After all, it's Christopher's phenomenal Mulholland Drive Residence that serves as the backdrop for one of these Virtual Rooms!
"House Tipster used one of my projects in Los Angeles. They took pictures of different views of the room and loaded them in," Christopher explained. "If you have a client, you can go into a Virtual Room and show different options to them." From there, anyone can go in and change the finishes in a photo-realistic virtual reality space.
Christopher went on to explain that House Tipster can create a Virtual Room with just about any floor plan and a couple snapshots.
A Designer's Perspective
"As a designer, [House Tipster's Virtual Rooms] give me the chance to play around and take the client through the room," Christopher said of House Tipster's Virtual Rooms. "We can change wood tones, finishes on chairs… cabinetry — all in real-time."
Over the next decade or so, Christopher believes the design industry will change, and designers must follow suit to meet customer demand. He said, "This is the way the trends are shifting, especially with millennials. Everything is 3D, and with this virtual technology, it's like being in the room."
Compared with other design programs, House Tipster's Virtual Rooms aren't just meant to be seen. Instead, they're a fully interactive experience. This technology allows any user to expertly create and then experience the aesthetic of the room before the project even kicks off!
"I'm just getting caught up on this technology," Christopher said. We're just glad he's starting his Virtual Room journey with us!