As one of the world's largest suppliers of "luxury vinyl flooring," UK-based Karndean Design Flooring has a great grasp on what makes up a quality vinyl floor. For over 45 years, Karndean has regularly introduced innovative and on-trend products to the marketplace. Today, you'll find Karndean flooring at retailers nationwide and around the world, including showrooms in Pittsburg, Las Vegas, and Fort Worth.
We had the pleasure of speaking with Jenne Ross, Director of Marketing at Karndean Design Flooring, while at the 2018 International Surface Event (TISE). Here's what we learned.
Leading the Way for 45 Years (& Counting)
Karndean is, first and foremost a family-owned business. Since starting the company back in 1973, Mike Walker has continued to put his family, which includes his employees, first. It's not uncommon for employees to travel the world, living and working in new locations as Global Directors.
One reason why all this travel is possible is because Karndean manufactures a great product that people across the globe want– and we're not saying that lightly. In fact, Karndean spends a remarkable amount of time studying and learning about stone from every corner of the earth and then uses that knowledge to craft a unique flooring product.
Replicating stone and wood is a difficult task, but Karndean gets it done. According to Jenne, "Our team goes out and finds something overlooked and undervalued. Then, we turn it into something practical and beautiful."
Intentional Design
A notable feature of Karndean flooring is that each product is designed to mix and match. Jenne explained, "We intentionally create our products to go together."
Additionally, when you choose Karndean floors, you are given the freedom to choose different components to come up with a design that's entirely yours. "You can choose your grout and border to create a floor that is completely made for your space," she added.
Regardless of the style you choose, you can rest assured that you'll enjoy a hypoallergenic, durable, and easy-to-clean floor.
Karndean at TISE
While at TISE, we had the chance to see the new products Karndean is bringing to the market. Each of the 12 new SKUs added a new, trendy element to the overall line.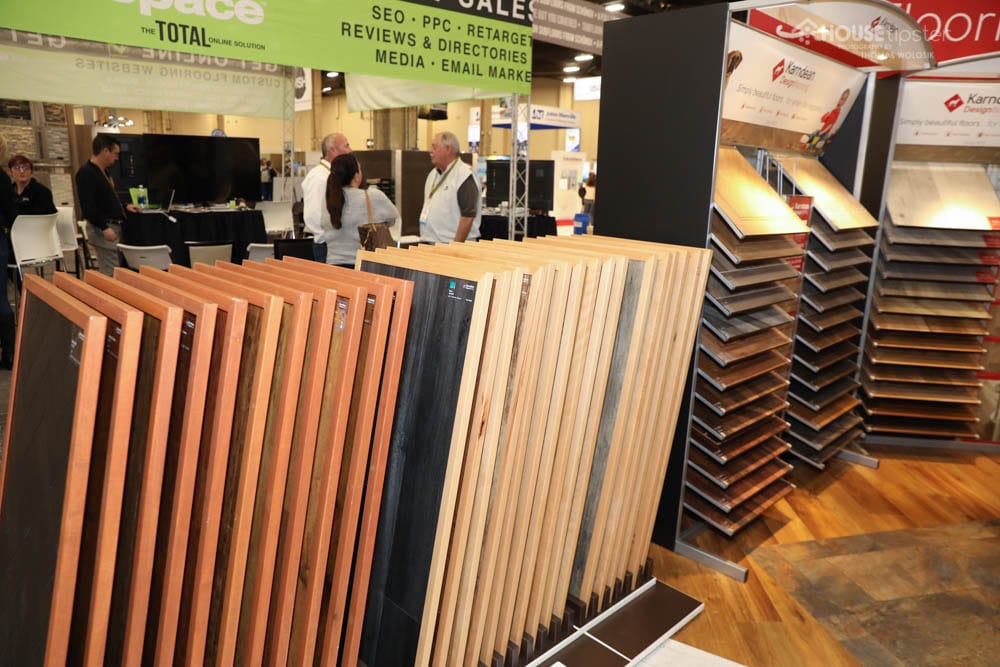 Six of the new flooring options are manufactured with the family in mind, meaning they have waterproof features as well as increased durability against scratches and scuffs. The other six products are under Karndean's contemporary Opus line and include large format tiles and brilliant new concrete-like visuals.
These product lines and more are available in shades across a color-rich palette that range from rustic to contemporary.
There's something for everything at Karndean!