The design team-up between Michael Amini and Jane Seymour always results in some exciting home decor pieces, the latest of which were on dazzling display at this Summer 2019 season of Las Vegas Market.
The longtime collaborators are celebrating "ten blissful years" of successful design collaborations and boundary-pushing luxury furnishings. On September 1, the duo is even set to release a new book about their shared decade of interior design decadence.
"Michael, to me, is the perfect partner because his beliefs and everything are all in the right place, as far as I'm concerned," Seymour told the House Tipster Industry team.
"He wants quality at a price, he wants to really listen to his customers, he wants to be innovative and have something new, and he wants to give back. He ticks off all the spaces for me."
Arch-Interiors designer and House Tipster host Christopher Grubb sat down with Amini and Seymour at this year's market to hear all about their latest product developments, and hear the logic behind the new creative directions their partnership has been taking.
Many of the new items making their debut are expansions of existing lines – like Villa Cherie and Hollywood Swank – and new developments informed by customer feedback. For example, elegant light colors have been popular for the design duo, but they are now showing off richer dark materials.
"The last four or five collections that we've done in this particular division have been very neutral with light colors, and some people come and say, 'Well, you know, I like it a little bit more traditional, I like dark colors,'" Amini said. "So we came up with dark colors, [including] a beautiful mahogany veneer."
"I think the silver-gray collection is a little bit more masculine, with the stainless finish," Seymour shared. "It's almost got the feeling of something more automotive."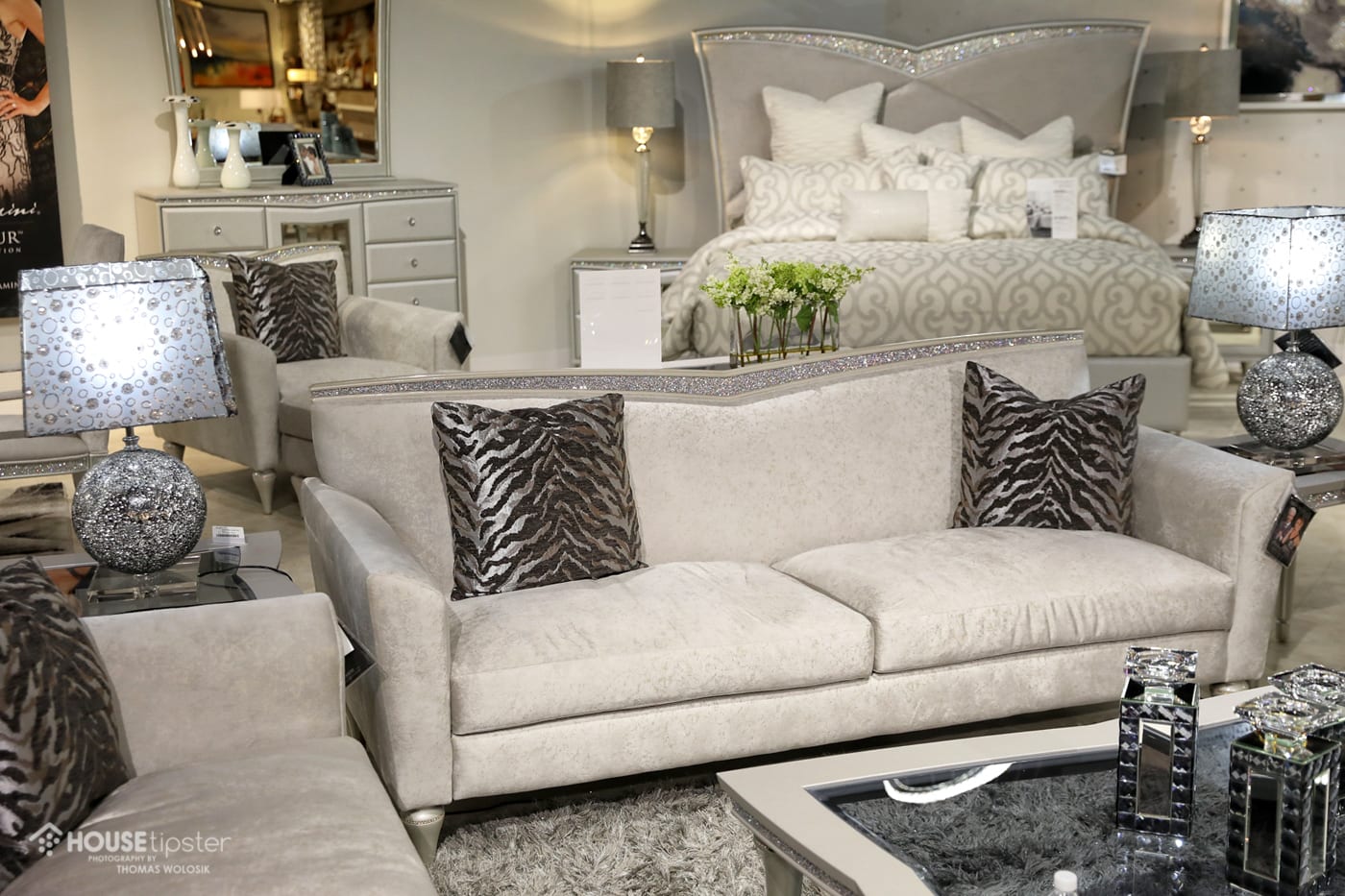 Together, Amini and Seymour are happy to create the unexpected, and pack it with their signature Hollywood glamour and luxury.
"I'm never scared of trying new stuff," Amini said. "If you just go with the flow, the status quo, you'll be like everybody else. Well, we don't want to be like everybody else. Not because they're not good, we have a lot of talent in this industry and they're very good at what they do. But we want to have our own identity."
To hear more from our exclusive conversation with Michael Amini and Jane Seymour, be sure to catch the House Tipster Industry Facebook Live stream recap in the player below.
Stay tuned for more news and designer profiles from Las Vegas Market Summer 2019, coming soon to House Tipster Industry.