When the COVID-19 pandemic started, no one knew what to expect. No matter the industry, every business was scared and confused by this unprecedented situation.
The home décor industry was no exception, with everything from manufacturers and distributors to designers and contractors being impacted by the global health crisis. While the industry was first impacted negatively by the cultural shift, recently, there has been a shift towards the positive.
"At the beginning of the pandemic, people didn't know what to expect. Almost every hospitality or residential project was put immediately on hold. There was not that much interest or traction to buy any products for the home or the hospitality projects," explained Luis Ruesga, co-founder of Zuo Modern, a wholesale contemporary furniture company.
The home décor industry began to see a shift in consumers during spring 2021.
"Now that it has been so long, people are anxious to return to restaurants, bars, and beauty salons," he said. "We have seen a huge increase in demand for products over the last 3 to 4 months."
This increase in home décor consumers has extended to both sales of items and well an increase in homeowners looking to renovate.
One important asset of the home décor industry is tradeshows. In the past year, most shows had to be either completely canceled or held virtually. Recently, as restrictions have been loosened, trade shows have become a major event yet again.
"Little by little, over the last six months as people have become vaccinated, we have seen a big return to tradeshows," described Ruesga. "Most importantly, the people who are traveling or attending the trade shows have been in a big need of products."
According to Ruesga, the purpose of home décor trade shows has shifted.
"In the past there have been tradeshows to show trends, colors, and new products. Since the pandemic, trade shows have been oriented more to an immediate solution to products needed for the customers."
While attendees have not gone back to 2019 numbers due to COVID-19 related anxieties, Ruesga points out the fantastic jobs trade shows are doing in terms of safety precautions.
"People should come back and visit their local trade shows," says Ruesga.
Zuo Modern visits major home décor trade shows often. Most recently, they visited High Point Spring Market on June 5 – 9, with many more events planned for the rest of the year.
While trade shows have always been an important aspect of brands like Zuo Modern, they did not take a break while the pandemic canceled events. Instead, Zuo Modern looked to using technology as a way of communicating with consumers.
"We digitally filmed all of our showrooms so customers can go directly from their home or office and navigate the showrooms through our website," explained Ruesga. "Many times we walked with them virtually as well, and we were able to make sales and make presentations to customers."
While the technology will continue to be used, according to Ruesga, there has been a recent decline in usage as customers are now able to attend in-person trade shows.
Home décor professionals, including Ruesga, do not see the home décor industry slowing down anytime soon.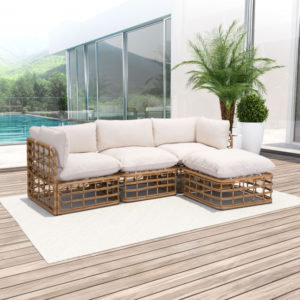 "People have realized during this pandemic how important it is to upgrade their homes," he expl  ained. "We believe that people have changed some of their priorities."
According to Ruesga, people are looking for furniture that is both beautiful and functional. Zuo Modern's answer to this trend is their new outdoor furniture collection, Zuo Outdoor.
"Our company's biggest effort is going to be put into the outdoor collection because this pandemic has made us realize that people want to use their home better," he said. "Patio furniture is one of the biggest investments that homeowners are doing to their home."
Ruesga describes their new release as "boho chic."
"There are going to be organic textures, organic colors," he explained. "Furniture dedicated for the medium and the smallest spaces like balconies or small decks… They are going to be based on functionality and easy storage."
Zuo Modern's furniture is available from different home furnishing dealers throughout the world. Their product catalog can be viewed on their site.