New York-based interior designer and visual artist Allison Eden is highly regarded for her colorful and unique glass mosaic pieces. With one look at her latest captivating design innovations, you will certainly understand why.
Allison Eden Studios is currently celebrating the launch of a new "Gem" glass art series, featuring sparkling diamond- and quartz gemstone-inspired artworks that add unmatched dimension, shine, and movement to any space.
Part mirror, part wall art, these shimmering and mesmerizing pieces work well in residential and hospitality spaces. In platinum and vibrant pink colors, they add drama and luxury to the walls.
Each of the stunning, one-of-a-kind Gem collection works are handmade by skilled craftsmen in her Bushwick, Brooklyn studio in New York. Styles are available in 36" x 36", 36" x 48", and 36" round sizes.
These Gem artworks are the perfect complement to Allison Eden's other designs as well, like her signature pop art mosaic pieces and wall art.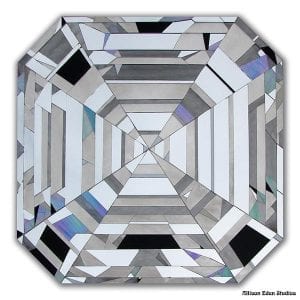 As a spinoff to these products, the designer has also created a 10-foot tall perfume bottle with a similar mirrored glass design for the Bloomingdale's New York first floor cosmetics and jewelry department.
This piece takes all of the elegance of the Gem collection, and transforms it into a stunning spotlighted piece for the department store.
Stay tuned on House Tipster Industry to learn more about Allison Eden's upcoming projects, including her latest textile collaboration collection with LebaTex.