Ready for something different at NY NOW Summer 2019 Market? For the first time ever, the New York City event will be debuting Fashion Runway, a fashion and jewelry runway show featuring pieces from designers around the world. The kickoff catwalk is curated and presented by The Narativ's world-renowned designer, Farai Simoyi.
This fashion extravaganza will be taking place at 10:30 AM on Saturday, August 10 at the Jacob K. Javits Convention Center. On the same day, guests will be able to see the opening of the NY NOW HANDMADE Collection, and both the HOME and LIFESTYLE sections will open the next show day. The full market experience will be taking place from August 10-14.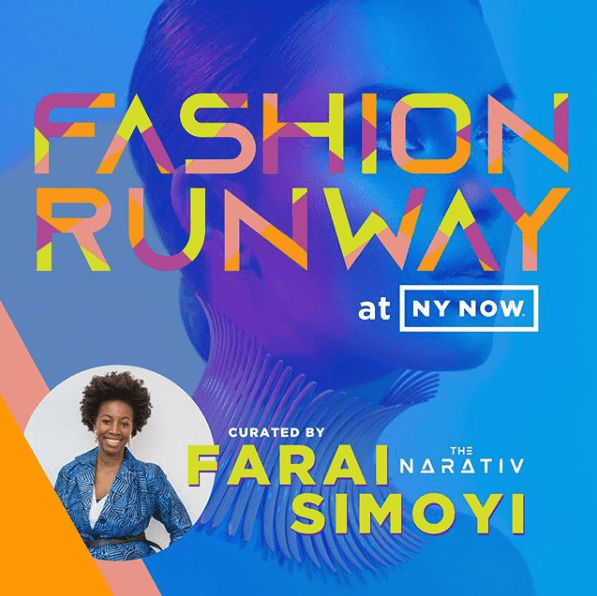 "We are incredibly excited and honored to have Farai Simoyi curate our NY NOW Fashion Runway show at the Summer 2019 market," said Kevin O'Keefe, EVP Emerald Expositions, in a press statement. "Farai embodies the retail renaissance through her innovative concept store, design workshops, and her passion for helping to elevate other entrepreneurs. NY NOW will also be kicking off the fashion show on Saturday with complimentary mimosas and coffee."
On her Instagram account, Simoyi expressed how exciting this big moment is for her and her concept store and design workshop, The Narativ.
"I've never been the type of person where 'everything just fell into place' or 'it just fell in my lap'…I've often tried to figure out how this happens for those people but that has never been me," she wrote. "Everything I've done in my career has been boots on the ground, hard work, and creating opportunities for myself when doors weren't being opened. Working with NY NOW is one of those opportunities."
"NY NOW is one of the largest market trade shows in the U.S. with over 2,300 leading brands in design from all over the world and 25,000 attendees," Simoyi added. "So this is no small feat y'all!"
We're looking forward to seeing this undoubtedly spectacular presentation. Stay tuned for more updates and news from all of the NY NOW Summer 2019 show, coming soon to House Tipster Industry.