Interior design professionals and lovers gathered virtually for the recent Decoration & Design Building (DDB) Reconnections Virtual Market.
The event focused on creating a space for handmade lovers to connect. The event was moderated by Jacqueline Terrebonne, editor-in-chief of Galerie Magazine, a quarterly published art and design publication, who collaborated on the event with luxury showroom brand Holly Hunt.
"At Galerie magazine, we are all about the conversions of art and design but truly for us, craft is a part of that too," explained Terrebonne. "It's such an essential piece of the puzzle." 
The webinar featured Lori Weitzner, Heidi Batteau, and Kate Hume, all individual craftswomen who thrive in their field of handmade interior design products.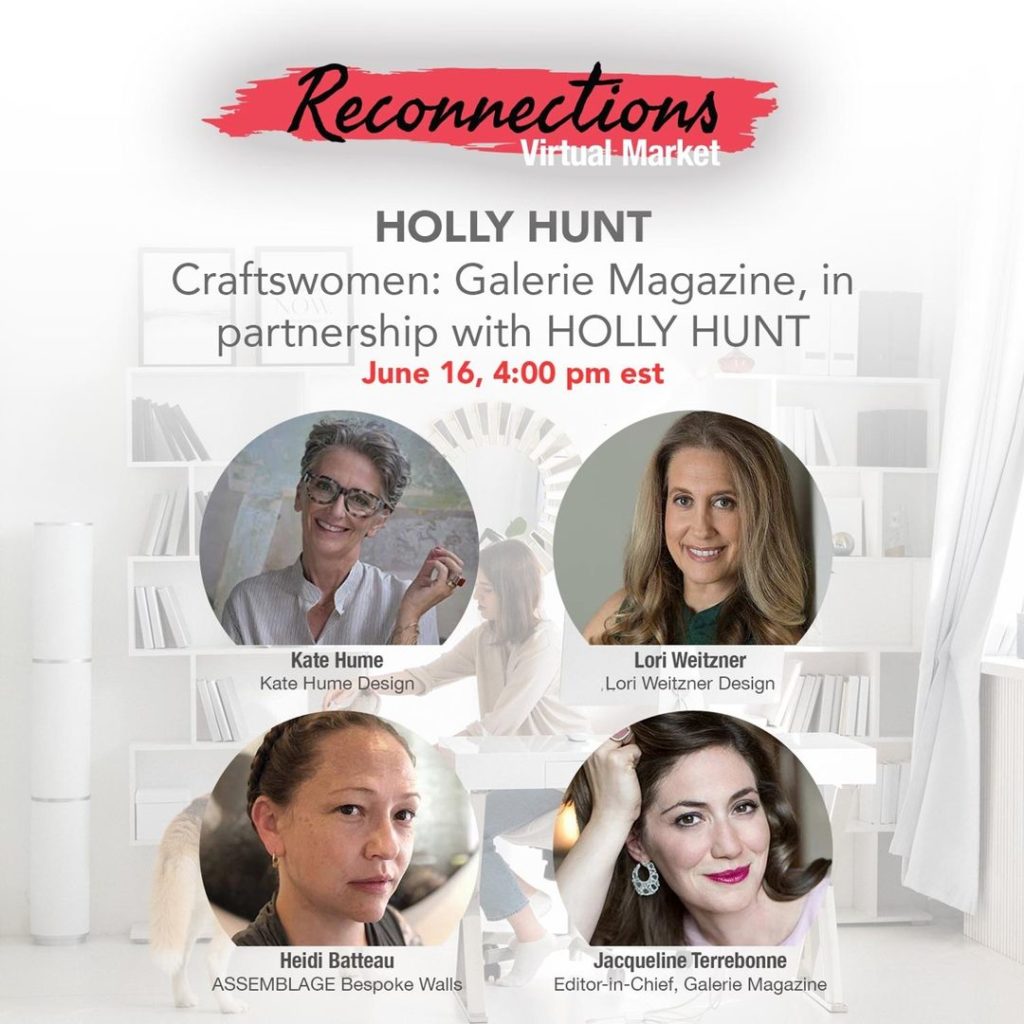 "[They are] innovators who create beautiful crafts, and make the homes more beautiful where their products and creations exist," explained Terrebonne.
The webinar began with each craftswoman describing their artistic work as well as explaining where they gather inspiration.
Lori Weitzner, of Lori Weitzner Design, described how she learned to use handmade, often far-away, techniques and materials in her commercially sold home decor pieces.
"We try and work with materials that are indigenous to that place and where artisan communities that we can identify that will actually understand our needs both aesthetically and also from a commercial standpoint," she explained.
The brand works with indigenous communities throughout the world, who use local materials and techniques to create handmade products. 
Slideshow images were shown of different handmade indigenous crafts from around the world, and how they are used in locations such as hotels. According to Weitzner, 65% of the Weitzner Collection is made through these methods. 
Weitzner showed examples of handmade wallpaper from the Philippines and Indonesia, handweavers from Nepal, as well as examples of using nature as inspiration in design.
Heidi Batteau of ASSEMBLAGE Bespoke Walls discussed the group's shared interest in handmade items.
"I'll search the ends of the earth to find the beautifully imperfect hand woven shoe," she said. "And why not? We are in the era of the Internet and it's so easy to work with and support small makers even with small purchases you make everyday." 
"I believe that beauty is found where the material and the ideocracy meet the hand," she described. 
ASSEMBLAGE was created by Batteau and her partner to create handcrafted luxurious wallcoverings, as well as creating "well-paying, highly skilled jobs in rural America."
In the brand's Ozark mountain studio, individuals gather to create wallpaper by hand, with no part of the process automated. 
"Every yard is a record of our group of hands coming together," she said.
ASSEMBLAGE products utilize Venetian plaster, which allows the products to be used in damp rooms, such as bathrooms. The brand has every piece worked on with teams of two. 
Kate Hume, of Kate Hume Design, joined the industry through her glassmaking. Eventually, Hume and her husband, Dutch photographer Frans van der Heijden, started a design company in 1998, with minimal experience.
"I know a little bit about the craft industry and I've gotten more and more involved in it," she explained. "But it's such a privilege to meet people like [Weitzner and Batteau] over the years and work with them."
Hume spoke about the unique and diverse creativity of the interior design industry.
"You can think it and someone will be able to do it," said Hume. 
Hume showed some of her latest interior design projects, much of which features handmade, bespoke pieces. On top of her interior design work, Hume also sells her glass pieces, beautiful multicolored vases. 
Hume uses many handmade pieces for interior design projects. The designer showed an image of a kitchen, which featured many elements of handmade products. 
"My whole aesthetic approach to interior design is mixing and making it look personal to people, making it look like this is their story. I think the craft element…really helps to do that," she explained. 
The group went on to answer questions asked by moderator Terrebonne. The designers discussed design inspirations from throughout history, design museums, as well as the recent rise in consumers seeking handmade products.
"Our consumer comes to us for the handmade, and what they want to see is the handmade," described Batteau. "In general, the market has been there and it's now easier to find those producers than it was in the past." 
"Mass produced things are made by hand actually," she continued. "When you go to the factory and see them, there is a person there actually making it. I think allowing that hand to be seen and not necessarily hiding the hand is what we are seeing more of… I think we wanna see a humanistic quality, we want to know a human was involved with making it." 
According to Weitzner, in the past year, her brand saw an increase in orders for handmade papers.
"People are longing for that perfectly imperfect, soulful, unique thing they can bring into their home," she explained, mirroring previous words by Terrebonne. "They are tired of the homogeneity that is what you see out of catalogues." 
Weitzner also believes that the push towards sustainability is also contributing to the increase in handmade craft in interior design. The designer believes this sustainability extends to both environmental sustainability as well as cultural sustainability. 
"People really care that we are able to help communities sustain their livelihood by using their craft. Instead of having to become a bus driver or waiter, they are actually making a living by making these beautiful products."
The group also discussed how the recent pandemic altered their work, both in terms of business as well as in terms of creativity. 
Weitzner, who often visited her designers throughout the world, has found herself missing the in-person aspect of her job, but has found benefits to the situation.
"The challenges are good because they force you to think in a different way," said Weitzner. "We've come up with some ideas that we might not have come up with because of the challenges."
Hume explained the elation felt by her team when they were able to finally meet for an in-person interior design project. She also described the unexpected positives of the pandemic, such as the reduction in travel stress and more understanding clients. 
"All the stress of having to be somewhere all the time, it's not nearly as bad," she explained. "Everyone seems to understand that we are in this. It's kind of been an eye opener in general in how people want to live." 
For Batteau, while her design process did not change much, she did find herself missing the ability to travel and see clients, as well as find inspiration. 
"It did give us more of a chance to be in the studio and play with materials," she explained. 
Audience members also asked questions of the craftswomen. The group discussed how they each individually approached trends, as well as how client style has changed from the pandemic, with styles approaching more neutral, natural colors and materials. 
"You don't know that you are being influenced by what is happening," explained Hume of trends. "But you are influenced by everything you see and do, so it kind of seeps into you…. You stay with your story, don't you? You're not changing into a whole other story in terms of how you approach something. You stay with your story, so that's your look and you tweak it and develop it…"
The webinar is available for viewing on Design and Decoration Building's Youtube page. 
Design and Decoration Building is an organization that is home to over 130 showrooms, located in New York City. This webinar was part of the Reconnections Virtual Market held on June 16, a virtual event dedicated to assisting professionals in the interior design industry with the opportunity to collaborate with industry peers. 
Holly Hunt was started by its designer and namesake in 1983, with a collection of luxury designers available for purchase at their showrooms throughout the world. 
Galerie Magazine was launched in 2016 by Hudson Publishing LLC. According to the publication's site, "Galerie inspires readers to live artfully." The magazine is available for purchase at Hudson News locations, as well as at select newsstands, private aviation terminals, and art and design events.