With a factory based in Denver, Colorado, Vitraform has handcrafted the most distinctive and luxurious bathroom and powder room sinks for over 30 years. Through its products, Vitraform has provided a niche for those that are interested in upscale decorative bathrooms.

Vitraform has researched trends, identified opportunities, ideated and created designs offering alternatives to traditional powder and bathroom sink and counter choices. Many of Vitraform's products can fit standard sink applications, including the undermount, drop-in, and vessel sinks.
Partnered with 120 showroom dealers across the US and Canada, Vitraform ships their products globally. President of Vitraform, Aaron Batte, said, "Even with growing demand for Vitraform sinks from high-end commercial and hospitality projects, we have remained a small bespoke business crafting one-of-a-kind sinks for ultra-luxury environments. All of our products are still made by master craftsmen and women in Denver, Colorado, producing up to 3000 handcrafted sinks per year."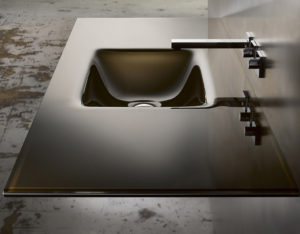 Vitraform manufactures sinks, counters, and mirrors by using glass as their raw material, using 12 different varieties, the process includes cutting, heat-treating, molding, laminating, and polishing or sand blasting the material into the newly-made product. Although the components of the glass are fragile, the manufacturing process makes it possible to combine appeal, function, and resilience together.
"All Vitraform sinks go through a process of heat treating to make them stronger and more durable than normal glass. A double-layer lamination method then ensures that the sinks are safe and ready to withstand the requirements of everyday use," explained Batte.
Redesigning the upscale landscape with their luxuriating glass sinks, the designers offer a colossal range in various design, color, and finish options. The newest sink design features a rectangular concept, straying away from the standard approach of manufacturing oval-shaped or rounded vessel style sinks. Both sleek in design and appealing in aesthetics, the new style makes a bold statement for any bathroom or powder room that it's installed in.
"It's a marriage of true craftsmanship and modern innovation," said Batte. "Precision engineering, time-tested techniques, and an unrelenting focus on safety, quality, and longevity, the Vitraform process is unique to our products and results in a glass sink that is not only aesthetically pleasing, but also resilient enough to sustain normal, daily use in both residential and commercial applications."
A fresh new take, defying all norms, the collection brings out the uniqueness of the profile which complements designs that feature more geometric concepts. The new design is available in two sizes, large and small. The large freestanding rectangular sink measures at around 21" x 16", while the small freestanding rectangular sink measures at around 12 ¼ x 15 ¼ . With over 30 sink styles and an array of 12 glass colors, seven finishes, and more than two dozen hand-engraved and gold gilded options, Vitraform can fit in every conceivable style.
Batte stated, "We created this extensive portfolio to offer style versatility and to deliver a wide range of choices to discerning designers and homeowners. Our unique solutions will transform your bathroom ​or powder room design into the most unique and individual place ​on earth."
Recommended to have the installation performed by a professional plumber or contractor, the Vitraform sinks require a certain level of care to ensure that they're properly fitted. Vitraform glass sinks grace the most elegant homes, businesses and hotels worldwide. 
The extraordinary success of the company is offset by the down-to-earth attitude of the designers and owners, husband and wife team Jerry and Sheila Fein. Both attended the University of Colorado as fine arts majors in the early 1970's. In 1976, Jerry founded Cherry Creek Enterprises, a company specializing in O.E.M. manufacturing and custom leaded and beveled glass, while Sheila worked as an interior designer. Sheila then joined Cherry Creek Enterprises in 1981.