If you've ever met Bill Strang, president of operations at Toto, then you know just how exciting plumbing fixtures can be.
While at the 2019 Kitchen and Bath Industry Show (KBIS), Strang met with House Tipster host Christopher Grubb at the immersive and engaging Toto showroom, where they broke down some of the brand's hottest and most exciting new technologies.
A Weightless Experience
The minute you walk into Toto's showroom, it's impossible to overlook The Flotation Tub.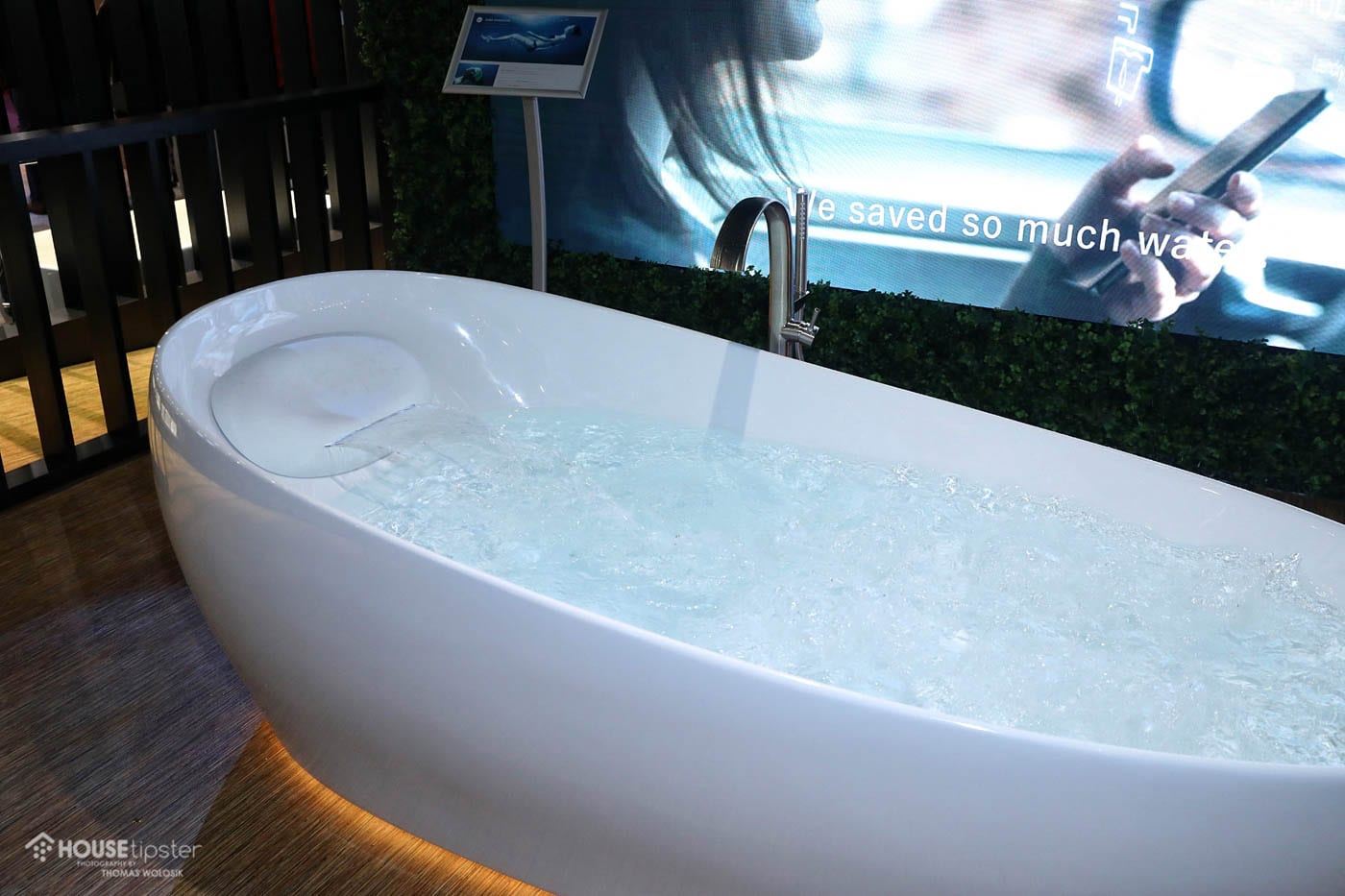 With its streamlined look and spa-esque vignette (not to mention the sexy lighting), the tub appeared to be futuristic, and Strang more or less confirmed this. "Our Flotation Tub is designed to mimic the true conditions of weightlessness and space," he explained. You heard that right. Toto designers performed calculations to ensure bathers had a full weightless experience.
The tub's shape, combined with an adjustable pillow + over the shoulder water cascade engulfs the user and provides a zero-gravity experience that's truly other-worldly.
Toilet Tech
Just like their tubs, Toto's innovative toilets have been on House Tipster's radar over the years, but they continue to evolve and expand on their technologies as was evident at KBIS.
The brand's heated toilet seat with bidet function was a definite standout and deserved a second look. Aside from the uber-functional heated seat technology, the bidet uses a pulsating and oscillating wand to clean the user completely. After leaving the toilet, the auto-flush feature kicks in complete with electrolyzed water for a truly sanitized experience.
If you're tired of waving your hand across the sensor or manually flushing the system, this is the ultimate germ-free solution.
Other Exciting Additions
Although Toto is known for their tubs and toilets, they're also breaking ground in the plumbing fixture department.
The company's goal is to provide fixtures that look natural and make people feel comfortable. "We don't want anything that looks forced," Strang said. "When you go to the bathroom, it's a place to escape. Let's give you that experience." This translates to fixtures that are efficient and streamlined, such as the cutting edge GR series, and the subtle GA series, both Red Dot Design Award winners.
Whether they're designing cutting-edge tubs, feature-packed toilets, or contoured fixtures, Toto's quality and consumer-friendly designs shine through.
Tipster TV has released the full facebook LIVE episode from our special interview, be sure to check it out below.
Many thanks to Bill Strang and Christopher Grubb for the Toto showroom tour. We're excited to see what you unveil next!