Over the past two decades, Top Knobs has designed and manufactured designer hardware for cabinets, drawers, bathrooms, and other areas of the home.
While at the 2019 Kitchen and Bath Industry Show (KBIS), Top Knobs wasn't just presenting its latest products, they were also celebrating their 25th year of excellence.
In honor of their 25th anniversary, Top Knob's Press Coordinator, Nikki Scalia, was on-site showing off the brand's newest collection: Grace.
The Grace Collection
Elegant and modern, Top Knob's Grace collection features 276 pieces based on the company's most successful designs of the past. "The designs are stripped down, modernized, and streamlined in this new collection," Scalia told House Tipster host Christopher Grubb at KBIS.
To appeal to a broad range of consumers, Grace is more transitional than most Top Knob lines, but this transitional look seamlessly translates to more versatility.
Each of the six Grace collection series is purposely named after an iconic New York neighborhood to honor the company's ability to adapt to an ever-changing landscape. "Just like New York, Top Knobs has been able to change with the time, but still stay relevant."
When it comes to finishes, Top Knobs is known to set the standard. Therefore, it's no surprise that they've incorporated many on-trend finishes to Grace. Flat Black, a super modern and stark option, offers a great contrast to the grey and white kitchens and bathrooms currently dominating the market. On the other side of the spectrum is Ash Grey, Top Knob's answer to those looking for a more versatile and toned down black hue. One other finish standout is Honey Bronze, which plays on the ever-favored bronze, but with a more muted look.
Adding More Customization
Since consumers are increasingly interested in a custom look, Top Knobs is offering multiple ways for homeowners to achieve this.
For mixed-metal aficionados, Scalia suggests purchasing a backplate in a different finish from a pull or knob. This combination is sure to add depth and tone.
Another way to add customization, particularly in the kitchen, is to invest in appliance pulls. Made for durability and coordination, appliance pulls help people complete a space and ensure a streamlined look.
Finally, Scalia believes that one of the best ways to customize a space is to go for a "cohesive, not identical" look. So go ahead and mix knobs with pulls! "In our collections, everything compliments each other. [The designs] don't look the same, but they work well together!"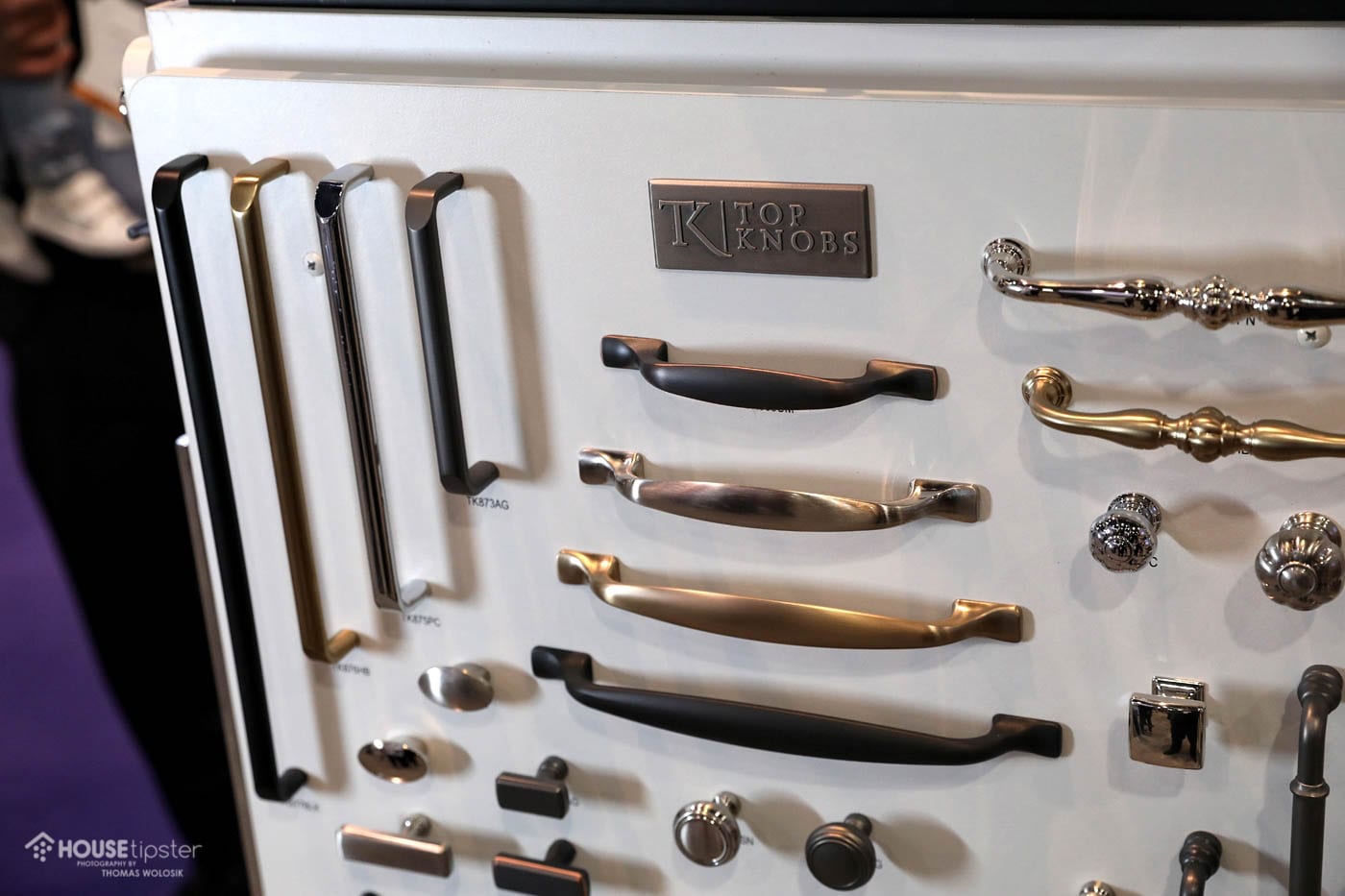 Moving forward, look for Top Knobs to continue creating stylish, high-quality hardware. They're also set to unveil a new Digital Selection Tool so people can go online and quickly narrow down the vast product selection with personalized suggestions.
Who knew hardware could be so much fun?
Congratulations to Top Knobs for 25 years of design excellence!
Tipster TV has released the full facebook LIVE episode from our special interview, be sure to check it out below.