Each month, Ace Hardware's Paint Studio reveals its Color of the Month pick for the upcoming 30 days ahead.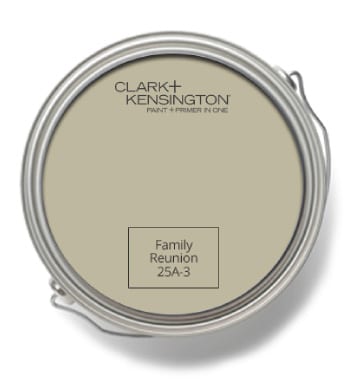 For October 2019, the shade being featured by the brand is Clark + Kensington's Family Reunion 25A-3.
"Ease into the warmth and comfort of an earthy neutral," The Paint Studio shared on its website. "This subtle, muted green creates a serene environment that invites you to kick up your feet and bask in your relaxed surroundings."
There's a reason this relaxing updated neutral is trending this season. As Ace Hardware explained, the subdued color reminds us all to hit the reset button on our fast-paced lifestyle.
"Practicing mindfulness is not a passing phase," the brand shared along with the shade announcement. "With busy lifestyles and the constant stimulus of technology, our minds yearn for calming spaces. It is essential to create areas within your home that allow you to unwind and recharge."
There are limitless uses for this universally-flattering shade, but the brand especially recommends it be paired with a deep orange (like Copper Pot 12B-7), a vibrant navy blue (like Dark Diversion 37B-7), or a complimentary gray neutral (like Stormy Weather CW-C7).
Stay tuned for more brands' top Color of the Month picks, coming each month to House Tipster Industry.
Curious to see more color trend reporting from Ace Hardware? Check out the brand's top five shades for 2020 here.