Paint brand Diamond Vogel has unveiled its official Color of the Year 2020: Silence is Golden 0891.
The brand calls this glowing shade "a relaxing gold honoring authentic workmanship with its timeless and warm patina," and "a saturated hue representing a true connection to comfort." It has plenty of indoor and outdoor applications, and can read vibrant or neutral depending on the setting.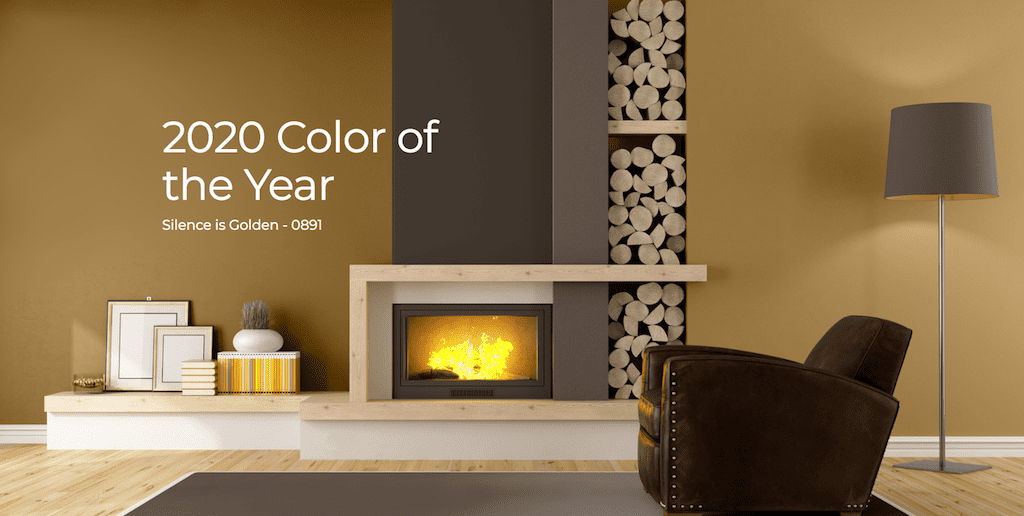 "Silence is Golden symbolizes strength, compassion, and courage," said Sandy Agar-Studelska, Diamond Vogel's marketing manager, in a brand press release. "This soft gold is perfect for navigating and empowering one's busy home."
In addition to announcing Silence is Golden as the standout pick of the year, Diamond Vogel also released its fully complementary 2020 Color Trend Report, "Unifying Your Path," which is made up of the four smaller palettes, Quiet Time, Pathway, Homespun, and Group Hug.
"Our 2020 Trend Palettes provide subtle yet lively and distinct measures of inspiration along our daily paths," the company said on its website. "It could be memories of a cherished piece, soft shades that offer a respite at the end of the day, or vibrant tones to inspire and motivate us to move beyond hesitation and obstacles. Whatever speaks to you, these dynamic palettes of timeless colors are sure to please."
The shades included in this full 2020 roundup are Mystic Fog 0019, Star Mist 0630, Overlook 1319, Resting Place 0462, Billowing Smoke 0583, Noble Honor 1166, Blue Depths 0626, Sphere 0013, Hippolita 0386, Atmosphere 0689, Green Glow 0788, Evening Dove 0451, Golden Glow 0814, Impatient Heart 0063, Wildwood 0214, 3AM Latte 0175, Pure Laughter 0846, Calm Interlude 0501, Peace of Mind 1004, and Moonscape 0227.
Silence is Golden also continues Diamond Vogel's quiet and reflective theme, which was also represented in the brand's deep blue 2019 Color of the Year choice, Day Spa.
Curious to see what other paint companies and interior design brands will name as their own Color of the Year 2020 picks? Stay tuned to House Tipster Industry, where we'll be bringing you the latest color news and trends as it happens.