A visual artist, classically trained painter with a Masters of Fine Arts in Studio Art at Montclair State University, Ronit Levin Delgado came from Israel with a Fulbright Scholarship.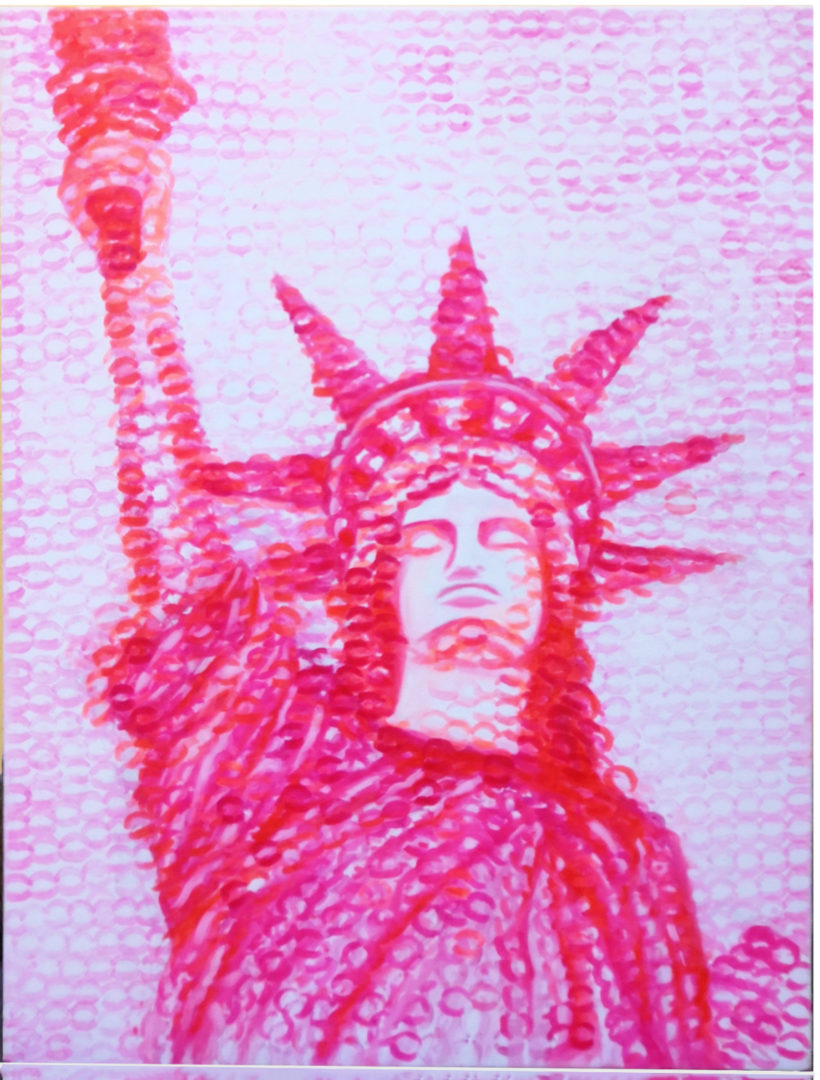 Ronit's Artful Roots
Living from a dichotomy of her Israeli and Paraguayan heritage, Ronit was the daughter of Julio Delgado Rojas, a famous musician and lead singer of 'Los Tres Paraguayos' and Larisa Levin, a writer focusing on the children's fantasy fairy tale genre. Touring around the world and visiting Israel, Julio met Larisa, leading to Ronit's birth and journey as an artist.
Delgado said, "Art is me and my life, it is not something that I had to pursue, I was, I am. I never entered it, it was there for me, welcoming me." Ronit attributed her career and passion through her parentage.
The Fulbright Scholarship
Chosen as one of three contenders from Israel, Ronit Levin Delgado was chosen to be the first scholar for a Master's Program in her homeland. "I worked my tuchus off! It was hard! I initially graduated with a BFA from the Bezalel Academy of Art and Design in Jerusalem, which is the top arts and design school in Israel. One of the secretaries sent me a mass email about it!"
Surprised by the news, Ronit was excited to be one of the finalists and travel to the US to live out her dream. Although previously the Fulbright Scholarship was exclusive for doctorate programs, Delgado's graduating class was the first of its kind to offer the scholarship for an MFA.
"I didn't know until I really got here!" Ronit exclaimed, saying, "I'm so happy and proud to have been chosen!"
Currently, Ronit is on the New York chapter for the Fulbright Board of Directors, helping with the cultural events, planning and welcoming international students. Every year, the Fulbright Fellowship launches an annual welcoming program at the United Nations, which started back in 2002.
Ronit Levin Delgado And Her Art Of Kissing
Referred to as "The Kissing Artist", Ronit has worked as a painter at Nir Hod Studio located in New York, specifically the Meatpacking District. 
Exploring the conditions and experiences of instinctual immersive performance, the installations consist of multimedia works, inviting viewers to engage the work through shared experience.
With the use of lipstick and makeup, the artist uses the art medium through her work, employing her lips as a brush and kissing the canvas to create her pieces. 
Inspired by the return trip back to Israel, Ronit visited the Wailing Wall in Jerusalem, attending the traditional Jewish Ritual that includes the sacred kissing of the wall. According to Delgado, the process examined an intersection between the spiritual, erotic, and physical manifestations. 
Influenced by her roots and education, Ronit began to shift her practice and methods by creating immersive experiences, embodying art by engaging all the senses. 
She explained, "My process often starts with a video-performance, and this act is my catalyst which frequently informs and leads to the creation of a physical object such as paintings and sculptures which serve as a memo or souvenir for the experience and connect to the idea I wish to convey."
Describing her work as a catalyst that frequently informs and leads to the creation of a physical object such as the paintings and sculptures she creates, her pieces serve as memos or souvenirs of the experience and connection of the ideas she wishes to convey.
"My work involves exploring issues of vulnerability and desire through femininity, and through the use of 'feminine' materials such as makeup and lipstick. It is a celebration of womanhood and a validation of the holistic self, mind, body and spirit. Using lipstick as a way of recording and kissing as a trace and marks, the instinctual human interaction – the kiss. Through the act of kissing I create something to its existence. The tangible and time-based qualities of cosmetics are important to the bodily experience that informs my performance act and I have found lipstick to be the closest material to capture the ephemeral nature of touch," said Delgado.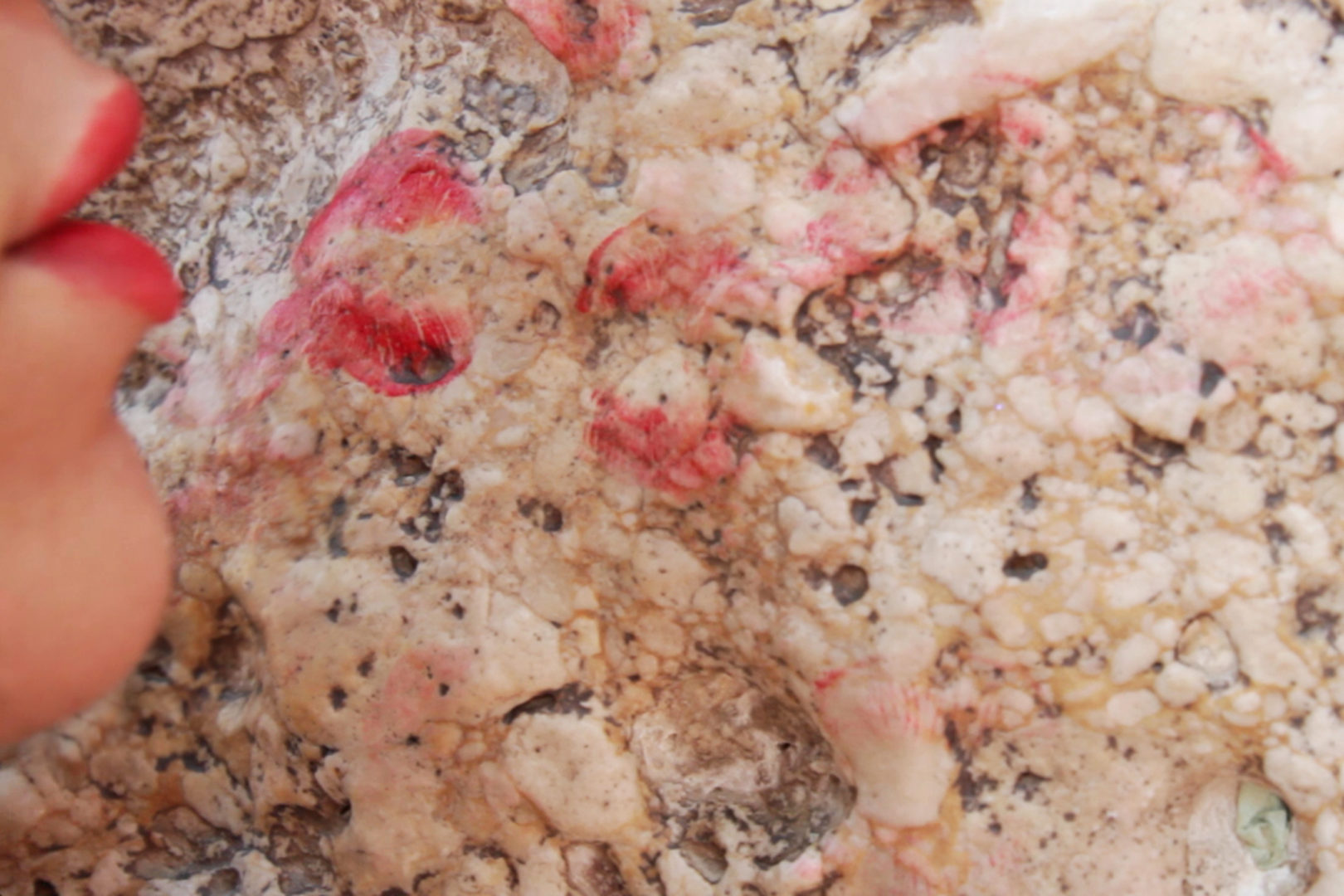 Acting as an intermediary between her work and her audience, the collective experience she endows, results in the interaction. On the subject of nature, Ronit expounded her motivations from her own spirituality.
Ronit stated, "Nature is so performative, inspiring and relates to performance art with its intensity and so many emotions, movements and energy. My work aims to celebrate the joy of nature and life, joy of nature as we together are connected through mother nature's natural earth gifts and water, the essential resource for all life on earth that connects us all."
Upcoming Events
Transmigration – August 20th, 2022
Collaborating with sculptor Alyona Shripka and musician Sonic Elixirs, the three artists are performing an art experience which includes live music and a site-specific installation. An abstract representation of the vulva, Transmigration conveys this event as a portal for human souls.
Fractal Fest – August 26th, 2022
'The Lovers II' is a collaborative multimedia immersive experience art installation and interactive performance art with live music and video projection at Fractal Fest in Massachusetts. August 26th.
To check out more of our Emerging Artists, click here!