Miami-based brand Kannoa manufactures outdoor furniture that can transform your space into a tropical getaway. The House Tipster team spoke with Luis Blasini, Co-Founder of Kannoa, and Sebastien Manni, Global Sales Director, at the brand's ICFF Florida 2018 showcase this December, to hear all about how their colorful and creative product lines came to be.
Blasini, originally an accomplished designer from Venezuela, started the company in 2006 with his childhood friend Philip Boulton. The label was created to give people the simple yet statement-making outdoor items they would love to relax in. Also, these furnishings would have to hold up to the elements, and last for years to come.
"We based our company on four pillars, which are design, functionality, durability, and harmony," he explained. "We came up with the name Kannoa, which comes from the simplicity of a canoe. In Spanish, 'canoe' is written 'canoa.' Not exactly as we do, but it's the phonetics of the name."
Over the years, Kannoa has expanded their product offerings incredibly. The company started out offering wicker and rattan furniture, and has since grown into other natural woods and synthetic materials like teak, cement, plastics, resin, and a lot of fabrics.
Manni explained that the brand's work is constantly expanding and evolving – and customers really appreciate their vibrant, colorful styles.
At ICFF, Kannoa's booth was filled with eye-popping lime greens, oceanic turquoises, and earth grays. The color palette certainly made an impact to event guests, but it also reflects their customers' shopping habits.
"This year we're seeing a lot of color; we're seeing the most results on the bright colors," Manni said. "We're seeing a lot of greens and yellows coming. We find in a ten-year cycle, we always have a year of green. Blues and beiges are always popular, but green and yellow seem to be doing well for us this year."
"We do have a very Miami flair," Manni added. "We're very colorful, we play with 19 different colors – with cushions to match."
Kannoa creates furniture pieces that work in hospitality and residential designs. Manni explained that these two spaces have a natural crossover for what customers want.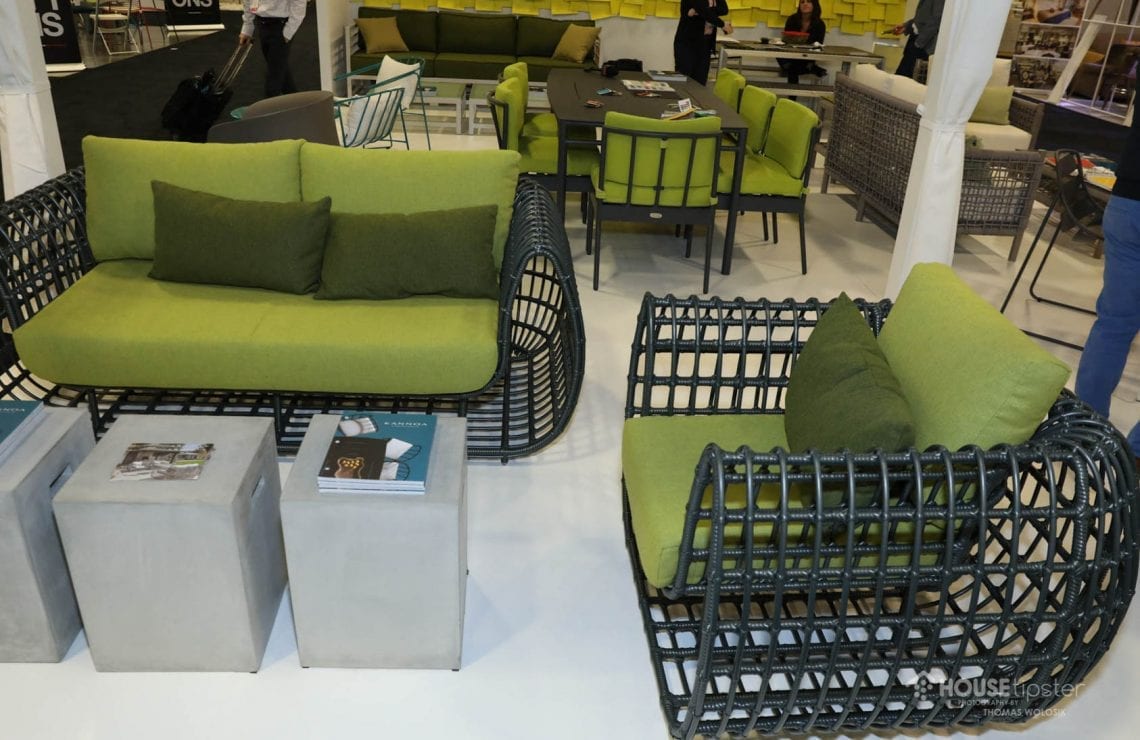 "Our residential consumer is trying to recreate the look of a property they saw on vacation. They want to create the resort in their backyard."
To stay up to date with all of the latest news and excitement coming from ICFF South Florida 2018, be sure to follow along with House Tipster Industry on Facebook and Instagram.