The Kips Bay Show House Dallas 2020 is finally here and you have an all-access pass no matter where you reside.
Unfortunately, due to the COVID19 pandemic, the annually scheduled Manhattan show house was canceled but that did not stop the Kips Bay Show House team. Businesses across all industries are adjusting to the "new normal" during these uncertain times but Kips Bay has proved if there is a will there is a way.  Through hard work, tons of logistical planning, and adapting to ever-changing guidelines and regulations the inaugural Kips Bay Show House Dallas has become a reality. 
Dallas's Preston Hollow estate has been transformed by 27 industry-leading designers to create breathtaking spaces throughout the home. Room by room you are transported into a different time and space but one element remains the same, no matter what room you occupy you will be in awe of its beauty and elegance.
Due to social distancing guidelines and travel restrictions the Kips Bay Show House is offering a virtual tour for the first time ever. Just like the house itself the virtual tour has pulled out all the stops making it possible to navigate the 12,000 square foot home with ease. Not only can you explore the estate room by room but the virtual tour is in 3D offering 360 views with just the click of your mouse.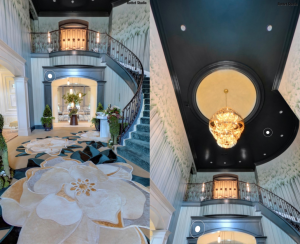 Each room is narrated by its respective designer. Designers take you through their process giving you intimate details about their vision and inspiration for each room. The virtual tour gives new meaning to the word interactive allowing guests to press on specific pieces of furniture, walls, appliances, and more. By pressing on items in the home guests get in-depth descriptions and details about what it is and even how to purchase it for your home.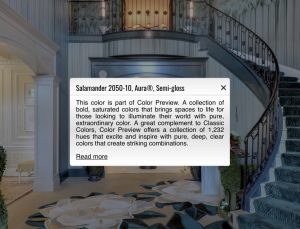 Putting on an event as large and prestigious as the Kips Bay Decorator Show House is a feat in itself but with time restraints, a pandemic, and the addition of making the show virtually accessible it is an extraordinary achievement. Everyone involved in the production and design of this event deserves a round of applause.
If you are currently in the Dallas area and would like to attend the event you can from September 25 until October 25 from 10 am to 4 pm. Tickets to attend in person are $40 which you can purchase prior online or at the door. If you would like to attend the event virtually it is $20 and you can purchase a ticket here. 
The event's proceeds will benefit the Kips Bay Boys & Girls Club in the Bronx, New York, as well as local nonprofits, Dwell with Dignity and The Crystal Charity Ball.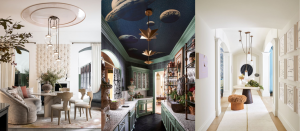 Kips Bay Decorator Dallas Show House is co-chaired by Christopher Peacock and Jan Showers, with vice-chairs Jean Liu and Chad Dorsey, along with Veranda editor in chief Steele Marcoux as honorary chair.
Designers include Cathy Kincaid Interiors, Dallas; Chad Dorsey Design, Dallas, L.A.; Cravotta Interiors, Austin; Dina Bandman Interiors, San Francisco; Doniphan Moore Interiors, Dallas; Erin Sander Design, Dallas; Jan Showers, Dallas; Kevin Spearman Design Group, Houston, NYC; Kirsten Kelli, Dallas, NYC, Greenwich; Lambert Landscape Company, Dallas; artist Letitia Huckaby, represented by Liliana Bloch Gallery, Dallas/Fort Worth; M Interiors, Dallas; M Naeve, Houston; Marcus Mohon Interiors, Austin, Houston; Mark D. Sikes Interiors, L.A.; Melissa Gerstle Design, Dallas; Michelle Nussbaumer, Dallas; Rottet Studio, Houston; Sees Design, Dallas; Sherry Hayslip Interiors, Dallas; Studio Thomas James, Dallas; Ten Plus Three, Dallas; Traci Zeller Interiors, Charlotte; Tracy Hardenburg Designs, Dallas; Trish Sheats Interior Design, Dallas-Fort Worth; Viviano Viviano, Houston; and Wells Design, Dallas, Houston.