Interior designer David Phoenix has deeply personal ties to the influential Kips Bay mission, which is why he was thrilled to participate in the Kips Bay Decorator Show House Palm Beach 2019 and contribute to the organization's fine work.
For this year's show, the designer – who started his company David Phoenix Interiors 25 years ago – created a soothing and relaxing living space in the show house. The room is an absolutely stunning feature in The Fountain House, a Mediterranean-style home located along Florida's Intracoastal Waterway.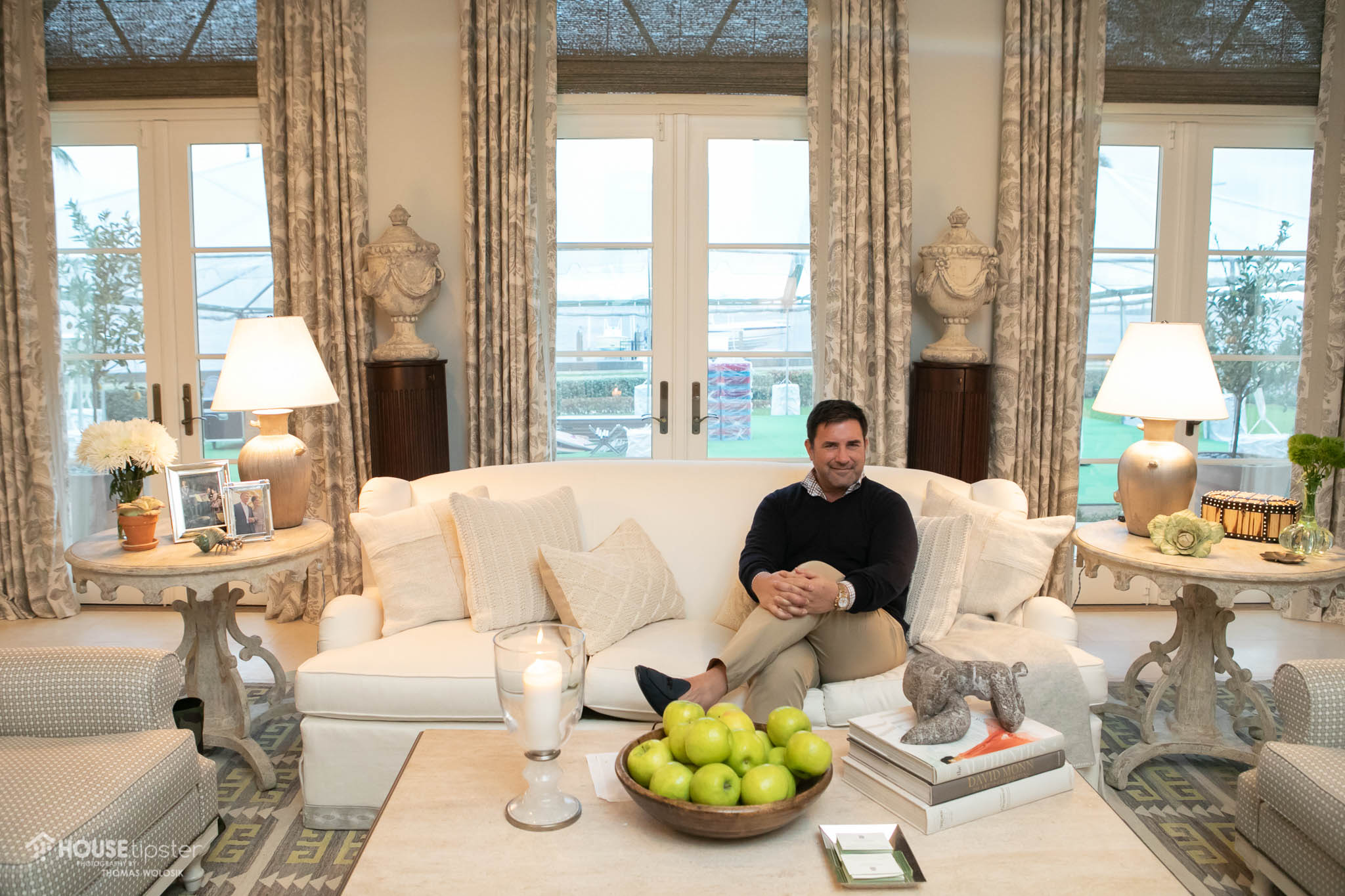 David Phoenix. Photo by House Tipster
"I wanted to transform the room into a very calm, livable space," Phoenix told the House Tipster team. "It was very dark before, so we painted the beams, put limestone floors in, and it's a very dramatic before-and-after."
To bring the space to life, Phoenix added in high-end features and one-of-a-kind personal touches.
"We added a new fireplace from Chesneys in New York and the Shade Store was very generous and did all the window coverings," he said. "I have a fabric line with Cravat, so that's on the windows. And the upholstery is from my line with Hickory Chair. I wanted to give it a very light, bright, town and country feel, and to play off of the outdoor spaces."
Though this living room and seating area is rich and opulent, it's not fussy or intimidating. This vibe is entirely intentional.
"My aesthetic is about quality and comfort, that's my mantra," Phoenix said. "It could look good, but if it's not comfortable? Forget it, you can have it."
So what is Phoenix's advice for adding elements of luxury into a space – while maintaining that crucial comfort level?
"I think it's all about layering," he said. "There's no rules, really, but I think that if you like it, I think you can incorporate it into the look of your room. My aesthetic is all about getting the fabulous ingredients, and then it's about how you mix it and how you present it. This room is a collection is a collection of beautiful things that add different layers and textures. I think what's important in a room is that it doesn't look decorated, but like a collection of things very well curated, and that make you happy!"
Even above a coming-together of great design moments, the Kips Bay Decorator Show House is an opportunity for designers from around the country to use their talents to make a positive impact. All proceeds from this show house, like all of its annual events, will benefit Kips Bay Boys & Girls Club and the Boys & Girls Club of Palm Beach County.
"I was fortunate enough to do Kips Bay New York in 2015: I did the master bedroom," Phoenix said about his experience with the show. "Since then, I've been hooked. I go to the President's dinner every year in New York."
"It's a cause very near and dear to me," the designer shared. "I was a runaway at 15, I didn't have a Kips Bay home to go to. So I think it's my responsibility to give back to the youth and encourage them, [make sure] that they're safe, and make them feel like they can do anything that they want. I left home at an early age, and I always through about doing something with homes. I didn't know what it was going to be, but as a kid I used to draw floor plans and fantasize about being in a different house. That being said, I've always loved beautiful things. I'm self-taught, and I've been in business 25 years."