Sasha Bikoff of Sasha Bikoff Interior Design created a stunning space for AD Apartment, presented by Gaggenau, at this year's Architectural Digest Design Show in New York City.
The House Tipster Industry team caught up with the esteemed designer at her booth at the show, where she took us on an exclusive room-by-room tour of the highlights of her retro-inspired apartment setup.
The theme for this luxurious space is the idea of  an "uptown girl living in a downtown world." According to the designer, the dream resident of this creative apartment is a girl who "grew up traveling the world."
"She has antiques, she has a love for anything European and anything French, but she's edgy and lives in this modern cosmopolitan city of New York," Bikoff explained. "We combined all of these elements together."
With an inspiration like this, it's no wonder that the apartment is filled with vibrant colors and artistic patterns, including regal tufted chairs, animal print wallpaper, Chinese deco rugs, and coordinating pillows and throw blankets in the living room that are contrasted with a spring-ready mix of floral prints.
"We have an amazing antique Lucite chair reupholstered in vintage Pucci fabric; plume feather wallpaper that's reminiscent of a watercolor; a beautiful canopy with iridescent pink drapes; and an amazing bed from Calligaris in a very luxurious velvet," Bikoff described of some of her favorite pieces.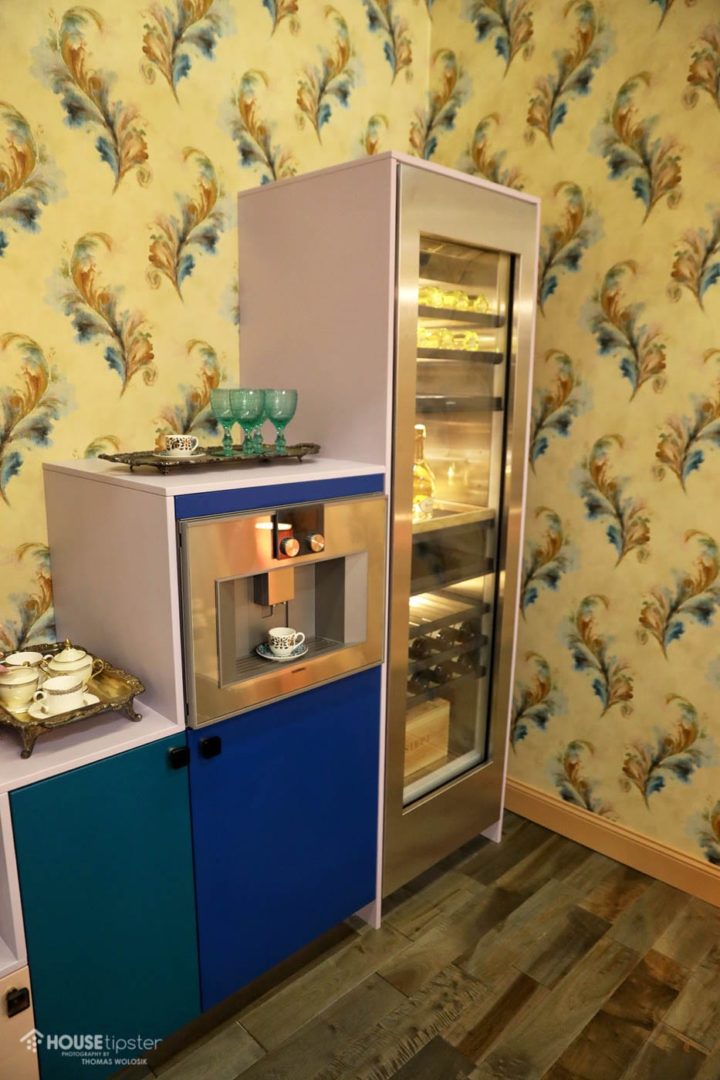 Bikoff also custom-designed a sleek bar with Gaggenau and Reform just for the space, because as she says, "nothing is more vibe-y than having an espresso machine and a wine bar in your bedroom."
"It's kind of an ode to a 1980s Memphis Milano vibe, and we incorporated all the colors from the wallpaper into this design," she explained. "So you can wake up in the morning and simply make yourself an espresso while you get ready."
There are also plenty of distinct 70s disco elements to Bikoff's AD Apartment design, like golden beaded curtain dividers and eye-catching brass detailing in the kitchen, complemented by Cosentino marble and cutting-edge Gaggenau appliances.
Thoughtful vintage touches tie each room in the space together. For example, the Lenox tableware in the apartment's dining space was intentionally selected to give off a family heirloom appearance: a vintage set passed down through generations, perhaps.
Despite the space's apparent retro charm, each item in Bikoff's apartment design is thoughtfully combined with several modern pieces as well, so that the apartment feels fresh and contemporary overall rather than dated.
To see more from this space, make sure to check out the exclusive House Tipster Industry LIVE episode we filmed with Sasha Bikoff during the show. Press play on the Facebook video below to get started.
Stay tuned for plenty more exclusive interviews and brand spotlights, straight from the 2019 AD Design Show. Our team will also be broadcasting live streams from select vendors, so make sure to stay updated with our action-packed schedule.