Italian tile brand, Lea Ceramiche, showcased new and trending products in its line as part of the Ceramics of Italy pavilion at Coverings 2021. 
The brand showcased two new collections: Anthology, and Synestesia, as well as best-selling collections Waterfall and Bio Select.
The Anthology collection features ceramic tile imitating the gorgeous look of traditional natural materials such as marble. 
According to the brand's press release, the collection was "developed thanks to scrupulous attention to the very latest interior design trends which shows a penchant for a contemporary reinterpretation of stylistic codes inherited from natural raw materials."
Five different colors are featured in the collection, all of which feature the blending of the beauty of natural stone features. Each color is available in different surface finishings, worn over time, natural and sandblasted. The colors include White, Desert, Earth, Gray, and Dark.
The collection also features integrated Protect antibacterial technology, which helps to eliminate up to 99.9% of bacteria.
The brand's Synestesia collection, is a collection of floor and wall coverings which is beautiful to both sight and feel with its gorgeous patterning as well as its soft texture. 
"In this collection, marble's intensely seductive and unpredictable appeal becomes more complex, perceptible and stimulating, capable of creating unexpected final results, designing unique and opulent spaces with a distinctly modern style," says the brand's press release.
The ceramic marble collection features unique veining, reproduced using Slimtech technology, a large-scale laminated porcelain stoneware. Four separate colors in the collection include Gray Marble, Golden Borg, Pure Statuario, Calacatta Emerald. 
This collection also features the Protect antibacterial technology, as well as two separate surfaces: Lev and Smooth.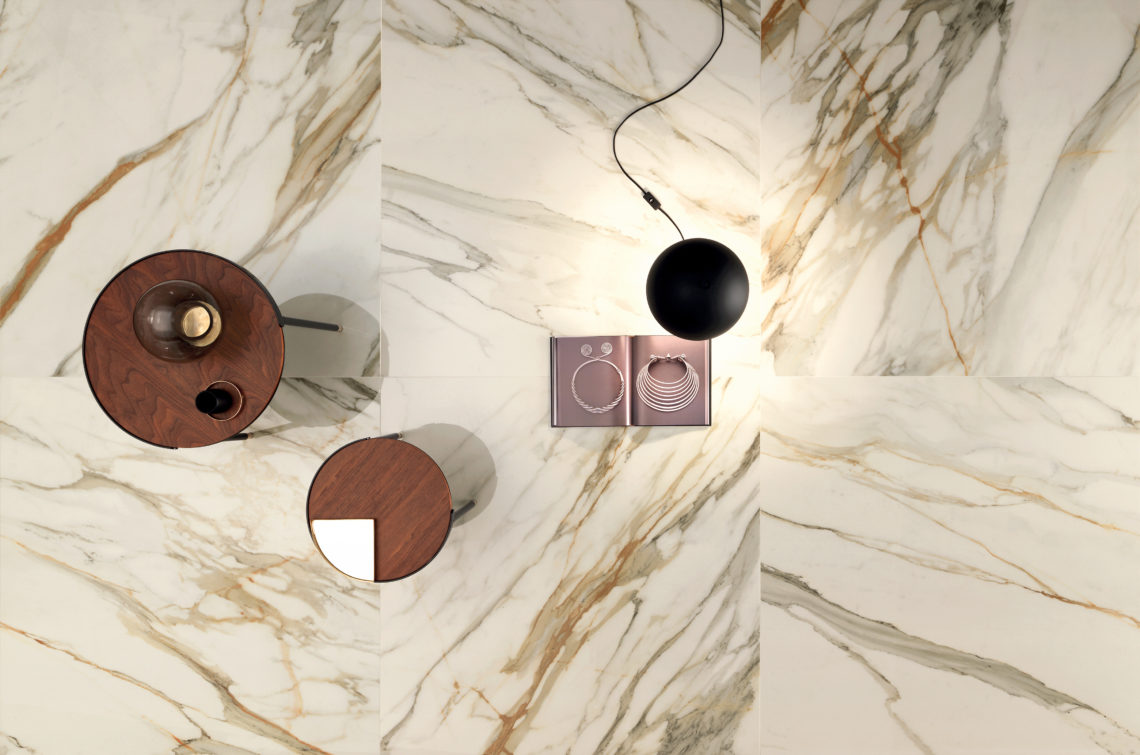 The brand also featured Waterfall, a ceramic tile collection which imitates the look of slate; as well as Bio Select, a ceramic collection which features a natural, wood-like appearance. 
Lea Ceramiche is an Italian brand, part of the Panariagroup, a leading international group that produces high-end and luxury ceramic surfaces. More information on each collection can be found at the Lea Ceramiche website. 
The Lea Ceramiche exhibit was part of the Ceramics of Italy pavilion. Ceramics of Italy first revealed their members' new collections via its website on March 21. New ceramic tile products can be viewed under the "Products and Trends" section of its website. 
Ceramics of Italy is one of five sponsors of Coverings 2021. The other sponsors include Ceramic Tile Manufacturers Association of Spain (ASCER)/Tile of Spain, Tile Council of North America (TCNA), National Tile Contractors Association (NCTA), and Ceramic Tile Distributors Association (CTDA). 
Coverings is the largest ceramic tile and natural stone trade fair and conference in North America. This year's event was held from July 7 to July 9 in Orlando, Florida.