Angela Harris, CEO and Principal designer of TRIO, debuted 50 new introduction pieces from her Paragon and Propac collections at High Point Market this year. Recognized for being an innovator, Harris created these collections to highlight the power of watercolors, the kinetic energy of nature and the beauty of the unexpected.
Describing her new Organic Beauty collection with Paragon and Propac, Angela talked about the inspiration she drew from her extensive travels and adventures, saying, "Each piece draws from decades of design experience and my deep desire to create one-of-a-kind designs that evoke emotion and spark conversation and inspire a wellness-oriented life."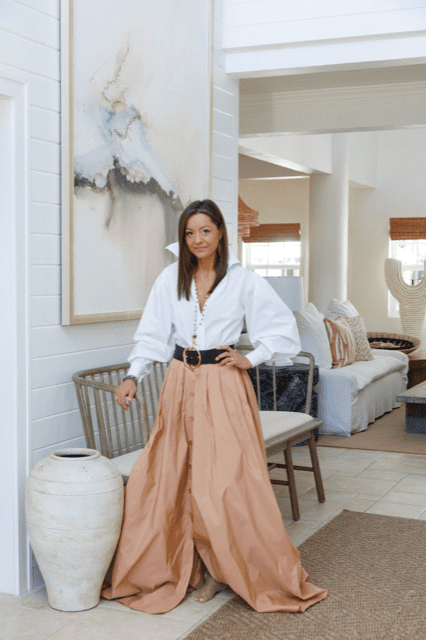 Angela pointed out the importance of product development and how it is, "such an important part of our brand," asserting, "we have a fabulous team dedicated to developing, researching, and creating product presentations to take to our amazing manufacturing partners."
Like all forms of art, Angela created these pieces, not only to bestow the emotion she feels at the moment, but also to express the attraction of each collection, drawing individuals closer and closer to the unique aspects of the works. She said, "Any challenges throughout the design process cropped up only because we wanted to ensure that each piece drew you in and made you feel something; we wanted the works to feel unique and spark emotion, and in the end, I think each of these pieces does just that."
Attending the Spring High Point Market, Harris debuted the Organic Beauty Collection with Paragon and Propac, while introducing their new brand, Bode & Well by Angela Harris. "HPMKT this Spring was exceptional! After a strange and tumultuous last couple of years, it was refreshing and inspiring to attend the market, which was bustling with creativity and designers showing off incredible new designs and products," Angela said, "we're beyond grateful for the success of HPMKT."
A specialty collection that aims to create beauty and promote wellness, Bode & Well was initially designed to accommodate every space from around the world. By creating these collections, Angela has essentially written her love letter to the industry, fostering a better, healthier, and more intentional quality of life, all within the parameters of an attainable price point.
An expert in traversing through the market-driven design approach, Angela Harris focused on hitting targeted markets with a lower price. Her formulaic undertaking factors in time and quality, ensuring that her collections are versatile in both scale and design. "I think any of these pieces would fit beautifully in the space of your choosing-it's your home, after all, and you should add a piece to a room that speaks to you," said TRIO's principal designer.  
Like entering different parts of the world, Harris' visionary works have a wonderful representation of how art can transport you to a whole new setting. One of the recommendations she made for Peaceful Voyage I and II was how lovely it would look in a living room setting, using Spools to emphasize the entryway. A great suggestion made by Angela was accenting the bedroom space with the Earthy Palm series, which would add a unique touch of grounding to one's personal space. The Dream Sequence is the alternative, providing a flair of colors and vibrancy. 
This year, TRIO won "Community of the Year" at the 2022 MAME Awards. Angela and her team became one of the major parts of the Trilogy at Verde River project. The awards were hosted by the Home Builders Association of Central Arizona. 
Expressing her gratitude, Harris stated, "We are so honored, and humbled, to be recognized by the 2022 MAME Awards, hosted by Home Builders Association of Central Arizona. In a market that is ever evolving, we are proud to be of service and to be among the best of the best." 
The MAME Awards, which is an acronym for the Major Achievements in Merchandising Excellence, encompasses all facets of professional achievement, sales, marketing, merchandising, and design. Angela Harris was especially thrilled about the recognition received for the trials and tribulations made by the teams involved, congratulating her fellow peers and award winners for the amount of talent and expertise gathered in today's housing market. 
She said, "This award celebrates our amazing teams and partnerships, and helps to solidify TRIO as a premier design firm for future projects." 
Angela Harris is an American interior designer, product designer, CEO, mother, and industry board member. As CEO and Principal of TRIO, her renowned interior architecture firm, Angela has spent over 22+ years working directly with the nation's most prominent builders, developers, product designers, and merchandisers. She has been recognized nationally with more than 100 design awards and business awards including Top 100 Giants by Interior Design magazine and Inc. 5000's fastest growing list. Her robust experience in market-driven design coupled with a Masters in Sustainable Design make her sought after for brand collaborations. These collaborations with manufacturers and retailers have produced an ever-expanding portfolio of acclaimed designs seen around the world in namesake licensed products. Angela's designs are authentic, elegant, soulful, and best of all, attainable. Her ethos is that everyone deserves great design, and everyone can Live Beautifully.