Winning the NYCxDesign Award for Hardware, Belwith Keeler has been on a hot streak. The Bijou collection, which made a grand statement at KBIS and HD, showcased its gatherings of jewelry-inspired pieces.

Originally established in 1893, Belwith Keeler started out as Keeler Brass making OEM hardware for the furniture industry in Grand Rapids, Michigan. A blast from the past, Belwith Keeler relaunched the Bijou collection to unveil pieces that blend new school and old school design.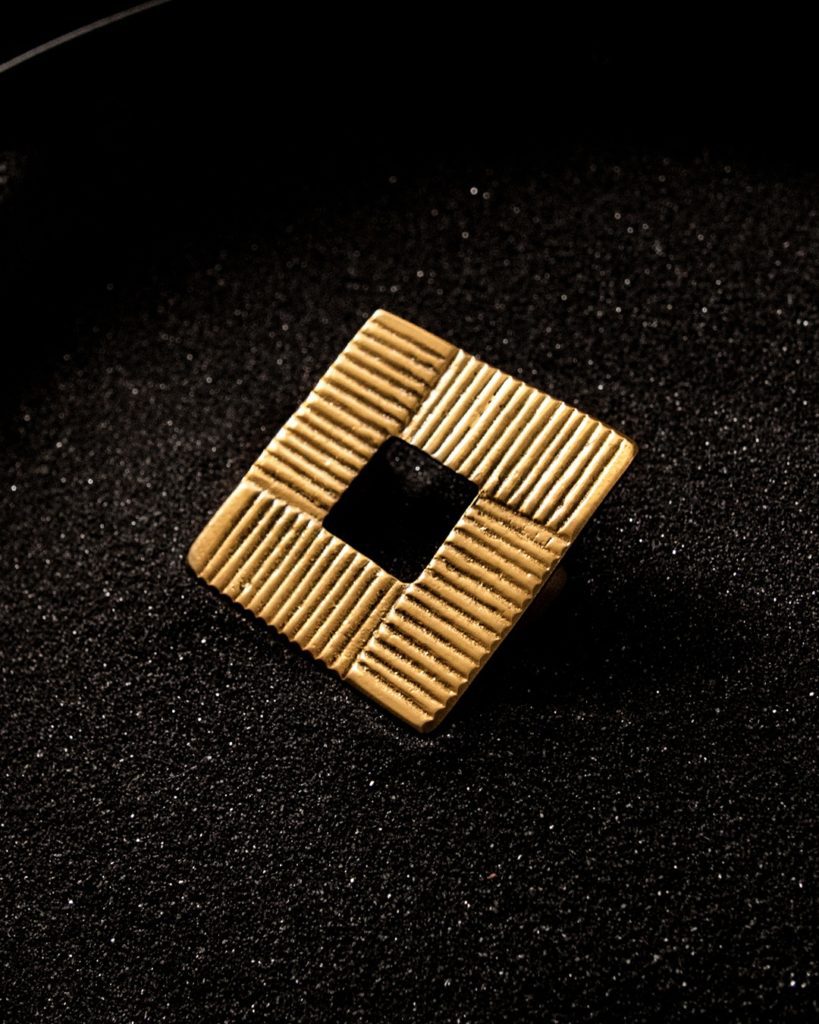 Knikki Grantham, Director of Style and Outreach for Belwith Keeler, said, "It's a great historical company, and for us to launch this Bijou [collection] is kind of bringing people, showing them who we are." 
The star of the Bijou Collection, the iconic X Pull, was originally created for Paul Frankl of Brown & Saltman Furniture more than 40 years ago. A blend of classic lines and modern elegance, the X Pull is a case study on how one element can lend a transforming look to any room, pushing design forward, resonating with designers and homeowners alike.
One of the pieces that Belwith Keeler was proud of was the Sybil Ring Pull, which was inspired by jewelry designer David Yurman's iconic cable bracelet. Grantham explained, "People think that's it's just a cable that is twisted, but you've got to twist it, extrude it, and turn it at the same time. So it's a really intricate design, that you don't really think about it being that difficult to do," emphasizing, "it is a fabulous piece to accent large furniture pieces like secretaries, or even the kitchen island."
Among the Bijou Collection's supporting cast is the Laurel Pendant Pull, with its teardrop  shape mimicking the delicacy of an earring; the Astoria Pull with undulating, scalloped ridges; and the Odette, embodying the whimsy of the mid-century modern period.
A long-standing approach that Belwith Keeler has been implementing into their products is 3D printing. Knikki described the application as a mixture of both old and new. An example of this tactic was the Sandrine Collection, which uses old designs and modernizes them by using 3D methods and paver techniques to recreate the texture of its pieces.
She continued by elucidating the process of how Belwith Keeler creates its pieces and collections, saying, "My job is to do, what we call, trend forecasting. So I write four quarterly reports based on what I see coming. I started in the fashion industry, and a couple of years ago, when COVID hit and all of these fashion shows started going online, it really made my job a lot easier. I could log on to see what they're doing in Italy, I could see what New York was doing because all these things were video-recorded."
By finding the different applications of fashion, Knikki would find inspiration through virtual fashion shows and sending those inspirations to the design team, asking herself and the rest of the team, "How do we take this [trend] from this industry to this industry? Does it translate?"
"I compile visuals and then, they're handed to my design team and they interpret it. There are five different people from five different walks of life, and they all interpret it differently," Knikki explains that the ideations that Belwith Keeler comes up with are brought to life after a process of selecting one of 30 to 40 sketches given to her by the design team. She expressed, "It's kind of a fun process, it's not just one dictating everything, it's this whole collaboration of design."
Refined in Elegance and built on a rich heritage, Belwith Keeler crafts luxury decorative cabinet hardware with an expert fit and finish specifically for kitchen and bath showrooms. Belwith Keeler is part of the Belwith Keeler Décor Solutions division brands that include Hickory Hardware, Keeler and First Watch Security.