BDI made spectacular introductions to their products this year at October's High Point Market. The company's Lift Coffee and End Tables have added two new designs for their collection. The additions were made by designer and associate design director, Matthew Weatherly, who composed BDI's other renowned works.

The Reveal collection joins the synergetic parallels of both the Reveal Lift Coffee and End Table. Incorporating rich wood tones in a two-tiered design, Weatherly enclosed the coffee table with a top compartment to divide inside, offering access from both sides of the table. Offering a concealed power strip against the wall, the compartment connects to a wire management opening for control of said cording.
The Reveal Lift functions with a bottom shelf and top featuring BDI's signature satin-etched glass surface. Giving a more transitional and traditional appeal, the Reveal presents three hardwood finishes along with its design: Charcoal Stained Ash, Chocolate Stained Walnut and Natural Walnut.
Weatherly said, "The Reveal End Table expands the collection beautifully in the home, and with three tiers of storage, it is the perfect companion to its lift-top coffee table counterpart."
Although the two have similar functions, the Cloud 9 Lift Coffee and End Table is designed differently. With a more contemporary look to match its round-edged tabletop, it stands on elegant legs in a reverse "V" design from the coffee table. The contemporary appeal comes from Italian porcelain. With its steel base, the porcelain features three different color options: Cirrus White, Alto Grey, and Nimbus Black.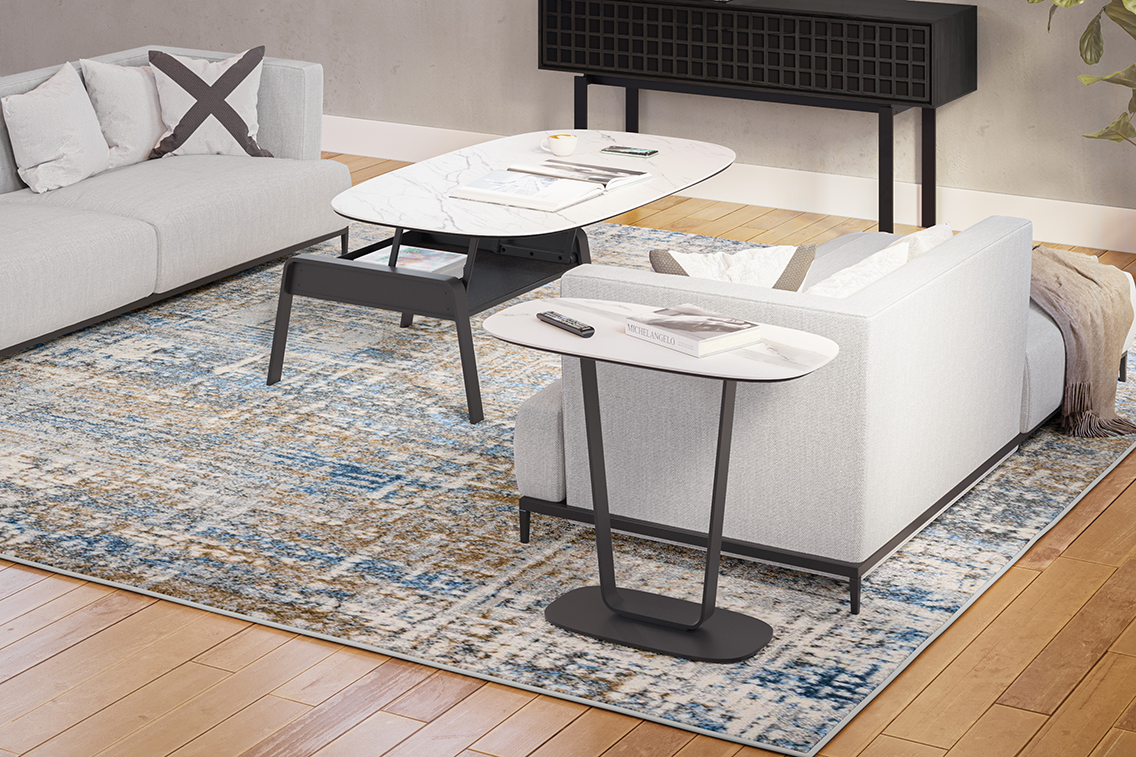 In regards to the Cloud 9 collection, Weatherly commented, "The Cloud 9 End Table is a perfect complement to its lift-top coffee table partner and completes the collection." He goes on to say, "Yet on its own, the end table is a striking standalone piece that provides numerous functions in a space."
BDI's new Soma Lift was also inducted into the spotlight. Created by Product Development Manager, Jeff Bare, the Soma was designed with flexibility and compaction in mind. Meant for the modern office space, the Soma standing desk glides up and down using a pneumatic column with just a simple touch of a lever. A desktop featuring smooth, contoured edges makes the product an ease of transition for employing comfortable applications of laptops.
"With Soma, you can create a workspace in any place," said Bare. "The compact lift desk fits anywhere you need an extra work surface, and easily adjusts for comfortable standing or seated use." The Soma's colors are available in Charcoal-Stained Ash, Satin White on Oak and Natural Walnut.