Robin Baron, celebrity interior and product designer, is announcing a newly launched hardware collection for the luxury brand, Hamilton Sinkler. Dubbed the Ovalique Collection and described as uniquely chic, this will be her first licensed hardware collection for the architectural hardware label.

Known for adding the finishing touch to punctate the space in any room, the Ovalique Collection became the love child born from Robin's Signature Collection. Accrued by overwhelming popularity, the Signature Collection was a natural expanse of her product designs, including casegoods, upholstery, rugs, and lighting collections. As a result of Baron's expertise and launch in 2017, the collaboration unfolded between Baron and Hamilton Sinkler. 
With an assortment of chic and sleek designs, the Ovalique is arranged with a wide variety of hardware. Consisting of pristine designs for cabinets and door hardware, door levers and knobs, cabinet and appliance pulls, there are seven distinct finishes for the ideal choice; Satin Brass, Burnished Brass, Antique Brass, Oil Rubbed Bronze, Polished Nickel, Brushed Nickel and Matte Black.
Designing and manufacturing architectural hardware for discernible high-luxury clients, Hamilton Sinkler works together with many different artists, like Robin Baron Design, to express the vision in reproducing striking and innovative designs for door, cabinet and furniture applications.
Robin had this to comment, "I am so impressed that we were able to design, develop and finish production in such a short time! Even with COVID complications, we only experienced a short interruption in our official debut. I attribute our successful collaboration to working directly with Hamilton Sinkler's COO, Rob Suri and his exceptional marketing and product development teams."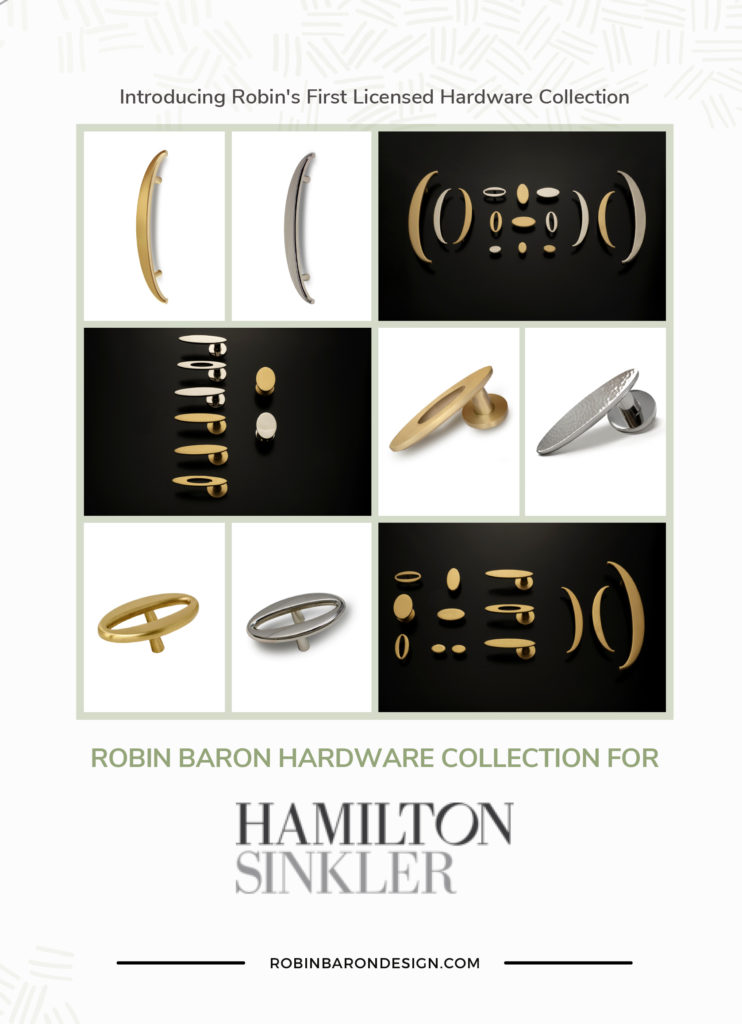 Both Signature and Ovalique are available for trade and purchase through Robin Baron Design's site and via Hamilton Sinkler's exclusive dealer network in North America. "The excitement and the demand to see the full collection has been truly inspiring. From her design clients to her loyal consumer fans, the anticipation for the official launch has grown exponentially in the last year," said Robin's product development team. "We are truly thrilled and can't wait for the response from attendees from Fall HP Market."
Robin will be participating in several events for the October High Point Market: A Bohemian Experience, Navigating Luxury Design, Using Technology to Propel Your Design Business, Product Design and Development, and How to Establish Licensing Opportunities with National Brands.
With three decades of experience, almost a third of a century, Robin Baron has successfully grown her full-service interior design firm. Specializing in high-end residential and commercial design, Robin is willing to perform and execute her talents for her luxury clients and the high-profile projects that she is in charge of.