During this September runway season of New York Fashion Week, iconic design duo Mark Badgley and James Mischka celebrated the 30-year anniversary of their famed fashion brand, Badgley Mischka. But days later, the designers appeared at the 2018 What's New, What's Next event in Manhattan, where their Badgley Mischka Home brand made its NYC design center debut in the beautiful Apropos showroom.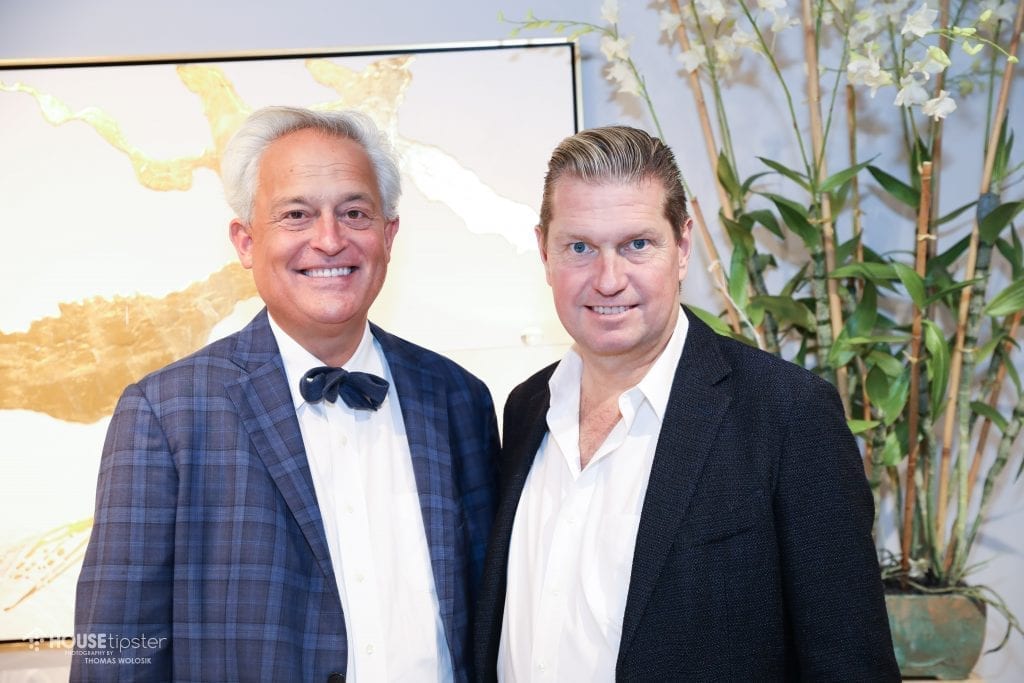 It has been about two years since this range of home furnishings and accessories first launched, and the label is growing stronger and more influential than ever. From its initial assortment of home essentials like living room furniture and fine bedding, the brand has now expanded to include the luxurious little lifestyle pieces their clients love – like designer candles and even couture-inspired pet bowls. As the designers like to say, every home needs a dog, but there's no reason their plastic dinner dish needs to clash with your décor!
House Tipster had the opportunity to speak with the designers on-site at the New York Design Center, where we learned about how Badgley Mischka's fashion influence has shaped this budding home goods empire. Plus, we were able to journey back in time a bit to hear how the duo's first foray into interior decorating came from putting their signature touch on flipped houses.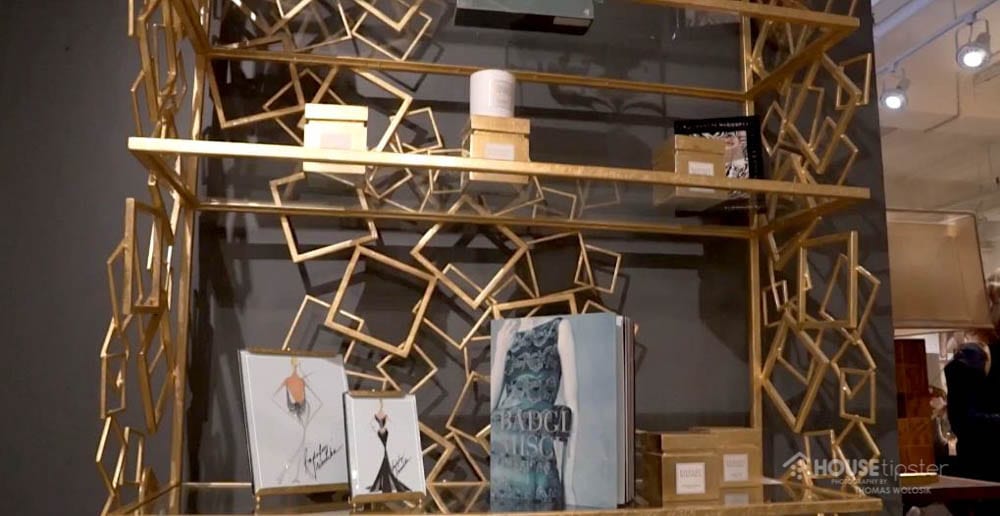 "It's very much been a labor of love for us to do the furniture collection," Mischka told us in our exclusive interview. "Mark and I always bought houses and renovated houses and then decorated houses. We typically ended up selling those houses furnished, because everyone wants the way we did them. So we decided, we may as well do our own furniture collection as well."
"We found a great partner with a manufacturing facility in Mexico… that enabled us to do very artisanal hand-rubbed, hand-carved, hand-chiseled finishes, as well as some very retro lacquered finishes which are actually [more durable epoxy]," he added. "They specialize in their finishes and they do a fantastic job."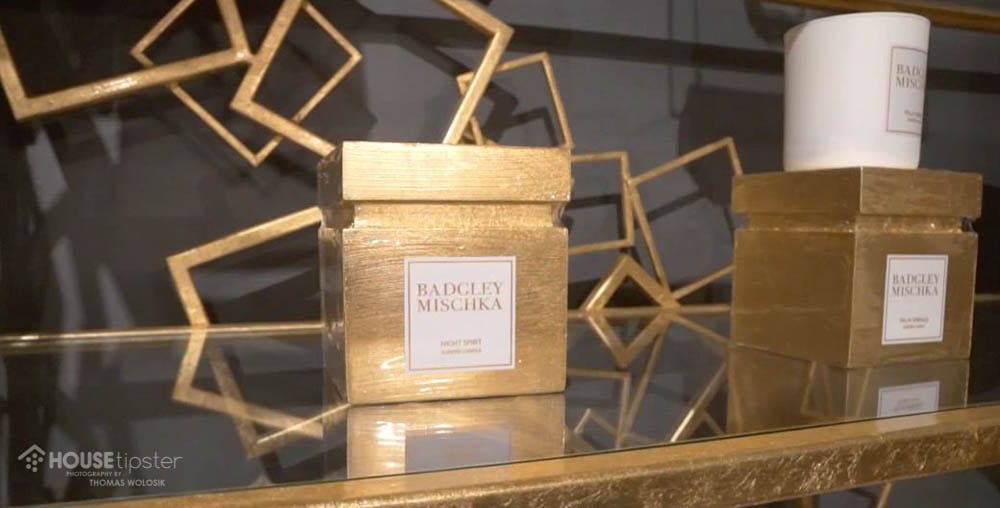 Working closely with manufacturers on bringing their vision to life is a process the designers feel is a natural extension of their work in the fashion industry.
"It's interesting how similar the process is between fashion design and furniture design," Badgley explained. "It starts with sketches, finding materials and raw goods, working on proportions, working on 'fit' per-say, and there's no short cuts. It's the exact same process that takes time: when you're building one of these beautiful pieces, you can't be rushed. Detail is critical, and quality has to be there."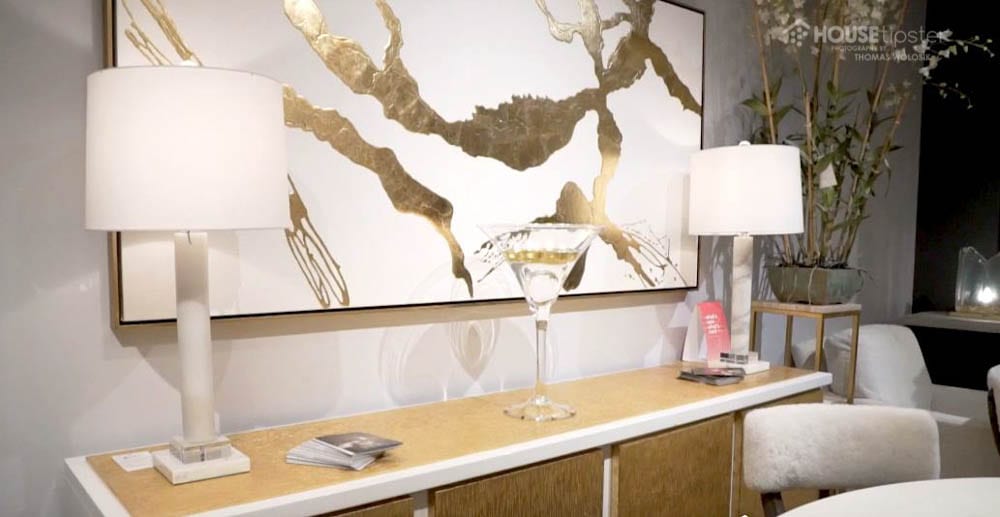 The Badgley Mischka brand's overarching goal is to focus on those details, and create memorable, customizable, and out-of-the-ordinary pieces that help customers create their dream living spaces.
"I don't think the world needed just another chair or sofa from Badgley Mischka," Badgley said. "The pieces are special and luxurious, some of the pieces are conversation pieces. At the same time, they have to be practical. We did the furniture to really be lived with: comfortable, yet glamorous at the same time."
"The home collection is about making special pieces," Mischka added. "We design our entire rooms, but we also know that the way people shop is that they buy a piece [here and there]. So we wanted to make the crowning ornament of each room. Sometimes a room full of specialness is too much special, so we like having a special accent piece in each room: credenzas are focal points for us, the accessory pieces [like] mirrors and screens are also extremely important. Then we have the wonderful classic-inspired beds, sofas, and upholstered pieces as well."
Tipster TV has released the full video coverage from our special interview, be sure to check it out below.